Galway Truck & Van Centre at your service
07/02/2023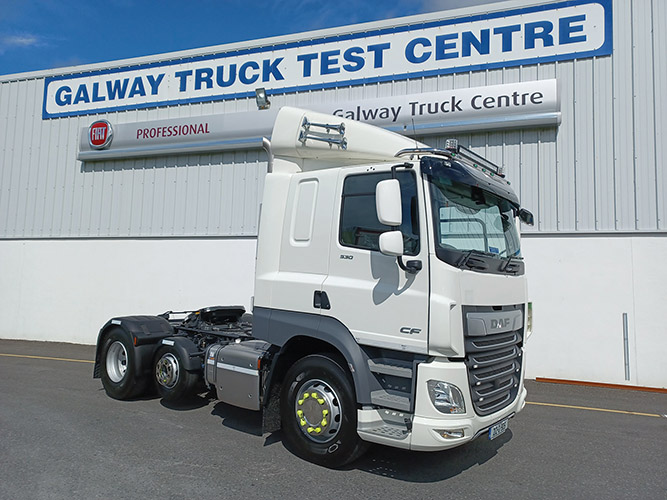 Firmly established as the premier commercial vehicle garage in Connacht, Galway Truck & Van Centre has been setting the standard in terms of customer service since its inception over four decades ago. As the business continues to go from strength to strength in challenging times, we touched base with sales manager David Rodgers to get an update.
Since its genesis in 1979, Galway Truck & Van Centre has become the first port of call for discerning commercial vehicle owners and operators in Galway, across the province of Connacht and sometimes beyond.
Holding prestigious DAF, Mitsubishi Fuso, Iveco and Fiat Professional main dealerships, Galway Truck & Van Centre cannot be beaten on either sales or service and their policy of invariably striving for absolute customer satisfaction on every interaction – be it the sale of a new or pre-owned truck or van; parts; service; repairs; or CVRT testing – sets them apart as proven marker market leaders.
Combining industry-leading products with unrivalled backup service, Galway Truck & Van Centre is conveniently located on the Headford Road, approximately 6km out from Galway city centre. Here, business is always brisk…
"Making sales is great – and we have a brilliant selection of new and used vehicles – but that's no good if you don't have a backup service to match," sales manager David Rodgers states. "We are a one-stop shop for commercial vehicles and we provide a full range of services on every truck or van, large or small.
"It really is all about service, when the vehicle owner has an issue, you have to be able to look after them, quickly and professionally. Many of our customers have been dealing with us for a number of years and this is a reflection of the service we give them. As well as selling a large volume of trucks and vans to existing customers every year, we are also picking up new business all the time, so the business is constantly growing.
"We've been trading for over 40 years, which is a long time, and we want to be here for our customers for many years to come. There are still issues and challenges to be faced in the current economic climate, but we are still busy and can't complain."
The fall-out from the pandemic has presented a few unprecedented difficulties, not least in terms of disruption to supply chains. "Covid was a big setback and still is," says David. "Deliveries are slower than before and there are also some shortages of components due to backlogs in the factories. However, things have improved in the back end of the year and we're gradually getting back on track.
"We're busy and things are very positive. Because there's not as much second-hand English stuff coming into the country now and also because the second-hand market has gone more expensive, new sales are moving well.
"Our customers are happy and that's the main thing. We are doing the best we can to keep them happy, to get them quality trucks and vans and then to keep these vehicles rectified and repaired, which is where the backup service comes in."
Stocking genuine DAF, Iveco, Mitsubishi Fuso and Fiat Professional parts, Galway Truck & Van Centre's commercial vehicle product lines include engine, body components, electrical and lighting products, oils and lubricants and a comprehensive range of filters, exhausts and aircon parts, clutch friction, brake and clutch hydraulics, cab panels and cab structural products, workshop consumables, tools and much more.
Boasting one of the most comprehensively stocked stores for truck, bus, machinery and general engineering supplies in the country, they carry top brands and stock everything from batteries, tyres, bearings, clutches, brake pads, starters, alternators, stereos, wipers, headlamps, belts, mirrors, bulbs, tachograph charts and number plates to work wear and safety boots.
In terms of new vehicles, Galway Truck & Van Centre currently have stock on the ground from all of their main agencies, with an impressive line of new improved models coming on stream as we speak.
For example, the latest XF, XG and XG+ represent DAF's New Generation trucks take full advantage of the new European Masses & Dimensions regulations, all three cab variants excelling in a beautiful and highly aerodynamic design. The elongated cabs offer unmatched interior space and superior comfort – ideal for journeys of extended duration.
Class-leading efficiency, safety and driver comfort come together in these game-changing New Generation DAF trucks, which have been named 'International Truck of the Year 2022' - the most prestigious recognition in the heavy commercial vehicle industry.
Meanwhile, significant innovations to the PACCAR MX-engines, TraXon automated transmission and DAF rear axles contribute to a fuel efficiency gain of up 10%, while low vehicle weight and excellent serviceability result in class-leading payload and uptime.
The New Generation DAF heralds in a new era in driver comfort. From the driveline to the suspension, from the cab interior to the seats and bunks, every opportunity has been seized to provide superb driver comfort. The result is the smoothest ride on the market combined with the best environment for driving, relaxing and sleeping.
The New Generation XF, XG and XG+ offer outstanding safety features. Large windows, ultra-low window belt lines and the practical kerb view window result in a new standard for direct vision. And with a robust cab structure, class-leading ergonomics and smart features to make driving even safer, these New Generation DAFs are the industry leaders when it comes to road safety.
"These New Generation DAFS have a huge cab – 300mm longer than before – and are a marked improvement, although it has to be said that the previous-generation DAFs are also great trucks," says David. "The New Generation DAF XD will be launched in September / October and DAF are also launching an electric truck.
"Fiat Professional are launching a new Scudo, which will be available with a 1-5 or 2-litre diesel engine or in a fully-electric version. The new Doblò, which is coming in January, will also be available in a choice of diesel or electric engine.
"The market is improving all the time and manufacturers are introducing constant improvements across the board, with the emphasis on safety, efficiency and emissions."
Galway Truck & Van Centre has provided exceptional service to commercial vehicle owners over the past 43 years and counting. David concludes by attributing much of this market-leading success to the excellent team of professionals employed in their state-of-the-art workshop, test centre, showroom and parts department on the Headford Road:
"We're lucky to have a fantastic team here. If I didn't have them behind me, I'd have nothing. We have qualified and experienced mechanics and testers, who are constantly upgrading their skills, and their professionalism, energy and loyalty are invaluable. It's very much a team effort and all of those people make an enormous contribution to the team."
Galway Truck & Van Centre,
Sylaun,
Headford Road,
Galway
Tel: 091 751984
Email: [email protected]
Website: www.galwaytruckcentre.ie
First published in Irish Trucker magazine Vol 25 No 6, November/December 2022