"A" Transport celebrates 70 years with shiny new arrival
31/01/2023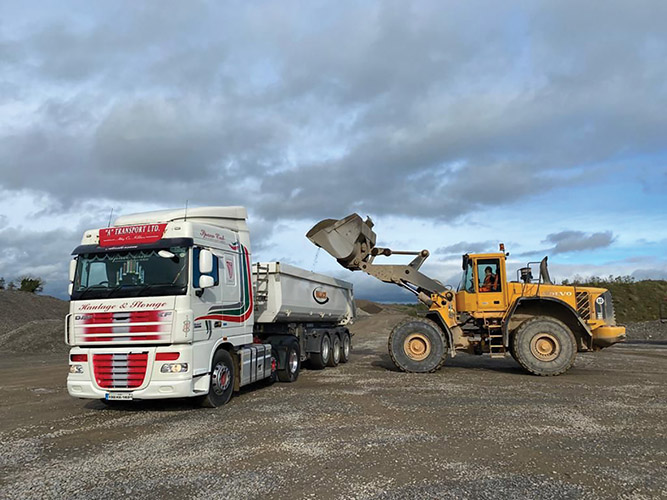 Celebrating 70 years in business, "A" Transport Ltd is a third-generation family-run general haulage business based in Athy, Co. Kildare. To mark the occasion, the company recently took delivery of a brand-new DAF truck from DAF Trucks Ireland featuring livery and airbrush artwork of "A" Transport founder Leslie Anderson.
The 70th anniversary New Generation DAF XG 530 6x2 tractor unit has been spec'd to the highest standards and was supplied complete with side skirts from Ivor Steen of Steen Commercials Ltd along with an amazing airbrush display – completed by Nik Purdy of Blow Designs – of the late Leslie Anderson.
"A" Transport's current owner and Leslie's grandson Callum Anderson was on hand to collect the stunning truck from John McCann of DAF Trucks Ireland in Baldonnell, Co. Dublin and was not only delighted with his new purchase, but also with the reception he received.
"We got the red-carpet treatment from John," Callum explains.
"He was a pleasure to deal with. He even presented us with a box of donuts which was a nice touch! The delivery of the lorry was first-class. It has been put to work primarily drawing malting barley to distilleries and breweries throughout Ireland, and we're very happy with it. It also does some general haulage to the UK. We had it on display at both Full of the Pipe and the Tipperary Truck Show where it went down a treat.
"Indeed, it received a prize at the Tipperary Truck Show in Dualla for finishing in the top six out of 1,300 entries, which was a great achievement.
"Our association with DAF goes back to the late 1970s / early 1980s when my grandfather – who passed away in 2016 – and father Roger started buying them, and we've been running them ever since. Value-for-money and the unladen weight are big factors in our decision to choose DAF. We have always found the aftersales service excellent as well. The guys at DAF Trucks Ireland are always at the end of the phone when needed."
Providing general haulage services throughout Ireland, the UK and mainland Europe, "A" Transport runs 11 tractor units, 10 of which are DAF. It also has 22 trailers, including 15 container Skellys, and employs 15 people. A number of the drivers have been with the company for decades, including Joe Mullally and James O'Meara who have been part of the team for 40 and 20 years' respectively.
The trucks and trailers are maintained by an in-house mechanic.
"The advantage of running a modern fleet is that breakdowns are few and far between. About 75% of our trailers are under five years old," notes Callum, who uses his brother Aidan's panel-beating and spray-painting skills to keep the fleet in mint condition.
Callum reveals how he kept the artwork on the new truck a closely-guarded secret from Roger, who is semi-retired from the business.
"It was a nice surprise for him to get," he smiles.
"I would normally run everything past him and would always respect his opinion. He is still available to drive any day of the week, but I decided this one time to do something without him knowing. The idea of honouring my grandfather in this way was something I had wanted to do for a long time.
"In the end, I decided to hold off until the 70th anniversary. I mentioned it to my mother Olive, sister Vickie – who works in the office – and my wife Sinead, and they all thought it was a great idea. My father, on the other hand, didn't know anything about the painting until the lorry arrived in the yard!"
The company's original name, IVI Transport, was taken from the old IVI Foundry in Athy. The name was changed to "A" Transport – the "A" standing for Anderson – in 1974 after Roger took over the reins from Leslie. While the business has grown substantially and times have changed drastically, "A" Transport remains a hands-on, honest and reliable haulage business. When Leslie started out all those years ago, two of his first customers were local company Minch Malt – now Boortmalt – and Bord na Mona. Remarkably, Boortmalt remains "A" Transport's biggest customer, while Bord na Mona is also still on its books.
"Our long association with both companies is testament to the service we give," Callum proudly adds.
Having originally collected barley from local growers and delivered to what was then Minch Malt in Athy, "A" Transport now draws malting barley from the same facility to breweries and distilleries all over Ireland, including Guinness in Dublin, Tullamore Dew in Co. Offaly, Cooley Distillery in Co. Louth and Franciscan Well in Cork. It also delivers malting barley to the Glenmorangie Distillery in the Scottish Highlands.
Boortmalt is the world's leading malting company with a three-million tonnes production capacity. The group is present on five continents with 27 malting plants. Its goal is to produce high-quality types of malt to meet the specific demands of its worldwide clientele of brewers and distillers.
As a specialist in the haulage of bulk combinable crops and dry feed materials / ingredients, "A" Transport is a member of TASCC (Trade Assurance Scheme for Combinable Crops) and has six bulk tippers dedicated to this work. TASCC was developed because farmers and end users wanted to be sure that crops of grain, oilseeds and pulses were treated responsibly once they left the farm. That includes wheat processed by flour millers and malting barley for the brewers and distillers in the drinks industry. It provides independent verification that the trade is meeting food safety laws.
The scheme is audited and certified by an independent certification body, in accordance with the internationally recognised standard EN45011. This means that the certification body is itself independently assessed every year to ensure that the standard is implemented and administered consistently and fairly.
Also a member of the IRHA, "A" Transport provides transport solutions to many different sectors, including bulk, curtainside, tipper, container and refrigerated transportation. Its clients range from Smyth's Toys and Ken Black Toys to seafood wholesalers Sofrimar (who it does deliveries for to France) and Fyffes Bananas. The family-business also has many clients in the agri feeds and fertiliser sector, including CR Wynne in Athy, Grennan's of Rath and Glanbia.
"If it fits in a trailer, we'll take it. Smyth's Toys and Ken Black Toys are two of our longest-standing customers. We've been working with Smyth's since they opened their first shop in Claremorris, while my father and Ken Black have been close friends for many years and have built up an excellent working relationship in that time."
Callum concludes by thanking his customers, suppliers and staff for their continued support.
"I would like to take this opportunity to thank all of our loyal customers and suppliers for their support over the years. I also want to pay tribute to our fantastic drivers and staff, without whom we cannot offer the service.
"Our drivers are experienced, reliable and courteous. They take great pride in the appearance of their truck as well as their own appearance. They have a very professional attitude and we never get a complaint. We've had a number of drivers who've reached 20-30 years' service. Without question, they've played a key part in our growth and success.
"But our biggest gratitude must go to our grandfather Leslie and father Roger for 70 years of hard work and for taking "A' Transport to where it is today, and giving us the opportunity to continue the business. Hopefully we're doing it right."
Here's to the next 70 years of this exceptional family business.
"A" Transport Ltd
Geraldine Road,
Athy,
Co. Kildare.
Telephone: 059 863 1520
Email: [email protected]
First published in Irish Trucker magazine Vol 25 No 6, November/December 2022