Quality and service set Valley Commercials apart
26/01/2023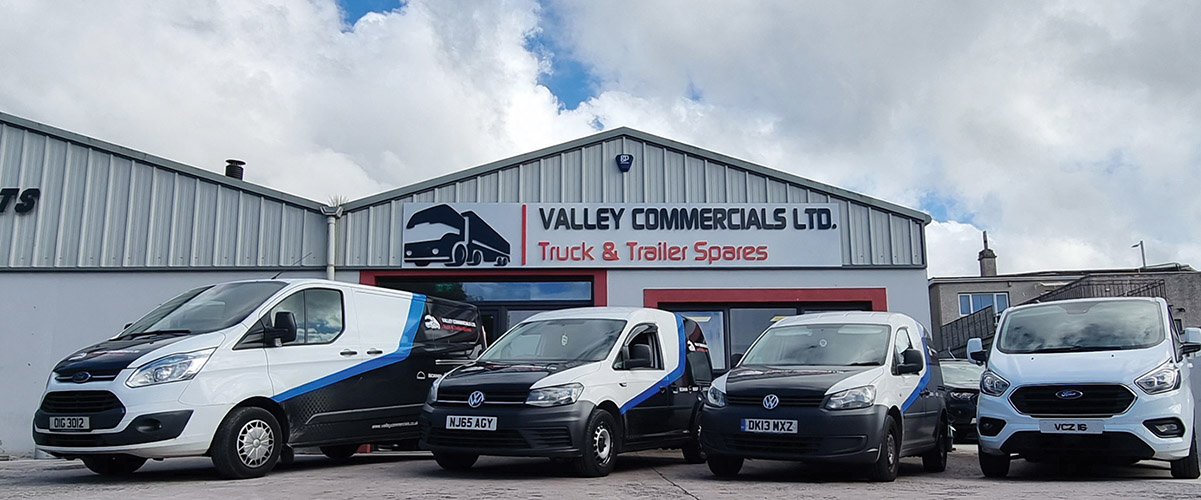 Valley Commercials have been supplying the commercial motor trade with a comprehensive and ever-expanding range of high-quality truck, trailer and bus parts since 2007. Irish Trucker popped into their well-appointed Fivemiletown base and briefly interrupted founder / proprietor Leonard Kelly's busy schedule to find out more.
Over the past decade-and-a-half, Valley Commercials have established themselves as one of Northern Ireland's premier stockists and suppliers of an extensive array of commercial vehicle parts, including top brands from all the leading OE manufacturers.
The emergence of this progressive business as a market leading in their area of expertise has been based on proprietor Leonard Kelly's successful approach of consistently complementing top-quality products with exceptional service levels, ensuring that customers – and their vehicles – are looked after on both fronts.
Covering everything and anything associated with air suspension and air brakes, body and chassis parts, electrical and lighting components, filters, fans, clutches, injectors, cooling accessories, consumerables, general truck parts, AdBlue, brake pads, drums, discs, calipers, etc., etc. and literally anything else a commercial vehicle owner or technician could need, Valley Commercials stock all the leading brands including Sachs, Lemforder, Bosch, Trw, Jost, Meritor, Dinex, Knorr-Bremse, Dayco, SAF, Wabco, Textar, Mahle, Sachs, Valeo, Mann+Hummel, LuK, and many more.
"What we are aiming for is quality products and an A1 service," confirms Leonard, who is very much at the coalface of the business as a hands-on owner. "You have to keep your finger on the pulse, know what's happening in the industry and be available to customers," the Fermanagh man reasons.
"We go out of our way to make sure we give the best-possible service and I'm available to clients 24/7. You have to be in this line of work. It never stops. If a man needs a part late at night or at the weekend, then we have to get that part to him. That's how you hold onto your customers.
"Commercial parts is completely different to the car game. When a customer calls you, he needs that part there and then, on the spot, and you have to sort him out as best you can, without any unnecessary delays. We are very professional about the service we offer and good manners and respect go a long way.
"Quality is vitally important. We keep quality parts rather than spurious ones. People don't want cheap parts because they are gone again in 12-18 months and that's no good. The genuine, OEM part is more expensive but that's what the customer wants because it means he won't be back again with the same issue. Everything that goes out of here is genuine, branded stuff. They might be 20% dearer but are worth it because there's no comeback.
"That's the approach we have taken from the beginning and that's how you get repeat customers. They know what is being fitted to their trucks and they will have it documented. They know they are getting quality, so they are more likely to come back next time they need something."
Leonard is vastly experienced and knowledgeable in this field as commercial vehicle parts is pretty much what he has focused on all his working life. His father ran a parts business in Omagh, where he cut his teeth and, upon returning home from a spell in New York, Leonard worked in a motor factors for five years before opting to go out on his own, setting up Valley Commercials in 2007.
Rather than concentrating solely on the bigger marques like Scania and Volvo, Valley Commercials stocks parts for all makes and models of trucks and trailers, including the smaller 7.5 tonne lorries. As a veritable one-stop shop for all commercial vehicle needs, a huge stock of parts is stocked at any given time, supplying fitters and garages, truckers and quarries within a 30-mile radius of Fivemiletown and providing them all with an unrivalled service.
"We have six vans on the road and a rapid response is guaranteed. We have the manpower to make sure our customers want for nothing.
"When I started in '07 the downturn was happening and I'm sure a lot of people thought I was mad, but I know this business inside-out and I knew I could make a go of it. Things have worked out and I will keep doing everything in my power to improve our service further.
"I took nothing out of the business for the first ten years. Any profits were reinvested back into it and we now have a decent business with ten staff and a 10,000 square foot shop packed with up to £1m worth of stock, and with direct access to all the major parts suppliers."
Due to the increasing presence of electrical systems in vehicles, it's impossible to have everything in stock. "Things have changed dramatically. While we still have all the bread and butter parts, there are more and more electrical components in a vehicle and you couldn't keep them all," says Leonard. "However, we offer the next best thing in that we have instant access to sensors and all other electrical parts and in most cases can have them delivered the same day they are ordered.
"There are a lot of logistics involved in looking after customers and running things smoothly. This place is like a call centre and we are working around the clock to ensure that everybody gets a quality part as quickly as humanly possible."
Looking to the future, the goal of Valley Commercials is clear: to keep providing the best-possible commercial vehicle parts, with a keen emphasis on service. "We make a major investment in stock each year and will continue to do so. You have to keep up with what's happening in the industry and when something new appears we will identify it and get it in.
"Sometimes, it could be on the shelves for two or three years before it moves, but you have to have it there, available. We want to be ahead of the game and we aim to have everything here when it's needed, to get it sorted and be prepared to deliver as soon as a customer rings. If you have it here, you can be up the road in 20 minutes. That's what the customer wants to hear - that his part is on its way.
"With a good, quality part delivered quickly, you can give customers excellent value for money," the personable proprietor concludes. "But things have become tougher with substantial price hikes across the board. Some of the brake discs and drums, for example, have doubled in price and this hasn't been easy for us as we are operating on small margins. The fuel issue has also driven a lot of prices up and you'd be hoping that it starts to come back down again sooner rather than later."
Valley Commercials Ltd.,
1-2 Edfield Way,
Fivemiletown,
County Tyrone.
Tel: 028 89521593
Email: [email protected]
Web: www.valleycommercials.co.uk
First published in Irish Trucker magazine Vol 25 No 6, November/December 2022