You can always rely on Francis Ely Transport
26/01/2023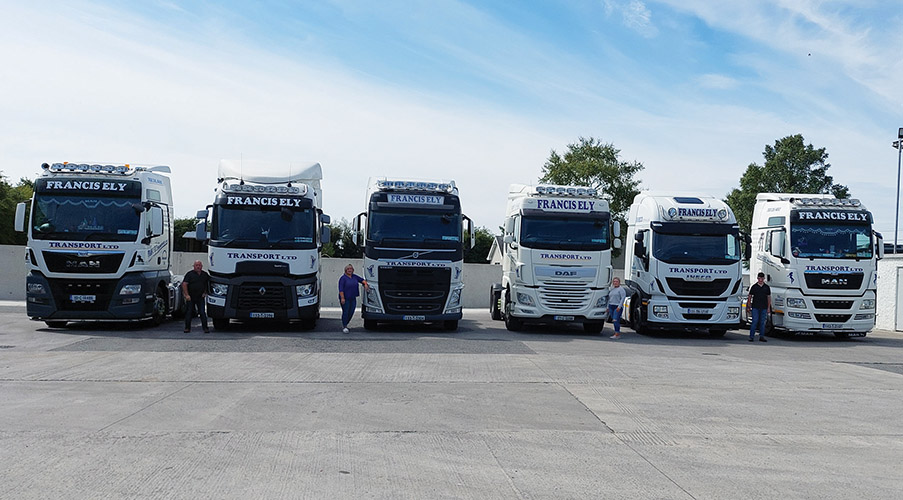 Established in 1999, Francis Ely Transport Ltd is a family-owned haulage business catering for palletised freight, full loads and half loads. The company also has sizeable contracts to distribute animal nutrition products and the transport of refrigerated cabinets to the retail sector.
Based within easy reach of the M8 Motorway between Thurles and Templemore in Co. Tipperary, Francis Ely Transport delivers an unrivalled service to a large customer-base. As a member of both PalletXpress and TPN, it provides a next-day pallet collection and delivery service in Ireland, and an express service to and from the UK.
PalletXpress operates from a conveniently located hub in Huntstown Business Park, Cappagh Road, Dublin. Its 21 haulier members deliver freight to the hub for onward delivery by other members. Working with a network of 25 regional transport companies, TPN (The Pallet Network) delivers and collects pallets and carton freight in every county in Ireland on an overnight delivery service. With a unique integrated link to its sister company in the UK, TPN offers a premium 48-hour export and import delivery service to and from the UK. Also offering international services, road, air and sea, its central hub is located in Orion Business Park, Ballycoolin, Dublin 15.
"Groupage and palletised freight are a major part of our business," Francis Ely explains.
"We have been part of PalletExpress since 2010 and TPN since September 2018. We cover Co. Tipperary for both of them. We collect five loads every night in Dublin for both and bring them back to Tipperary. We're the last handlers of the goods. We also deliver loads and can arrange for them to be forwarded to the UK. We can send between one and 26 pallets to the UK through PalletXpress."
In addition, Francis Ely Transport carries out animal feed, nutrition and refrigerated transport for clients such as Agritech, Nutribio, Provimi, Inform Nutrition, Streamline Enterprises and Cross Refrigeration. The company employs 30 people and runs a stellar fleet of 22 trucks (11 tractor units and 11 rigids) and 15 curtainside trailers. The white and blue corporate colours of Francis Ely Transport have become a familiar sight on Irish roads over the last 23 years.
The trucks are a mix of MAN, DAF and Volvo, while the trailers are SDC, Montracon and Lawrence David. Five of them are fitted with Moffett truck-mounted forklifts. Francis' suppliers include DAF Truck Services (Cork), Truckbreak Ltd in Limerick and Warner of Windgate Ltd in the UK. All trucks and trailers have satellite-tracking systems and are maintained by two qualified mechanics in the company's fully-stocked workshop to ensure there is no such time as downtime. The workshop is part of an 18,000 sq. ft. premises which also includes office and warehousing space.
Francis, whose wife Majella is also a company director, is full of praise for his drivers and staff.
"Our drivers are experienced, reliable and friendly," says the affable managing director, who has worked in the transport industry all his life.
"They are fully-trained and take great pride in their work and the appearance of their vehicles. They're the backbone of our business and have played a big part in our growth and success to date. Our workshop and office staff are also top-class. The office is run by Noel Kent, senior transport planner who, alongside Michael Murphy and John Ely, ensures everything runs smoothly from day-to-day.
"Mary Cleary in her role as office manager ensures the administration side of things also runs smoothly. It's a real team effort."
He continues: "Complete customer satisfaction, reliability and value-for-money are guaranteed when you utilise our services. We have a great reputation within the business and have many repeat customers. They can always depend on us to go the extra mile for them."
Soaring fuel costs and driver shortages are two of the big issues currently facing the transport sector. With the entire industry struggling to attract young people, Francis is delighted to see Tipperary ETB (Education & Training Board) providing HGV rigid and artic training courses at its training facility in Archerstown Industrial Estate in Thurles.
"It's something that I would warmly welcome. Truck driving is an ageing profession which badly needs an injection of young blood. Without new people, the industry will have no future. We've given some of the students at Tipperary ETB work experience and hopefully some of them will come back to work for us in the future."
Francis would like to take this opportunity to thank his customers and suppliers for their continued support as well as his staff for their hard work, dedication and skill.
Francis Ely Transport Ltd
Athnid,
Thurles,
Co, Tipperary,
E41 E654.
Telephone: 0504 45404
Email: [email protected]
Web: www.franciselytransport.com
First published in Irish Trucker magazine Vol 25 No 6, November/December 2022