Zellwood delivering big time on carbon-reduction commitments
19/01/2023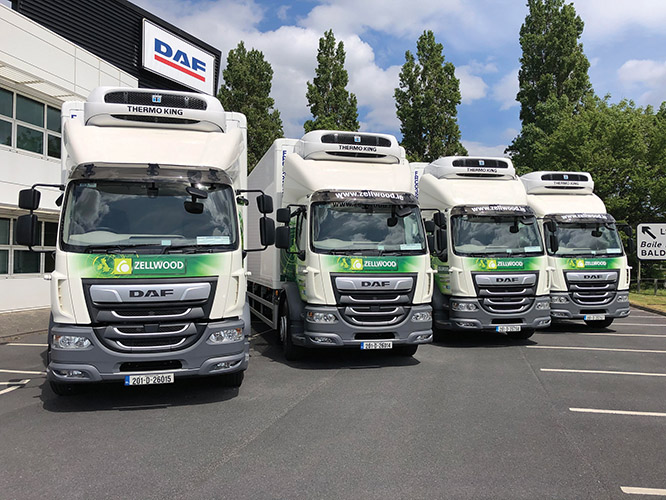 Industry leaders in transport planning, distribution and networking, award-winning contract management and logistics solutions provider Zellwood Ltd. – who are now in their 27th year of business - are also leading the way in sustainability and decarbonisation. By switching their fleet to sustainably-powered HVO vehicles, Zellwood will decrease their carbon emissions by as much as 90% by the end of the 2023.
In June, it was announced that Zellwood and Lidl Ireland had introduced the first electric vehicle (EV) and hydrogenated vegetable oil (HVO) truck into its logistics fleet,
In keeping with the retail giant's commitment to becoming a carbon neutral business by 2025, this trailblazing transition from fossil fuel commercial vehicles to more environmentally friendly vehicles is a first for the Irish food retail industry and marks the beginning of a full roll-out of HVO vehicles within the extensive Zellwood fleet.
Zellwood's currently-ongoing switch to hydrogenated vegetable oil vehicles – which is the first step in ultimately transitioning to all-electric vehicles - will reduce emissions by 90% per trip by using 100% renewable fuel produced through the hydrotreatment of vegetable oil to create a fuel product with the same chemical structure as diesel.
Boasting a over a quarter of a century's experience at the forefront of the haulage industry in Ireland, Zellwood – established in the capital by brothers William and Mark Flanagan in 1995 and now with additional depots in Mullingar, Charleville and Newbridge - is one of the leading providers of ambient, chilled and frozen logistics solutions throughout Ireland and has been working with Lidl Ireland for seven years and counting
Commenting on the introduction of the groundbreaking electric and HVO-powered trucks into Lidl's fleet during the summer, William Flanagan, Managing Director, Zellwood Ltd. said: "The future of Irish roads is electric. However, this is at an early stage and with time we will see more technological advances, better availability, and range. In the meantime, the beauty of this new HVO is that it can be used to fuel any diesel vehicle without having to modify the engines and it eliminates unnecessary operational emissions while offering the same distance, range and accessibility as a fossil fuelled vehicle."
Over the past 27 years, Zellwood has grown substantially to become one of Ireland's leading retail temperature-controlled distribution solutions providers. They believe that the transport industry in constantly evolving and have therefore consistently endeavoured to adapt their services to meet all customer requirements.
Providing a complete one-stop-shop distribution solution, Zellwood is a private, family-owned company with a skilled, experienced and distinct management team, which enables informed decisions to be made quickly and without delays. This results in a more efficient operation, with the flexibility to meet all customer needs and expectations.
At present, Zellwood runs a striking fleet of 75 trucks, with over 200 employees – astonishing growth from when William and Mark began working two small trucks at the Dublin fruit markets in the mid-'90s! Their three main customer are DHL, Gist [Marks and Spencer / Starbucks] and Lidl, with a regular fleet replenishment programme ensuring that customers are provided with the most up-to-date trucks and trailers, manned by professional, experienced and efficient operators.
"Everything we do is chilled and for retail deliveries you have to keep your fleet fresh," says William. "The oldest truck in the fleet as we speak is 2018 and by end of October this will move to 2020 being the oldest, and we are constantly pursuing the most efficient trucks on the market. As manufacturers meet their deadlines to provide the latest version of Euro 6, we are always on top of it to make sure we keep our CO2 emissions down."
Zellwood, who are using fully-sustainable HVO fuel, plan to have their entire fleet transitioned to HVO by the end of 2023. As part of their objective of becoming a carbon neutral company, this is something they have been looking at for a couple of years. "We were almost ready to pull the trigger on it in 2020 and then Covid happened," reflects William. "We started rolling it out in our Mullingar depot in June and will have 15 trucks there on it by September. We will be fully HVO-powered by the end of 2023, with one electric truck in the mix as well and more to come. Emissions will be cut by 90%.
"We will have three electric vehicles in the fleet by the end of 2023 but we don't see electric as the immediate answer. This is a stopgap and HVO fills this perfectly, not least because there are no modifications needed. HVO fuel is a seamless transition from diesel. Obviously it's more expensive but our customers are all serious about their environmental responsibilities and as such are driven by a desire to cut their emissions as much as possible."
The Zellwood fleet is predominantly DAF, although last December they took delivery of five stunning new, highly-efficient Renault T440 Evolution 4x2 trucks from Setanta, who have also supplied the first electric truck in the fleet, which comes with an 18-pallet, dual-evaporation fridge.
In keeping with the steady growth being recorded year on year, Zellwood's staff numbers continue to increase. "Our staff has grown dramatically over the past two years," William confirms. "Our drivers only work four days a week but our trucks are on the road seven days, with a lot of them doing double shifts. We cover in excess of 225,000km per week and the impact of switching over to HVO is going to be huge."
Indeed, under the carbon credits and rebate scheme that they are signed up to, Zellwood last year were one of the highest-achieving haulier in Ireland in terms of their reduction in fuel emissions. Meanwhile, the use of Blue Tree Systems telematics and the Aptarus driver training module ensures that Zellwood's fleet is constantly achieving optimal efficiency, minimising its carbon footprint and its impact on the environment.
Within the retail distribution sector, they are very much the market leader in terms of the measures being implemented to reduce carbon emissions and Zellwood clearly has no intention of easing up on this aggressive decarbonisation programme, which is of critical importance to all of our futures.
Zellwood Ltd.,
Kettles Lane,
Marshallstown,
Swords,
County Dublin.
Tel: 01 8900319 / 890 0315
Email: [email protected]
Web: zellwood.ie
First published in Irish Trucker magazine Vol 25 No 6, November/December 2022