Steady growth continues at Hazelwood Haulage
17/01/2023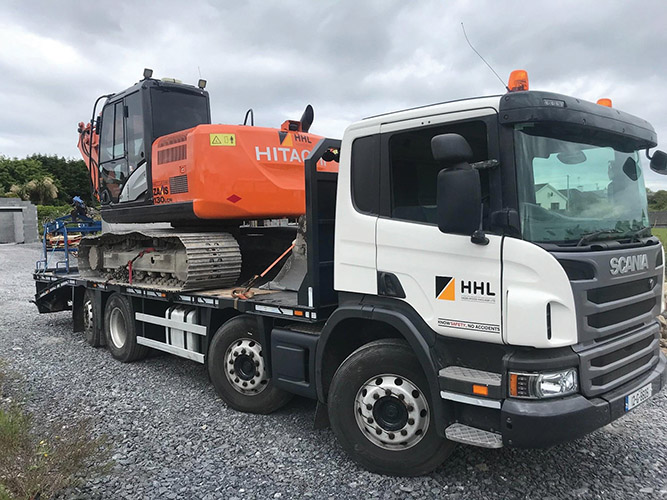 Based in Clonboo, Corrandulla, Co Galway, Hazelwood Haulage Ltd specialises in haulage, plant hire and low loader services all around the west of Ireland. Irish Trucker touched base with Managing Director Evan Lenihan to hear all about the company, its machinery fleet and plans to expand going forward.
These are busy times at Hazelwood Haulage Ltd and the plan for Evan Lenihan and the rest of the team in Clonboo is to keep things that way right through to next year.
Up and running almost five years now, the company has enjoyed a quick rise and currently employs 12 staff from its base in Clonboo, Corrandulla, Co Galway.
Bulk excavation, muck shifting and general civil engineering work is what the Hazelwood Haulage Ltd is best known for amongst its customers, with Evan himself having been immersed in excavation work both at home and abroad before taking the decision to set-up his own venture.
Irish Trucker spoke with the Galway native recently to find out more on the origins of the company and the overall state of business at the moment.
"I suppose most of what we do here would be bulk excavation, muck shifting, site clearance, civil engineering, demolition and we also supply top soil and have low loader hire," Evan outlined.
"My father, Joe, would have worked in the haulage business since the1980s and he's here with us now and, as for myself, I was driving excavators in America and I came back then around 2018 and set-up the company.
"It was slow to get going at that time, but it did pick up, and we're going well now here at the moment."
That first year or so was undoubtedly a challenge for Hazelwood Haulage Ltd and the company did eventually find its feet through delivering excellent work for its customers time and time again.
Soon enough, off the back of that consistency, the business would start to grow and its reputation along with it.
Even the Covid-19 pandemic, and the government lockdowns which followed in order to combat the spread of the virus, couldn't halt its momentum once it got going.
Today, business is flourishing at Hazelwood Haulage Ltd as its affable Managing Director explained.
"Business is good now, we're flying it," said Evan.
"Covid wasn't too bad for us at all because our operators weren't mixing with anyone and we were able to keep going and worked away through most of it.
"We carry out work for companies that provide essential services, so we were able to keep going that way and we kept busy throughout.
"Business is going well at the moment and we are confident things continue on that way for us for a while."
Even with the challenges out there brought on by rising fuel costs, Hazelwood Haulage remains busy and looks to be so for the coming months and into 2023.
The company currently operates with seven trucks in its fleet, five of which are Scania, with two arctics and an 8x2 plant truck in the yard.
Its range of services also sees it operating with four diggers and a bulldozer, as well as two tipper trailers, two low loaders and two flat trailers.
The most recent addition Evan has made is a 20-tonne Hitachi digger which was purchased last year and, more than likely, there will be a couple more new machines added to the fleet in Clonboo again next year.
So, all of that considered, the burning question is what has been the secret behind Hazelwood Haulage's success to date?
How has a small start-up managed to grown into a busy venture with an excellent reputation amongst its clients when it comes to haulage, plant hire and low loader services?
For Evan, it comes down to a combination of different factors so far, but there's a couple in particular that stand out when it comes to customers picking up the phone again to acquire his company's services.
"I think a lot of it is down to the fact that we come as soon as they call and also that we carry out good work here as well," said the MD.
"We are reliable first and foremost and I think our customers see that in our approach and we also have good plant and good men working here too, which obviously is vital for us."
The way Evan sees it, you're not only as good as your last job but the company is only as good as the people it has working for it.
The staff count has swelled up to twelve the space of four short years for Hazelwood Haulage, even despite the challenges brought on by a global pandemic, and its owner and founder is keen to grow those numbers going forward.
When asked about his hopes heading into what will be the company's fifth year in 2023, Evan doesn't hide the fact that he's keen to continue growing the business and keep delivering for customers.
"We'd be hoping to continuously expand here along the way and just to keep growing the business and keep upgrading the machines that we have as well. Those are the hopes for us for the next couple of months," he concluded.
Hazelwood Haulage
Clonboo,
Corrandulla,
Co Galway
H91 K64X
Mobile: 087 190 9640
Email: [email protected]
First published in Irish Trucker magazine Vol 25 No 6, November/December 2022