Con McSweeney lived life to the full
12/01/2023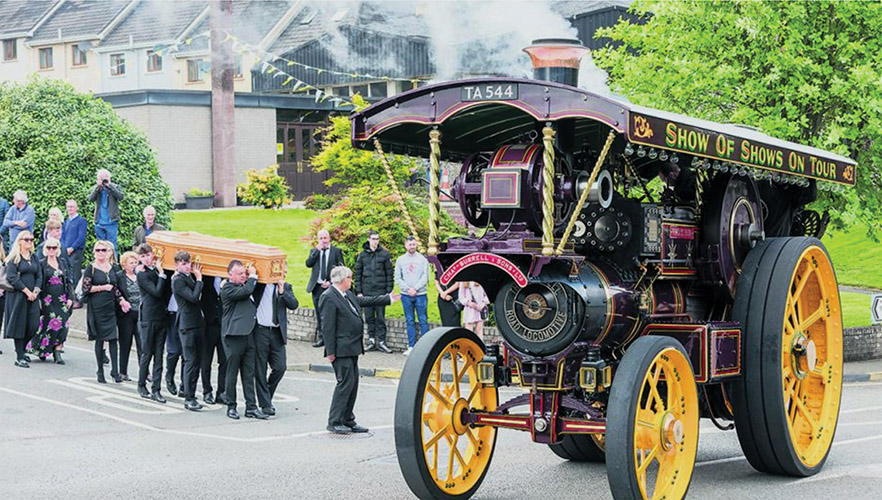 Members of the haulage and farming communities travelled in their hundreds from far and wide to Kinsale, Co. Cork in 2022 to pay their final respects to Con McSweeney of Riverstick Motors Ltd.
On Con's final journey by truck from St Joseph's Church, Riverstick to join his beloved wife Margaret in St Eltin's Cemetery in Kinsale, the road was lined with dozens of trucks, tractors and silage fleets which is testament to the high esteem in which he was held. A beautifully restored 1911 Burrell Showman's steam engine led the cortege after Requiem Mass in Riverstick. This was a lovely touch given that Con was a well-known steam engine and vintage rally enthusiast.
Con, or "Connie Mac" as he was affectionately known, passed away peacefully on June 2 2022 at the age of 87 in the care of the Mercy University Hospital in Cork. He is survived by his daughter Anna (Costello), son Tony, sister Noreen (Noonan), son-in-law Dermot, daughter-in-law Rena, grandchildren Peter, Lauren, Alana, Ben, Jody and Charlotte, brothers-in-law Dan Noonan and Tim-Joe Horgan, nephews, nieces, neighbours, relatives and a wide circle of friends.
Con's son Tony, who now fronts Riverstick Motors, drove the 1997-registered Mercedes-Benz Actros 1844 tractor unit – owned by Gordon Gash of Gash Transport in Bandon – which carried Con to his final resting place and was overwhelmed by the send-off he received.
"We were hoping to see six or seven trucks, so when we turned the corner after crossing the bridge into Kinsale and saw about 60 or 70 of them and numerous tractors form a guard of honour, we were completely taken aback," Tony says.
"The turnout was unbelievable and our family will forever be grateful to everyone who came. Der O'Mahony from Tony O'Mahony Agri Plant & Haulage in Bandon organised the get-together of trucks from all over Ireland. MJ McGuinness sent down two Scania show trucks from Kilkenny. It was testament to the industry and rural living in Ireland. People were so, so good. Con couldn't have asked for a better farewell. Thankfully, we captured it all on video.
"I would like to take this opportunity to thank anyone who took the time out to pay their final respects. I would also like to thank the Gardaí for looking after the traffic management. They did a brilliant job."
He continues: "We decided to bring my father in a Mercedes truck because he had sold Mercedes trucks in the 1970s and 1980s. We carried his coffin a kilometre out from the church in Riverstick behind the Burrell Showman which was kindly provided by Barry and Sean Lordan from Bandon. We also carried him the final kilometre to his grave in Kinsale.
"The funeral was a celebration of the full and happy life he lived."
From humble beginnings, Con McSweeney became a successful businessman and property investor. He was born in Drumlough near Dunmanway in West Cork and started working at the age of just 13. He worked as an agri contractor in the 1940s as farms became mechanised. His catchphrase "From cow lifting to manure-shifting, we do it all" became well-known in the area.
Like so many of his generation, Con and his new wife Margaret emigrated to England in the mid-1950s. There, he enjoyed great success in business and property before returning to Cork to set up Riverstick Motors Ltd in 1968.
"England was in the middle of a post-war boom and my father did well because he worked hard and could put his hand to anything," Tony explains.
When Riverstick Motors was appointed Cork's Mercedes-Benz commercial dealership in 1979, Con's target was to sell a dozen trucks in the first year. As it transpired, he sold 75. In the second year, the target was 30 and once again Con surpassed all expectations by selling 150. He was an excellent salesman among many other things.
In the 1980s, Riverstick Motors became Cork's first Mitsubishi commercial dealership and this proved to be another successful venture. "Mitsubishi suited the Irish market because the country was gripped by recession at the time," Tony points out.
A fire gutted the Riverstick Motors premises in 1986, but undeterred, Con rebuilt it. Tony joined his parents in the business as a 19-year-old and it subsequently diversified into vehicle testing, the supply of cow mats and bark mulch as well as property development. Riverstick Motors has become one of the busiest VTN Test Centres in the country, providing HGV testing, LGV testing, tachograph calibration and plating services to the greater Munster area.
The garage has invested heavily in the latest equipment for testing all LCV and HGV commercial vehicles. The purpose of the test is to ensure that these vehicles are in good roadworthy condition throughout their entire life. Riverstick Motors' testing facility is manned by vastly experienced and professional testers with the capacity to perform quick and affordable tests on all types of commercial vehicles, including vans, trucks, trailers, buses, coaches, mini-buses, ambulances, campervans and motorhomes.
"We test up to 9,000 vehicles a year and Con was there overseeing everything from his mobility scooter up until the very end. He was very sharp and was still able to drop customers off, his driving was perfect. He worked for 74 years and is sadly missed," Tony concludes.
RIP Con McSweeney.
First published in Irish Trucker magazine Vol 25 No 6, November/December 2022