Always on hand as your total compliance solutions partner
09/01/2023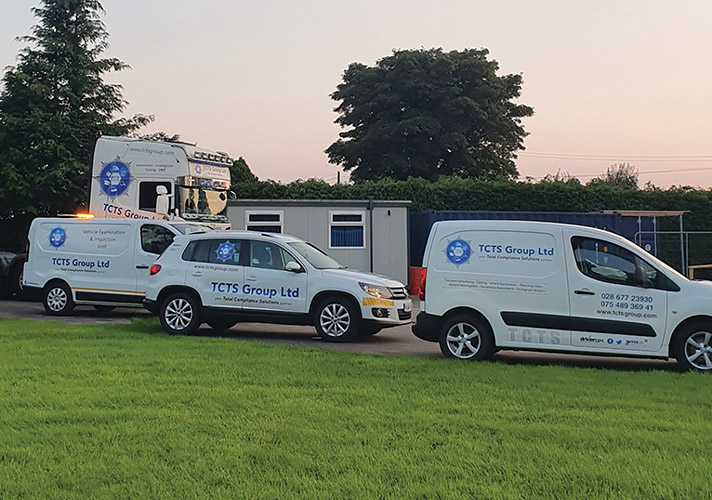 Headquartered in Lisnaskea, Co Fermanagh, TCTS Group Ltd & Sister Company TCTS Ireland-EU Ltd is Ireland's leading proactive Transport Compliance, Operator Licence, Tachograph Analysis & Management Investigation, Road Safety & Training organisation. Irish Trucker touched base with Founder and Managing Director Stephen Smyth to hear more about this company which has managed to spread its influence across Ireland, the UK and indeed Europe in the space of six short years.
These are busy times at TCTS Group Ltd and the plan for its founder and Managing Director Stephen Smyth and the rest of the team is to ensure they not only keep serving their ever increasing client base but that they continue their growth throughout Ireland in the next few years.
Operating with multiple staff throughout multiple locations, the company is headquartered in Lisnaskea, Co Fermanagh and has remote offices in Newry, Derry, Belfast, Dundalk and Kilkenny with several locations throughout England and other parts of the continent as well.
TCTS Group is a company which provides Road Transport, Passenger Transport, Logistic, Warehousing, Emergency Services, Manufacturing, Engineering and Commercial sectors with practical and relevant support services, advice and guidance through their Onsite and Remote Services, Consultancy, Training and Technical expertise.
Irish Trucker spoke with Stephen Smyth recently about the ins and outs of the business, its hopes for the future going forward and plans for a new, exciting and massive software development named 'Compliance Pal' later this year.
"From the start of this year, and even from the start of Covid say, we've probably trebled our business, to be honest," the Managing Director outlined.
"One of the big things during Covid was the fact that the whole ethos of our business is that we go in, take the pressure off you and take over your compliance, operator's licence, tachographs, Health & Safety, driver management and fleet management. We simply take over everything to allow you to concentrate on growth and service delivery.
"So, when Covid came, there were a lot of Companies whose admin, support staff, trainers, Health and Safety and compliance staff were put off on furlough. So, we just went in and looked after these companies and, to be honest, we probably trebled our workload within the Covid period.
"We did have to go recruiting for new staff and the recruitment process is very tough. At the moment, we have a huge national recruitment drive both at TCTS Group and TCTS Ireland and we're looking at having 10 positions available at TCTS Ireland in the next three to four months."
The Covid-19 pandemic, and the government lockdowns which followed in order to combat the spread of the virus, impacted business nationwide.
For TCTS Group, the impact was largely positive with business having practically tripled.
However, at the beginning of this year, Stephen himself was unfortunate to contract the virus in a severe enough way and it left him and his family fearing the worst at certain points.
"I had double Covid pneumonia, so I was in hospital for six weeks from the start of January," he said.
"I was in London on business and while I was out there, I wasn't feeling well at all and then it just hit me like a tonne of bricks.
"I got home back to Ireland about two days afterwards and I had to go into A&E and that was it. I was kept in there and it was rough because the family was put on standby several times.
"Thankfully, we were lucky enough to come out at the end of it."
Once given the all clear to return, Stephen was back at the helm of his business (albeit working from the hospital bed at the doctor's demise) and his first move was to restructure his current systems and staff which included commencement of a new recruitment process.
It's challenging through – and one which continues to this very day – as the busy times continue to roll on at TCTS Group Ltd throughout Ireland the UK and Europe.
As it stands, the company's Training Division alone is running more than 280 training courses at present with training provided across a whole range of areas, including Transport training, Management training, Compliance Training, Driver Training manual handling, abrasive wheels, forklift and material handling, risk assessment, fire training, first aid, vehicle loading, warehouse & logistic staff training, record retention, Health & Safety, accident procedures, operator licence awareness training, Transport Manager CPC and refresher, vehicle / fleet inspection and roadworthiness techniques, working at height / MEWP, workshop safety, drivers hours, driver assessment, etc.
Another primary focus for Stephen and his business at present is the pending launch of a global software platform called 'Compliance Pal (Trademarked)' supported with their additional software 'TachograpPAL (Trademarked)', which he was good enough to fill us in on the details of.
"We have a Global software development underway, which is a £600,000 development that we're in the last year of developing here," the Managing Director explained.
"It's a full European global software platform that's built by ourselves, designed by ourselves and which we own the IP and trademark of. This is not the 'off the shelf product' the industry is use to. We've done everything from the start of it and it will be a game changer for the transport, logistic, Manufacturing Engineering, Professional Services and Maintenance sectors, including tachograph software as well.
"We've been working on it for the last four years and it's in critical testing at the moment, so hopefully it will be ready to launch at the end of this year.
"It's called 'Compliance Pal' and it's something that the industry has been absolutely crying out for.
"It's been created, designed and developed by myself and team members and was all on the go before Covid, and then Covid just really highlighted the fact that companies are crying out for it at the moment.
"Companies are currently running maybe two, three, four sometimes five systems and all they really want is one system to enable them to effectively and efficiently run their complete business with live, real time information along with digital access for all staff anywhere in the world. I run several businesses myself and I guarantee you if this system was available I'd of had it throughout my business groups."
As for the investment behind the new and exciting software development, Stephen outlined that there are two key supporters of the project at this point in time.
"I couldn't get anyone to team up with me on the development. I was reselling stuff for other people for years and I was trying to get them to develop it and nobody would do it, so I had to go away and do it myself," he said.
"Now, I'm very lucky because we're supported by Invest NI and InterTrade Ireland. InterTrade Ireland has taken a massive shine to us over the last couple of years mainly because of the TCTS Group but fact that TCTS Ireland Ltd is a dedicated ROI company also.
"So, they're on board with a lot of smaller projects in the background, which I think is a great fit."
Looking towards the months ahead, Stephen is currently putting plans in place that would see the company adding at least 10 more staff in TCTS Ireland by end of year.
CompliancePAL software will demand it once fully launched, according to the Co Fermanagh native, and there's already a call centre set-up in preparation.
"One of my aims and objectives was our industry changing software, as I call it," he said.
"Now that we've went so far with that, we've ended up adapting that so we've built the platform from where it was to where it is now which is, as our software developer calls it, 'a monster'. It's an absolute monster of a software.
"So, from that we have a call centre already established in Armagh and, in the next couple of months we would like to have a minimum of 10 new staff in TCTS Ireland which include Transport Compliance Officers, Trainers, Admin Support Staff and Management Staff and we are also be looking for Software Developers and Software Support Staff.
"My aim is 'We need 10 right now' sort of thing, so I'm hoping that before the close of the year that we'll have a minimum of 10 new staff in TCTS Ireland."
Indeed, it's all go at the moment and TCTS and the company's founder is excited about what the future holds.
Another part of the agenda going forward is to try and get companies throughout the Republic of Ireland to join TCTS as authorised associates of the business.
"We also have a support facility called our 'Authorised Associates| Providers and Agents Program' APA, which uses our software as well," said Stephen.
"What we're looking to do with it basically is that we've started a franchise model, so we're looking for companies to come in as franchisees/partners to TCTS Group. We're looking for companies all around the south of Ireland, depending on what industry they're in, to come on board as an authorised associate.
"We have a problem getting good, skilled, passionate staff and a lot of the good staff are actually out on their own, doing the same sort of work but they don't have the support mechanism and don't have the software and control measures. We're trying to get them to come on board as an authorised associate and we would just feed them with work all day long."
He concluded: "It's more or less that they'd be an authorised associate of ours, but they'll be able to run their own business as well."
TCTS Group Ltd.,
150 Lisnagole Road,
Lisnaskea,
Co Fermanagh
BT92 OQL.
Tel: 028 677 23930
Email: [email protected]
Web: www.tctsgroup.com
First published in Irish Trucker magazine Vol 25 No 6, November/December 2022