Delivering quality for 25 years and counting!
05/01/2023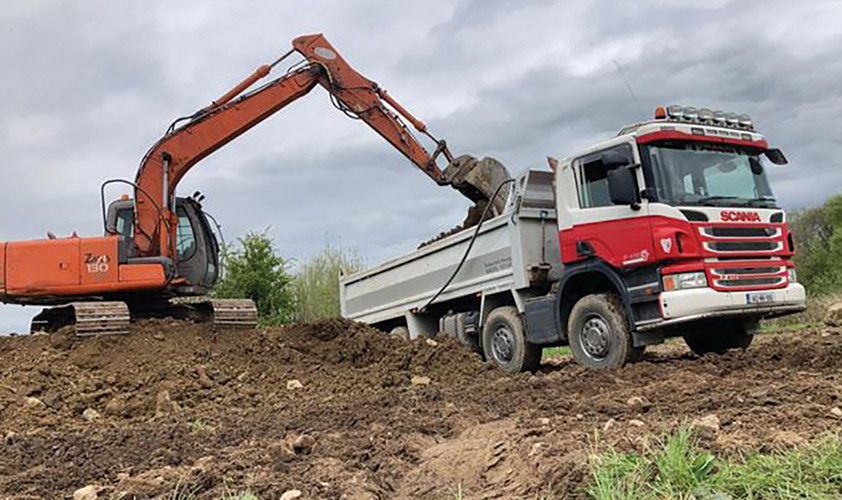 From his base in Corduff, close to Carrickmacross in South County Monaghan, Tadhg Daly has been consistently delivering dependable, high-quality haulage services for a quarter of a century. We touched base with Tadhg to get an insight into his exceptionally-maintained all-Scania fleet, the range of services offered by the long-established family business and his visit to this year's magnificent Full of the Pipe Truck Show.
There's no rocket science behind Tadhg Daly's business model. Instead, the popular Monaghan trucker focuses his attention on providing his customers with the products and services they need. By invariably looking after customers and expanding upon the service offering accordingly, Tadhg Daly Haulage & Grab Hire has gone from strength to strength since its genesis in 1997.
Supplying all grades of sand and stone and also offering prompt, professional and value-added licensed site clearance and tipper hire services, Tadhg currently runs a nice fleet of 17 trucks – all Scania – and he took four of these well-presented red-and-white workhorses up to Punchestown Racecourse for the long-awaited Full of the Pipe comeback show over the first weekend of July, 2022. It was the first time in three years that Ireland's premier truck show took place and a great time was had by all…
"It was dead on – a good weekend," the Scania operator reflects. "I'd been to Full of the Pipe before but only went up for a day at a time previously. However, this time myself and my sons and a few drivers went up for the weekend and we had a great time. It was a very good show and it's great to see it back again."
One of the lorries that travelled up from Corduff to Kildare was something of a labour of love of Tadhg's, which took shape during the long, dark days of lockdown: "One of them, we did up during the first lockdown, when we had nothing else to do," he recounts. "It's a '01 reg and we gave it a full nut and bolt restoration."
No stone was left unturned and it proved to be quite an investment… "A lot of hard work and money went into it – plenty of blood, sweat and tears - but it was worth it in the end. We got the parts from McElvaney's and a few others suppliers. In the times that were in it, that project gave us something to do."
The revamped Scania certainly doesn't look out of place in the Tadhg Daly Haulage & Grab Hire fleet as all of the lorries therein are immaculately maintained, always kept in tip-top condition even though the nature of the work they carry out can be dirty and demanding at the best of times. "Yeah, we keep them all in good condition and you'll find no fault in any of them," says Tadhg.
"We do all of the maintenance work in-house. I'm a mechanic by trade myself and we have the younger generation trained up, too, so there's plenty of help."
In addition to the aforementioned 2001-reg, the Monaghan man also runs one 2005 and after that everything else is 2010 and younger. "They are all good lorries, tried and tested and well looked after. As far as I'm concerned there's no need for flashy vehicles. A lot of the newer stuff is giving trouble – there's too much emissions control on them – and it makes far more sense to run trucks that you know inside-out and can rely on."
Regarding his decision to begin providing a grab hire service, Tadhg reveals: "I started doing the grab hire around five or six years ago, simply because my customers needed that service. I had been subcontracting it for a good while and just decided to take the plunge and do it ourselves."
The majority of Tadhg Daly Haulage & Grab Hire's work is construction related, including site clearance and sourcing and supplying materials to sites, be it for one-off domestic new builds or extensions / refurbishments or larger commercial or residential multi-unit developments.
An expansive catchment area is covered from as far south as the capital itself and across counties Monaghan, Cavan, Louth and Meath and even occasionally into Kildare. Through decades of outstanding service, Tadhg has built up strong working relationships with a number of local contractors and benefits from a steady volume of repeat business, which keeps the engine oiled and the wheels turning.
Like every other haulage operator in the country, Tadhg has found himself perplexed by the unsustainable and seemingly-endless increase in the cost of diesel and has had to make changes to the business in response to this uncontrollable outside factor. "Diesel is a real problem and hopefully it will start to come down again soon. To be honest, with the price of diesel at the moment, we are careful not to take on too much work," he states.
"We pick and choose what we do and make sure there's some sort of a margin. Some jobs we simply can't take on … there's no point being a busy fool. We have eight or nine full-time lads here at the minute and they are all experienced drivers, some of whom are family members. I'm actually very particular with my drivers – they have to know what they are doing. I'm lucky in that regard to have some great men working for me."
Employing skilled and conscientious drivers goes a long way towards enabling Tadhg to achieve his target of complete customer satisfaction: "You have to provide a good service," he concludes. "Your word is your bond. You have to be good to your word and never let people down. That means a lot to people and they won't forget it if you look after them and treat them with respect. After that, it's all about providing a good service at a fair price."
Tadhg Daly has been doing precisely this for two-and-a-half decades and, going forward, his customers can rest assured that he'll keep delivering more of the same!
Tadhg Daly Haulage & Grab Hire,
Sreenty,
Corduff,
Carrickmacross,
County Monaghan.
Tel: 042 9691027
Mobile: 086 8305966
Email: [email protected]
First published in Irish Trucker magazine Vol 25 No 6, November/December 2022