Tru-Cert hits the ground running
03/01/2023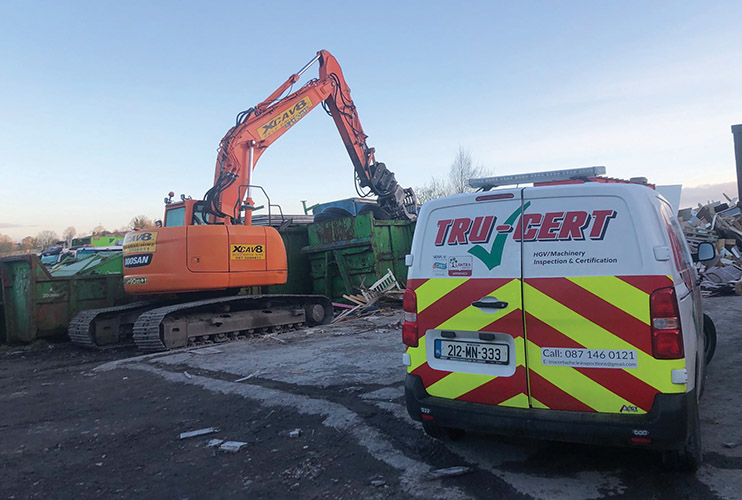 Established in February 2021 by Paul McMahon, Tru-Cert in Carrickmacross, Co. Monaghan has grown to employ five staff and run a similar-sized mobile fleet. The company provides an unrivalled nationwide HGV, plant and access equipment inspection and certification service.
Through word of mouth and recommendations from satisfied clients, Tru-Cert has enjoyed a very successful first year-and-a-half in business. The fledgling company also got a great reaction at this summer's Full of the Pipe Truck Show in Punchestown and continues to attract new customers on a daily basis.
"I could see an opening in the market for a good HGV / machinery inspection and certification service and wanted to give it a go," explains Paul, who has worked all over the world as a HGV and heavy plant mechanic for 30 years.
"I was in a secure job as a workshop manager, but felt I had nothing to lose as there's a shortage of mechanics at the moment and could get a job somewhere else if things didn't work out. I was confident that the new venture would take off, but I never expected it to grow as quickly as it has. I took on my first employee in September 2021 and now have five, including two qualified mechanics. I also have six vehicles on the road, having started with just one."
Tru-Cert has also relocated to a new office in the C Tek Building, Riverside Road, Carrickmacross. Paul is keen to stress the important role his wife Madeline has played in the company's growth and success to date.
"I've got great support from Madeline. She works in the HSE, but still finds the time to look after all the admin for us. We were doing everything by paper at the start, but now all the inspections and certificates are all on a portal. Madeline built a system with a UK software company called Big Change which is tailored to our needs. We also had to create all the job cards to ensure everything ran smoothly."
It's a real family affair with Paul and Madeline being joined by their eldest son Cathal (22), who was previously a truck tyre fitter. Another son, Aaron (18), is serving his time as a plant fitter and will join in due course.
Tru-Cert carries out truck and trailer, machinery and access equipment inspections nationwide. Mobile brake testing is another speciality. The company's inspections and certifications are both RSA (Republic of Ireland) and VOSA (Northern Ireland) approved. Tru-Cert is also GA1 / LOLER98 approved to provide inspection and certification services for all types of lifting equipment and machinery.
In addition, all Tru-Cert staff are Lantra and IPAF accredited as well as being fully insured. Lantra is a leading awarding body for land-based industries in both Ireland and the UK, providing quality training courses and nationally recognised qualifications that are delivered through a network of training provider partners.
"We carry out 12-week and eight-week HGV inspections in the South and North respectively. That is our bread and butter," Paul says.
"Dumper checks are every 12 weeks and access equipment inspections are every six months to ensure machines are fully compliant with statutory safety standards. Everything has to be certified in this industry or they won't be allowed on the road or onsite. We are authorised to provide GA1 certification for Briggs forklifts and lifting equipment in the Republic of Ireland and to carry out two and four-year inspections on Valeo compressors."
He continues: "Our customers love to see an independent company like us coming in to do their inspections because we increase their pass rate. We also bring any paperwork that has fallen behind because of a shortage of fitters up-to-date for them."
Tru-Cert's growing client-base includes HSS Hire, Speedy Hire, Drogheda Hire, Oxigen Environmental (Cavan), AJ Grab Hire, JB Hire and Briggs Forklifts. Its mobile fleet comprises three Opel Vivaro vans, one Opel Combo, one Citroen Berlingo van and a Nissan Navara pick-up truck, which had its first outing at the aforementioned Full of the Pipe Truck Show.
"We started out with the Berlingo and have since added three Vivaros, a Combo and the Navara. It's a fresh fleet that is fully compliant with all site regulations. The Navara has full-length beacons, reverse beepers and reflective signs. The bigger Vivaro vans are kitted out as a mobile office."
Looking to the future, the affable Monaghan man says: "We've got our name out there and we're happy to consolidate what we have for now. That said, we would never refuse work or new customers. We have reference letters from all of our existing customers which gets us work 99% of the time.
"The focus is on service and complete customer satisfaction first and foremost. If someone has an audit coming up, we will make it our business to accommodate them. We don't carry out repairs because that is not what we were set up to do. We concentrate solely on inspection and certification."
Paul would like to take this opportunity to thank his customers and suppliers for their continued support as well as his staff for their dedication, hard work, expertise and professionalism.
Tru-Cert
C Tek Building,
Riverside Road,
Carrickmacross,
Co. Monaghan.
Telephone: 087 146 0121
First published in Irish Trucker magazine Vol 25 No 6, November/December 2022