Key developments aplenty at Donegal Waste & Recycle
31/12/2022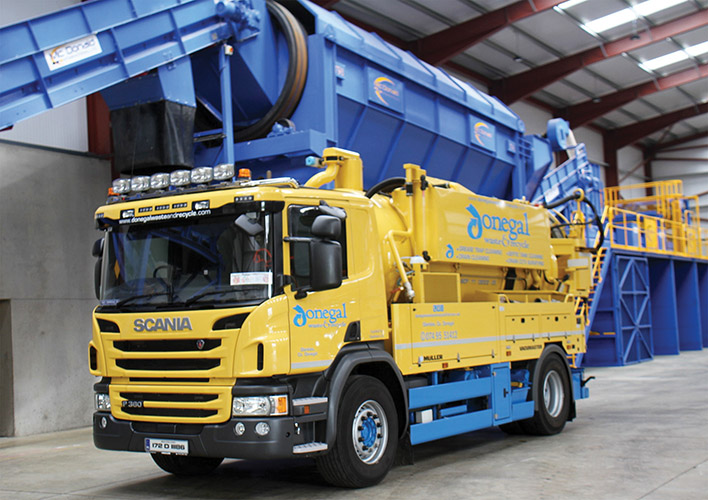 Providing household and commercial customers with outstanding services in both waste and recycling and most recently expanding into a wide range of tanker services, Donegal Waste & Recycle has been a resounding success story since its inception almost 50 years ago. This progressive, family-run business continues to move with the times, as we found out when touching base with office manager Donna McHugh for an update.
As businesses go, Donegal Waste & Recycle is one of Donegal's most-impressive success stories. Established by the Molloy family in Glenties almost five decades ago, the multifaceted business has embraced many changes in the waste and recycling sector down through the years and, as a consequence of this adaptability, has consistently gone from strength to strength.
Instead of slowing down, they continue to push forward and the last few years count among the most successful in their history, with significant strategic departures including the opening of a brand-new, state-of-the-art recycling facility in Donegal town in the latter half of 2019; the incorporation of much-sought-after tanker services including septic tank and drain cleaning, grease trap removal, oil interceptor cleaning, CCTV camera inspection; and the rolling out of a third bin for food waste as part of their domestic and commercial waste collection services.
Indeed, Donegal Waste & Recycle continued to provide the necessary waste collection service to their valued customers during the trying times of the health emergency introduced in 2020 and '21 due to Covid. All reasonable measures were taken to protect their staff, all of whom were up for the challenge to continue with our services successfully.
"The business is continuously in expansion mode," confirms Donna McHugh. "The truck drivers and helpers all continued to work with minimal interruption to the service. There were some administration staff members who had to work from home for a period of time and adapted well to this challenge but generally everything continued as normal, and we are still growing."
Few independent companies can claim to have grown over the past two or three years but Donegal Waste & Recycle bucked the trend. This did not happen by chance but was instead driven by the commencement of the tanker service to complement the pre-existing services, namely regular roadside household and commercial waste collection and domestic and commercial skip hire. (Weekly cardboard and glass collection services are also offered.)
"The lorry fleet is all Scania and we've also added two Volkswagen Crafter vans to our fleet. We've purchased a few new lorries recently and more are in the pipeline which were delayed due to the pandemic.
"The success of the tanker service is a positive addition to our business. The tankers are out on the road every day, cleaning out household drains, septic tanks and commercial grease traps, etc. We're really pleased with how that's going."
For companies to be able to remain successful, they need to reinvent themselves on a regular basis, or add new strings to their bow. Donegal Waste & Recycle has never been found wanting in this regard. Down through the years they have been market leaders, recording a number of firsts.
For example, in 2005, Donegal Waste & Recycle became the first contractor in the county to distribute a two-wheelie bin collection - blue for recyclable and black for residual. Founder Sonny Molloy, who started off the company with a tractor and trailer around the villages of Glenties, Ardara and Dunkineely, also had the distinction of introducing the first compactor truck in Donegal. Donegal Waste & Recycle were also the first contractor in Donegal to introduce the brown caddy bin service.
"Food waste is a big thing now and 90% of our customers in the agglomerations have the third bin – the brown one for food waste. We offer a 25-litre brown caddy bin to our domestic customers and a 140-litre bin to commercial customers," Donna adds.
Firmly established as the busiest and most environmentally aware recycling company in Donegal, the success being enjoyed by Donegal Waste & Recycle is largely down to the industry, vision and investment of the Molloy family (in conjunction with their hardworking staff), with Donna making special mention of current managing director Shaun Molloy:
"He has been the real driving force behind the growth of the business – from his father driving tractors to operating the large fleet of vehicles we have today, it's been a very positive success story and he deserves all the credit."
Between the facilities in Glenties and Donegal town, full-time staff numbers are presently in excess of 30. Shaun's wife Geraldine plays a key role in the business and has been a key driving force. She takes out of hour calls weekly and weekends providing an almost 24-hour service for much-valued customers.
"When I started in the office in Glenties, there were two of us in there and now there are seven of us," Donna reveals. "We're blessed with our drivers in that they have been with us years on the bin collection side of things, while we have taken on two new drivers for the tankers. Almost all of our drivers are locals, too, as well as a few foreign nationals who have been with us long-term. It's great to be in a position to be able to provide that local employment."
The business has an excellent track record for delivering outstanding waste collection, skip hire and tanker services, while, encouragingly, the future looks every bit as bright for Donegal Waste & Recycle. "It's all positive and we are growing all the time," Donna concludes. "We have a very good customer base covering Donegal and parts of North Sligo and North Leitrim. Going forward, we're hoping to expand further towards Sligo, especially with the skip hire and tanker services."
Donegal Waste & Recycle,
Ardlenagh,
Donegal Town,
County Donegal.
Tel: 074 9740130
Email: [email protected]
Web: donegalwasteandrecycle.com
First published in Irish Trucker magazine Vol 25 No 6, November/December 2022