Jay Commercials broadening their horizons
21/12/2022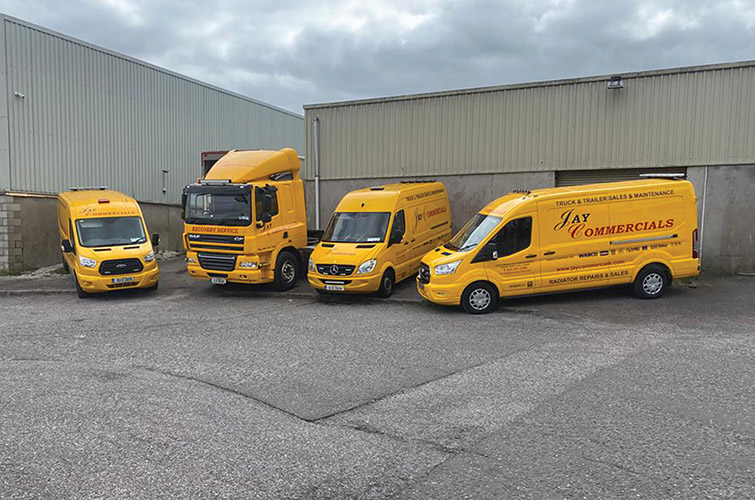 Firmly established as Cork's premier truck and trailer diagnostics, repair and maintenance specialists, Jay Commercials are spreading their wings with the incorporation of a relatively new wing to the business - repairing, reconditioning and selling radiators. We touched base with director John McCarthy to get an update.
These are exciting times for the team at Jay Commercials in Cork – one of Munster's busiest commercial vehicle diagnostics, maintenance and repair centres. Renowned across the Rebel County and Munster as industry-leading braking systems and diagnostics specialists, Jay Commercials provide owners and operators with a comprehensive range of services, including chassis repair and modification, CVRT preparation and breakdown recovery.
To complement the established services provided, a new offering has recently been added in response to a niche that directors John McCarthy and Dominic McCarthy spotted in the market. The former, who has been providing unrivalled vehicle maintenance and repair services for 30 years and counting, takes the story up:
"We've started up a new radiator business, repairing and reconditioning radiators and selling new ones for all vehicles, including agri and plant. We sell a lot of plant and agri coolers and radiators, and thankfully that side of the business is going very well. It's an extra string to our bow, so to speak.
"Nobody else in Cork is providing this service," continues John. "There were two vehicle radiator repair shops in Cork previously but both of those closed down due to retirements. However, one of their senior men, who had 35 years of experience, joined us in early 2020 and we set up a purpose-built workshop for radiator repairs."
As with every other facet of the tried-and-trusted Jay Commercials ethos, quality is a prerequisite of the fledgling radiator business: "We only ever sell top-quality stuff. Because of this approach, we have already earned a good reputation in commercial vehicle repairs. Now we also have fellas coming to us for radiators for plant and agri and we can repair radiators for literally any vehicle or machine – from a Mini to a Hitachi excavator. There's no two days the same with the radiators and we've done a good few industrial radiators and heat exchangers as well, so that aspect of the business is extremely busy."
As indeed is the original core business, be it for maintenance or brake system diagnostics and rolling road service; body and chassis repairs; tail lift repairs, sales and service; or anything else pertaining to commercial fleet diagnostics, repair and upkeep. A full collection and delivery service is available, as well as breakdown recovery, while Jay Commercials are service partners to Haldex, Knorr Bremse, WABCO, ZEPRO and BPW, to name just a handful, and members of SIMI and FTA Ireland.
Driving the success of the business is the expertise, experience and enthusiasm of the hands-on directors coupled with the dedication and professionalism of their superb team of technicians. "There are twelve of us here now and I have to say they are a great bunch of lads," John continues.
"They are all excellent at their jobs but on top of that they are very nice lads and I would feel that they are working with me rather than working for me. You try to create a good atmosphere in the workplace and fellas seem to fall in to that. To be fair, we couldn't ask for better."
Sourcing new blood is critical in a business that is both busy and expanding. This is a challenge that Jay Commercials have embraced head-on: "We have two apprentices in their fourth year and one who started inside the last year," reveals the company founder. "We're trying to get them in early.
"The apprentice situation in this industry is shocking now because there are very few young lads getting involved. They all seem to want to go to college instead, and that's going to become a problem for garages and workshops and the industry as a whole down the road. Obviously, there is a cost involved in training up apprentices yourself but my attitude is that you can't crib about not having mechanics if you aren't prepared to train them."
Jay Commercials is more than just a business to John; it's an extension of his great passion in life – trucks. He travelled up to Punchestown in July for the long-awaited first Full of the Pipe Truckshow in three years. What did he make of the spectacular comeback show?
"It was fabulous. I really enjoyed it," the personable Cork man recalls. "There was so much stuff there this year and so many fantastic trucks … brilliant. The fellas clearly made a huge effort to put on a great show and it paid off. The lay-out was very good and there was nothing anybody could do about the weather. A great show, all in all. I couldn't find anything wrong with it and wouldn't knock it for any reason."
Down through the years, John and Dominic have consistently invested money back into Jay Commercials to make sure that they have all the resources to provide optimal service levels. "You are constantly investing in new equipment and in expertise," says John. "That's one thing we did from the start. We are progressive and forward thinking, and putting money into the business is part of what we do. It comes naturally to us. If a new piece of equipment is needed, we will go and get it."
Demand for Jay Commercials' unbeatable services is stronger than ever, but John's priority is to focus on looking after existing customers first and foremost. "We get calls every day of the week asking us to do more work but we can't take it all on. I have customers going right back to the beginning and you have to prioritise them, whether they have one vehicle or five. You have to reward loyalty with loyalty."
Going forward, John says he will remain on the look-out for new opportunities but his primary focus will be on invariably providing customers – and their vehicles – with the best-possible service. "I'll keep thinking outside the box because the day you stand still is the day you start to go backwards," he concludes. "I'm always looking for new opportunities – but they have to be within the trade.
"Everything has to be trade-related because that's our area of expertise and that's where we'll remain. The radiator business, for example, was a new departure but it was part of the trade as well. We're always looking at ways to improve the equipment and the service … this isn't going to change."
Jay Commercials Ltd.,
Unit 9,
Ballycurreen Industrial Estate,
Kinsale Road,
Cork.
Tel: 021 4312395
Email: [email protected]
Web: jaycommercials.com
First published in Irish Trucker magazine Vol 25 No 6, November/December 2022