Vanfleet - Three generations of quality service 
16/12/2022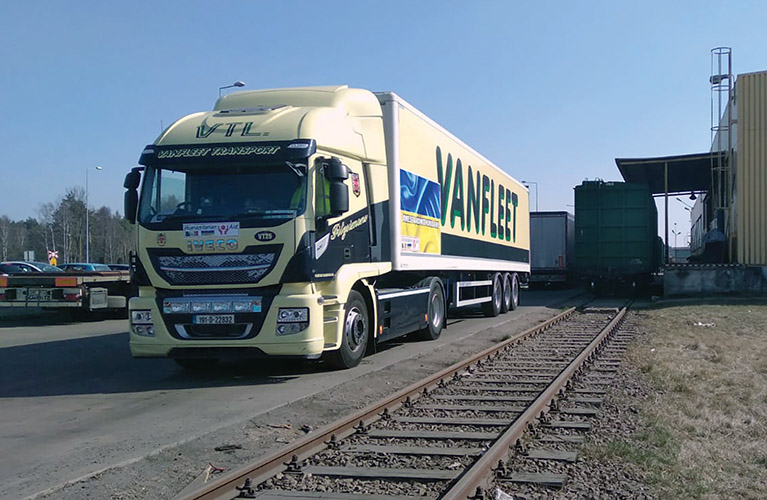 Operating out of Blanchardstown, Co Dublin, Vanfleet Transport Ltd is a family-run company which provides a regular delivery schedule to Dunnes Stores outlets across Ireland. Irish Trucker touched base with its Transport Manager Paul Fitzsimons to hear more about the company, its newly replenished fleet and the overall state of business at the moment.
Next year will mark an even four decades since the establishment of Vanfleet Transport Ltd and, at the moment, business has seldom been better for this family-run venture.
Operating with 45 drivers, as many trucks and 55 trailers, the company's origins date all the way back to 1936 when John Fitzsimons first set-up his own transport business.
His son's Mathew, John and Shay and Shay's grandsons would follow in the same footsteps and grow the business along the way, providing a distribution service exclusively to the Hanging trade in Dunnes Stores through (HGS) Hanging Garment Services Ltd and boxed dry goods through (VTL) Vanfleet Transport Ltd and a export import system through (FTL) Fleetway Transport Ltd.
Shay Fitzsimons, who sadly passed away 10 years ago this August, established S Fitzsimons Freight at Sir John Rogersons Quay in 1977 which became Vanfleet Transport Ltd in 1983. Fleetway Transport was a name Shay used as a sole trader in the 60's where he traded from the family home in Artane.
Today, his son Thomas (Managing Director) who took over as MD in 1995 and his son Paul (Transport Manager) and daughter Gretta (Company Secretary and Director) run the day-to-day operations of what is a thriving family business.
Irish Trucker caught up with Paul Fitzsimons recently to find out more on this family operation and the secrets behind its success.
"Business has been good and, thankfully, Covid didn't really impact too much on us as we were delivering essential goods to the drapery departments in Dunnes Stores. We were fortunate enough with the staff that it didn't affect us too much, as we had a very strict Health and Safety program at the depot in Rosemount run by our Health and Safety Officer Mr Pat Bradley.
"So, it didn't really have an effect and, as long as Dunnes Stores are selling, we're rolling here. We've been with them since 1977 and in recent years their "On-Line Sales" and 'Click and Collect' service has grown. In 2020 we added five vehicles to our fleet and also rely on an additional four vehicles provided from our Cork operator Mr Sean Buckley.
"As things stand, there are no plans to expand at the minute for Vanfleet Transport Ltd but that could change depending on the client's needs and as years go this is one of our busiest in 45 years."
The company is always willing to sit down and discuss the needs of the customers and it's this approach which has stood to Vanfleet down through the decades.
If you ask Paul Fitzsimons why he thinks the client choose Vanfleet Transport Ltd first ahead of other competitors out there and he'll tell you that "much of it comes down to the working relationship that has been built on trust and reliability down through the years".
"We've a very good understanding of what the customer wants and anything that they seem to have a problem with, we'll come up with a solution and we're very quick to react to it," he said.
"They're very impressed with the service and, basically, they take on board our experience and even their logistics guys would ask us a question before making a decision themselves.
"So, we're more or less like a consultancy for them as well and in turn we would also look at some things and come up with solutions for them.
"Like, we back haul all the cardboard and waste and they put a facility on site here for their waste and cardboard and we noticed the Panda trucks were coming in doing it.
"So, we approached them and explained that it was only an extra hour in a day to uplift the pallets of bales, and we could take them out of there and bring them around to the waste facility and build it in and incorporate into the cost of the working day and it's going to work out cheaper and more efficient for you.
"So, stuff like that and little things that they appreciate. We're always watching every end of the business and coming up with whatever we think would work better for the customer – and they appreciate that."
It certainly seems to be the case so far.
In providing a nationwide distribution service exclusively to Dunnes Stores, a normal day at Vanfleet Transport Ltd sees a start at 2am and all of the company's vehicles are fitted with sophisticated, state-of-the-art tracking technology which affords the customer access to every detail they might with to retrieve at the push of a button, including the exact real-time location of a consignment, the departure and/or delivery times, ETA's etc.
At the start of this summer, the company began taking delivery of the newest additions to its superb fleet.
The Mercedes-Benz Actros are being brought in as the Hino trucks, which have served the company so well over the years, make way in order to replenish and upgrade the fleet at Rosemount Business Park.
The first 10 of 17 Actros arrived in July and, as Paul himself outlined, they're set to add two more rigid trucks towards the end of the year which will bring the total count of vehicles up to 50 as it heads towards its 40th year.
"We're replenishing a lot of the fleet here over the next couple of months," he said.
"We've got 17 Mercedes Actros coming in and they'll be replacing the old work horses (HINOs) which have more than served themselves well.
"Obviously, Covid had a knock-on effect with the availability of new kit because this plan would have been spread out over 2020, 2021 and 2022 and then we had the invasion of Ukraine which slowed availability down even more and pushed up pricing.
"The first five of 15 new Kassbohrer Trailers supplied by TC Trailers arrived in June and 10 arriving in July."
A ViTaL link in the Dunnes Stores supply chain, you can rest assured that Vanfleet Transport will continue to deliver on the high standards they have set themselves.
Vanfleet Transport Ltd
Unit 1B,
Rosemount Business Park,
Ballycoolin Road,
Blanchardstown,
Dublin 11
Email: [email protected]
First published in Irish Trucker magazine Vol 25 No 5, October 2022