Offering customers a quality and competitively priced service
13/12/2022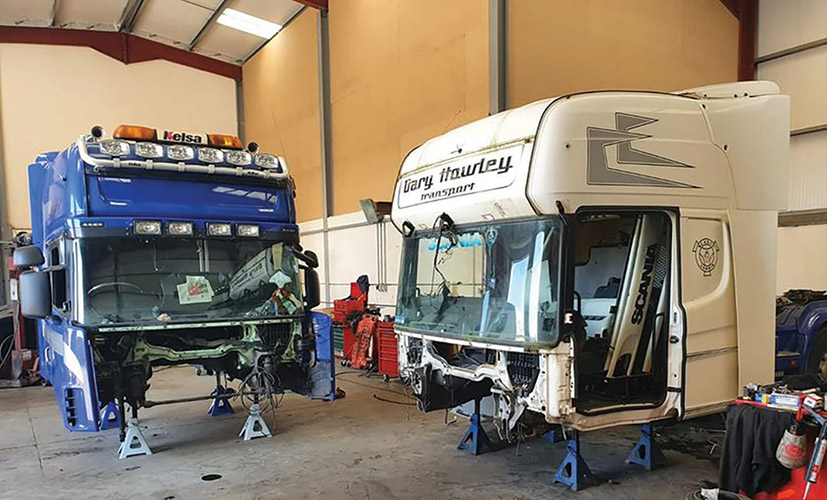 Since its inception, Browne Commercial Spares in Naas, Co Kildare has always strived to achieve the highest standard of service through being dependable. Irish Trucker touched base with its Managing Director Owen Browne to learn more about the business, its fantastic fleet and the impact the Covid-19 pandemic has had on it over the past two years or so.
Established over three years now, Browne Commercial Spares continues to provide its customers with the highest standard of service.
This year has been another busy one for proprietor Owen Browne and the team in Naas Enterprise Park and the idea is to try and keep things that way right through to next year.
Operating with 10 full-time staff, the company offers its customers a complete, reliable and comprehensive service for the supply of quality spare parts and service of Heavy and Light Goods Vehicles, Tipper Trucks and Trailers.
Irish Trucker spoke with Owen recently to hear about the current state of business and the company's overall hopes going forward.
"Business is flying at the minute," he stated. "We've been thriving for the last year or so now, to be fair, and hopefully things will stay that way.
"We actually got busier during Covid, to be honest with you. We kept going throughout the lockdowns and got busier for food chain and food supply. Lads on that end of haulage were busy with it the whole time.
"So, we were on the essential end of it and were allowed to stay open through the whole lockdowns, thankfully."
At Browne Commercial Spares, the workshop is staffed by fully trained mechanics and technicians that have years of knowledge and vast experience working on Scania and many other vehicle types utilising the latest technology and using quality parts for the repair or service of your asset.
All of the company's mechanics and technicians are very much customer focused and understand the importance of a fast turnaround to keep downtime of a customer's vehicle to a minimum and offer a quality and competitively priced service.
Owen Browne himself has vast years of Scania technical workshop experience, understands the importance of reliability, minimum downtime, is very hands-on and deals directly with all customers so satisfaction is assured.
While Scania has been a speciality of the company's since the very beginning, Owen explained that recent times has seen it offering its services more and more to customers coming in with Volvo trucks.
"We're doing a lot of Volvos at the minute with gearbox rebuilds, engine stuff and wiring and that," he outlined.
"We'd have always done Scanias but branched out to Volvos in the last eight or nine months now and haven't looked back since.
"Then there's a store man there for the parts and everything, so it's all go with it now at the moment."
Indeed, Browne Commercial Spares is a company which services and repairs all makes of commercial vehicles including Scania, Mercedes, Volvo, Hino, DAF, Renault, Iveco etc.
It provides clients with small and large services that include oil change, repairs, electrical diagnostics, ABS/EBS service and repair, injection coding, diesel system, brake system repairs, ECU fault finding, DOE pre checks, trailer inspection service and more.
So, all of that considered, the burning question is what has been the secret behind the company's success to date?
How has a small start-up grown into what is now a thriving business that holds a golden reputation amongst its clients?
For Owen, much of it comes down to establishing trust with the customer via delivering excellent work time and time again.
"I think we give a good service here and when we get the work, we do it right," said the Managing Director.
"The phone is always on here for our customers here and I suppose they know that they can depend on us to get the job done right for them."
Despite the success and busy times at present, Owen says he is keen to consolidate at Browne Commercial Spares given the current climate.
Business is good but the Co Kildare native is taking the cautious approach first and he credits the staff he has at the moment for doing a top rate job week in, week out.
"We're happy enough now there at the minute with what we have," stated Owen.
"Because of the way the client is, ya don't know what way things will go. I could do with four or five more lads some weeks, there's no point in saying any different.
"It's just the way the climate is at the minute, I'm not going to start taking on lads for the sake of it.
"It's hard enough to find good lads anyway but, to be fair to the lads that I do have here, they are good and they're very committed to their job and everything else that way. They treat it as their own business when they're doing the job to be fair to them."
Looking towards the months ahead for Browne Commercial Spares, Owen says growing its customer base and helping out the customers themselves in whatever way they can will remain top priority.
"The hopes are that the company can keep busy and keep growing the customer base as well.
"Hopefully, as well, the fuel prices can level off because it's affecting everybody. We're helping our customers every way we can as well in reconditioning injectors and doing a bit of re-mapping and stuff like that for fuel economy more than anything else at the minute.
"We started that in January and are getting good results to be fair across the board with everything," he concluded.
Brownes Commercial Spares
3 Alder Road,
Naas Enterprise Park,
Ladytown,
Naas,
Co. Kildare
W91NY62
First published in Irish Trucker magazine Vol 25 No 5, October 2022