M&M Trucks Ltd marks a quarter century 
08/12/2022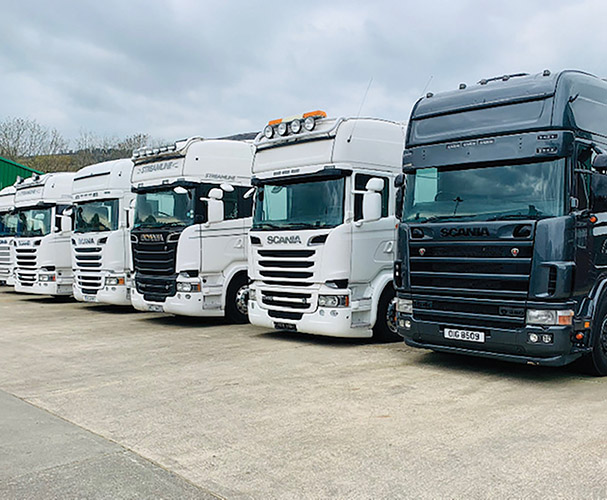 Established 25 years, M&M Trucks Ltd is one of the leading truck, trailer and plant dealers throughout Ireland. Irish Trucker touched base with company directors Mark Mc Nally & Garry Mc Ardle to hear all about their thriving business – from its origins to its current massive selection of trucks, trailers and plant in Drumintee, Co Armagh.
These are busy times at M&M Trucks Ltd and the plan for Mark & Garry and the rest of the team in Drumintee is to try and maintain sales over the next number of years.
Operating with a number of mechanics, fitters, painters & administrative staff, the company has grown to become a leading truck, trailer and plant dealer since its inception a quarter of a century ago.
It's wide range of stock includes 3.5 tonne light commercials, Rigids, Tippers, Crane mounted units and rigids, Beavertails, Tankers, Agri Tractors, Diggers, Dozers, Telehandlers, Tank trailers, Curtain siders, Euroliners , etc.
Irish Trucker spoke with Mark to learn more about the company and its hopes for the future.
"What we do here basically is buy and sell trucks, trailers and plant throughout Ireland and the UK," outlined Mark.
"We also export to Africa & Asian, the majority of older stock is transported to the African continent, this makes up about 10% of our sales the other 90% remain in Ireland & the UK."
The company stocks Scania, Volvo, Renault, Man, Mercedes, Kassbohrer, Mac, SDC, Montracon, Schmitz, Chereau , Faymonville, Nooteboom, King, along with many other manufacturers, Plant sales consist of Hitachi, Doosan, JCB, Takeuchi, CAT, Kubota, Komatsu ,Shipping can be arranged to all major ports.
It also stocks Kassbohrer and Mac Trailers, half pipe tippers, flats, curtains and various low loaders, which has helped to see growth for the business in both the retail and export markets.
Mark originally did not begin his career in truck sales, he explains.
"I trained and qualified to be an electrician, after working for a number of years on commercial sites I starting buying and selling cars and vans using Auto trader and various other magazines. Garry, a qualified mechanic, had a wide knowledge of HGV maintenance and servicing which helped propel us into truck & trailer sales.
"Selling Trucks, Trailers and Plant evolved from this, Garry and I then acquired premises near our homes in Dromintee."
Fast-forward some 25 years later, M&M Trucks Ltd has grown and gone from strength to strength.
The Covid-19 pandemic, and the government lockdowns which followed in order to fight the spread of the virus, impacted businesses nationwide, Mark points out that M&M Trucks ltd actually became busier during that time.
"Since the start of the lockdown in 2020, we seen an increase in sales," said the co-director. "This rise was also fuelled by post Brexit uncertainty and the legislation that followed."
Even in busy times, the challenges are still very much there for M&M Trucks Ltd. Import & Export declarations and the associated tariffs have resulted in the administrative side of the business becoming more difficult."
Despite this the company is one of the leading truck, trailer and plant dealers throughout all of Ireland.
So, the burning question behind it all is, what has been the secret to its continued success and growth over these past 25 years?
For Mark, he cites two things in particular as separating M&M Trucks Ltd ahead of the competition out there.
"It's usually down to the back-up service and the warranty package that we provide," he said.
"We've recently liaised with another company in order to offer 3 month, 6 month or 12 month warranty packages available on every truck sold.
"Anyone that is starting out in business and intends to invest a substantial sum of money on a vehicle might find it prudent to safeguard their asset. This is why we offer a warranty package with each sale. We feel it is important to protect our customers and make them aware of this service"
Being easily accessible of the M1 motorway Junction 20 between Newry and Dundalk is another aid to the company's success, along with having one of the largest selection of trucks, trailers and Plant in the country to choose from.
Looking at the months ahead for M&M Trucks Ltd, both Garry and Mark remain very much optimistic and hope that fuel prices do not take a further hike.
"We are working in this industry a long time and can usually predict the highs and lows. When the holiday season starts business gets a little quiet.
"The bottom line is that transport still has to continue and we will remain competitive and continue to grow.
"We would like to take this opportunity to thank all our past and present customers for their continued support over the past 25 years."
M&M Trucks Ltd
20 Dernaroy Road,
Drumintee,
Killeavy,
Newry,
Co Armagh
BT358SP
Tel: 0044 28 30 889212 / 213
ROI Mobile: +353 87 2907039
UK Mobile: +44 7594 802901
First published in Irish Trucker magazine Vol 25 No 5, October 2022