Close to perfection
06/12/2022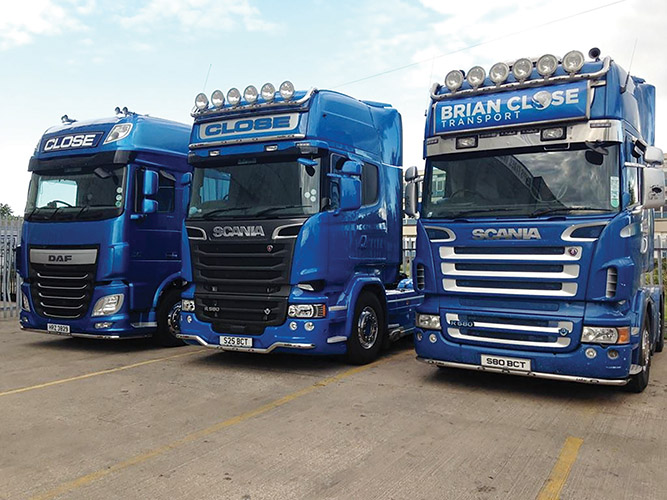 Since 2008, Brian Close Transport has been providing a top-class dry freight transportation service between Ireland and Scotland. Brian is ably assisted in the business by his wife Denise and 17 staff.
Strategically located in Antrim town, which is only a 30-minute drive from the Port of Larne which it uses several times a week, the company offers a reliable and efficient service that has made it the haulier of choice for many businesses. Brian Close Transport strives to offer complete customer satisfaction and prides itself on its ability to understand its customers' needs with the flexibility to meet their demands.
Specialising in dry freight, cargo sorting, picking and distribution, the Co. Antrim operator transports everything from timber products and aircraft parts to bottled water and spirits.
"We do five runs back and forth to Scotland a day or 30 a week," Brian explains.
"If we take on a load, we guarantee that it will reach its destination safely and on time. We offer a more personal service than the bigger transport companies. We're always at the end of the phone and are happy to go the extra mile for our customers.
"I was a continental lorry driver for 11 years before setting up this business in 2008. For most of those 11 years, I drove for Hume International in Randalstown. We're grown over the years by listening to our customers' needs and giving them a service tailored to their specific needs."
Brian operates a modern fleet of high spec trucks and trailers to suit an array of requirements. He runs 12 tractor units, including a stunning new metallic blue DAF XG+530 which he took delivery of from TBF Thompson in March. Larger, brighter and more efficient than ever, this innovative truck is jam-packed with features to give drivers the very best experience, including front air suspension, air horns, leather heated and vented swivel seats, DAF corner view, RELAX bed, fridge, microwave, Alcoa Durabrite, TraXon gear, 900-plus litre fuel tanks and much more.
Brian, who is driving the new truck himself, has eight other DAF and three Scania as well as 18 curtain siders / Euroliners. "DAF are my personal preference. They're a solid, reliable and economical machine that are comfortable to drive. Most of our trailers are SDC and they are a good make too," he says.
The Co. Antrim haulier takes great pride in the appearance of his fleet. With their striking blue livery (the curtain siders are blue, black and white), the trucks are a real head-turner. Each truck is fitted with satellite tracking which allows customers to track their products as they move, from any location. The older trucks that aren't covered by maintenance contracts from TBF Thompson are serviced by an inhouse mechanic.
Brian is full of praise for his team of drivers who are dependable, professional and courteous. His staff comprises 13 drivers, a mechanic, yardman and two office administrators, which includes his wife, Denise.
A combination of Covid-19, Brexit and the ongoing conflict in Ukraine have made it a tough time to be a haulier. To compound matters for Brian, P&O Ferries recently suspended ferries between Larne and Cairnryan after sacking 800 of its workers.
"It's definitely the most trying time since I've been in haulage," he admits.
"Rising fuel costs, Covid and Brexit were the big issues for us before P&O Ferries suspended their Larne-Cairnryan route. This has had a big impact on us because we used P&O all the time. Stena Line Ferries do the same route, but are at full capacity, meaning spaces are at a premium. We're obviously hoping that P&O Ferries will start servicing the route again."
In summary, Brian Close Transport prides itself on its reliable, trustworthy, value-for-money and unrivalled service. Brian would like to take this opportunity to thank his clients and suppliers for their continued support as well as his staff for their dedication, hard work and expertise.
Brian Close Transport
Massereene Business Park,
Antrim,
BT 414FS.
Telephone: 028 9446 5555
Email: [email protected]
First published in Irish Trucker magazine Vol 25 No 5, October 2022