Light Up the Night returns for 2022
02/12/2022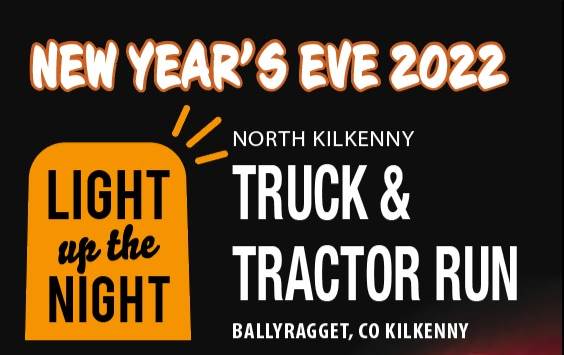 After two years of a Covid 19 forced break, Light up the Night is delighted to be back on the road, lighting up the highways and byways of North Kilkenny and beyond on New Year's Eve.
Since its inception in 2016 Light up the Night North Kilkenny truck and tractor run has grown year on year with a total of 335 tractors and 180 trucks participating in its last event.
The event was set up as a raise the issue of suicide awareness and provide support for those suffering. As a byproduct of the awareness raiser, donations started coming in from participants, spectators, businesses and members of the general public. From those donations the Group are proud to say that to date they have donated in excess of €60,000 to worthy groups and organisations dealing with people's mental health issues in their areas.
For 2022 they are delighted to announce that their tractor parking will take place similar to previous years at Holland's yard, The Square Ballyragget and the truck parking in a new venue at Cillin Hill, Dublin Road, Kilkenny. The organisers offer their sincere thanks to all involved in offering their venues for this event.
All trucks and tractors are welcome to attend, from ones in their working clothes to ones in Their Sunday best. Refreshments will be served on the day.
To top it off the organisers are holding a cabaret at Fitzpatrick's bar the square Ballyragget on New Year's Eve.