Nixon Haulage marks 25 years 
01/12/2022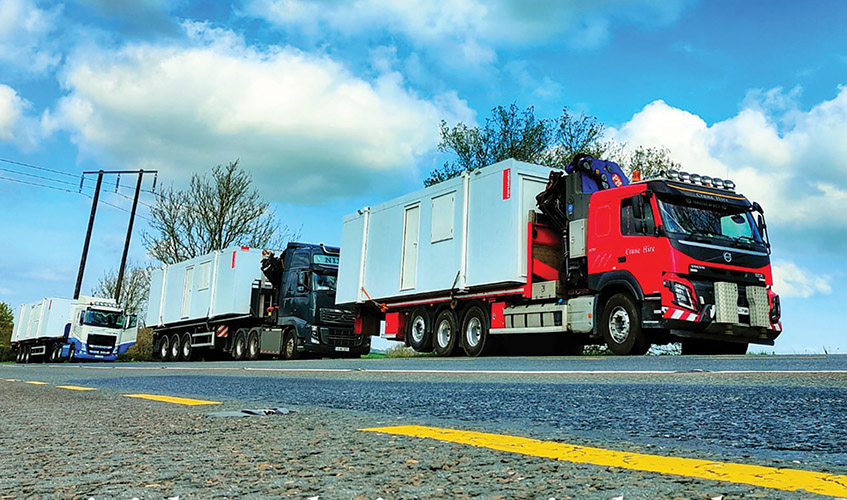 Based in Ballymore, Co Cork, Nixon Haulage Ltd is the number one abnormal load specialist throughout the entire Munster region. Irish Trucker spoke with Managing Director David Nixon to hear more about the ins and outs of the company, the fleet its operating with and its overall hopes going forward.
Business is good these days at Nixon Haulage Ltd and the plan for owner and founder David Nixon and the rest of the team in Ballymore, Co Cork is to try and keep things that way right through to next year.
Operating with four full-time staff, seven trucks and eight trailers, the company's services include everything from permit procurement to escorting and heavy load management.
It also provides a nationwide service, although a large portion of its work is concentrated in and around Munster.
David Nixon, who is joined in the business by his brother Stephen, was good enough to take time out from a busy schedule to fill Irish Trucker in on all of the details.
"It's been busy here this year and Covid actually made it busier for us," outlined David.
"It did slow it down for a small but bit then it actually made us busy because a lot of stuff had to go out like extra accommodation and stuff like that. We were busy enough throughout it, to be fair."
Since its inception in 1997, no job has been too big or too small for Nixon Haulage Ltd.
The company saw a niche in the market a quarter century ago for the movement of portacabins/prefabs, boats, mobile homes, steel chemical toilets, refrigerated units, shower blocks and changing rooms and have since become experts in their field.
Right now, David and his team are operating with seven trucks in the fleet, including three crane trucks and one rigid along with eight trailers. Three of the trailers are extendable while one has full power steering and is a double extender.
Last year saw Nixon Haulage making some new additions to the fleet in Ballymore, which David filled us on in.
"We've two 580 Scanias, two Toplines, that we bought last year and the year before. We bought a rigid truck, which is four axl, she's a 420 that comes with a drag trailer," explained the MD.
"A couple of years ago we bought a 700 Volvo with a 62-tonne crane on it and we'll maybe look at adding a couple of lowbed trailers. I'm just not sure yet because it's just uncertain times at the minute now."
Another major addition for company has been the erection of its state-of-the-art shed at its premises which was fully completed two years ago.
It has been a key addition for Nixon Haulage since its completion, especially when it comes to the maintenance and upkeep of its excellent fleet.
"We built a brand-new shed back in January, the year before last," David explained.
"We put hydraulic jacks in the pit for lifting the trucks and we do a good bit of maintenance ourselves and servicing and it saves a lot.
"It also means that you can keep track of the gear and see something that's going to go wrong before it actually does."
Needless to say, Nixon Haulage needs its trucks and trailers available year-round given its line of work.
It undertakes jobs week in, week out that require great planning, preparation and attention to detail in order to see them out successfully.
David's brother Stephen Nixon is one of the company's lead driver and has years of experience behind him.
Nixon Haulage also takes on additional drivers during its peak season, which is between the months of March and August, in order to cope with the workload and demand from clients.
So, all of that considered, the burning question is, what has been the secret behind the success of the company over the last 25 years?
How has a small start-up grown into a thriving venture that now has seven trucks on the road and a golden reputation amongst its clients for carrying out excellent work.
The way David sees it, you're only as good as your last job in this line of work and they approach each one in the most professional manner.
It's an approach that has been working for Nixon Haulage for a quarter of a century now.
"I just think we provide a good service and, time-wise, we're at it a good while now, so we're also well established," said David.
"We don't change what's not broken. We feel we give a good service and the lads are fairly professional at their job.
"They're used to wide load and crane hire and they get a lot of positive feedback from customers.
"Our team of drivers are well capable of any chore thrown at them and are key factor in the business. As I say 'the day you go out and don't learn, there is something wrong'."
Renowned as Cork's abnormal load specialists, clients know that they can trust Nixon Haulage to get the job done in a timely, professional and, above all else, safe manner.
Looking towards the months ahead for the business, David himself is cautiously optimistic going forward.
Rising fuel costs have made it difficult for everybody involved in the haulage industry and the hope for the Co Cork native (and everybody else) will be to see them levelling off as 2023 nears closer.
"I think it will be busy but, as I said earlier, with uncertain times you just don't know.
"We have no control over it I'm afraid but, at the moment, business doesn't look like it's slowing down," David concluded.
Nixon Haulage Ltd
Ballymore,
Bandon,
Co Cork
Telephone: (023) 884 9368
Mobile: 086 239 9716
First published in Irish Trucker magazine Vol 25 No 5, October 2022