McHugh Express keen to continue growth and keep clients satisfied
29/11/2022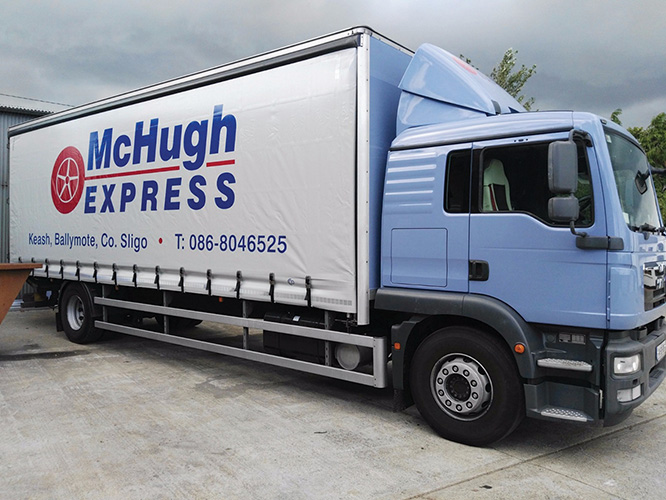 Based outside Ballymote, Co Sligo, McHugh Express Ltd specialises in the delivery of medical supplies throughout Ireland. Irish Trucker caught up with Managing Director Brendan McHugh to learn all about the company – from its origins to the state of business today.
Established in 2003 by Sligo native Brendan McHugh, the growth continues at McHugh Express Ltd with the company having added a new Mercedes-Benz Sprinter to its fleet in the last six months.
Right now, business is good for this family-run venture headed up by husband-and-wife Brendan and Marie McHugh and the plan is to try and keep things that way right through to next year.
The company currently employs 11 full-time staff and has a dozen vehicles (nine vans and three trucks) on the road, offering its services nationwide.
Irish Trucker touched base with Brendan recently to hear about the ins and outs of the business, how the Covid-19 pandemic impacted it and its plans for further growth down the line.
"I'm Managing Director and my wife Marie is a director and we run the business together," Brendan outlined.
"The company specialises in the delivery of medical supplies to nursing homes, hospitals, private houses and HSE buildings.
"We'd also do specialist one-off work from time to time to say a show or something like that, and, at the moment, we have 12 vehicles here between vans and trucks."
The latest addition to the fleet in Keash is a Mercedes-Benz Sprinter van which McHugh Express Ltd purchased at the beginning of 2022.
It followed a new Renault van picked up the previous year as business continued to grow in spite of the challenging times brought by the Covid-19 pandemic for so many companies.
The two latest additions join a team of Renault box vans and MAN vehicles that ensure the needs of McHugh Express Ltd's clients are met week in, week out.
Having seen growth more or less year on year since his company's inception, it's all a far cry from where Brendan McHugh first started out in the industry.
After getting a couple of crucial years' experience under his belt with a medical supply firm, he took the decision to start up his own venture a decade ago with a single truck.
The rest, as they say, is history.
"I had been working for a medical supply company in Mayo and got a few years of experience there before I decided to go out on my own," Brendan stated.
"In 2012, I took on my first employee, Ronan McGovern, and he is still with me. We put a second vehicle on the road after a while and things just grew more and more from there as we registered as a Limited Company in 2014."
Today, business is thriving for the company and the idea for Brendan and Marie is to keep things moving along nice in that same vein.
The Covid-19 pandemic, and the government lockdowns which followed in order to combat the spread of the virus, had an impact on businesses nationwide.
Being that McHugh Express Ltd mainly deals in the delivery of medical supplies, business has actually increased over the past 24 months for the Sligo-based venture.
"Business is solid at the moment and, thankfully, we didn't really have a slowdown at all during Covid," the MD explained.
"Being that we're delivering health supplies, it actually got busier for us and we remain busy to this day."
As it stands, there are plans to add to the fleet again later this year so as to cope with customer demand.
Some of the company's older vehicles will be making way too, according to Brendan, as they look to freshen up what they'll be putting on the road in 2023.
"Towards the end of this year, we will probably add to the fleet again and maybe change some of the older vehicles we have as well," he said.
"That's the plan going forward and we'll always do what we have to in order to make sure that our customers supplies' get to them when they need them."
So, the burning question is, what has been the secret behind McHugh Express Ltd's growth and ultimate success over the past decade or so?
How has a small start-up with one vehicle on the road grown into a flourishing business now operating with 11 staff, 12 vehicles and a golden reputation amongst its clients?
For Brendan, it comes down to a combination of different factors but he says, above all, reliability is the key ingredient.
"The fact that we're dealing with a lot of medical supplies here means that time is key," he said.
"Reliability is what our customers choose us for first and foremost and there's no hold ups with us. When we say we'll be there, we will be there."
He added: "It would be for our reliability. A lot of our medical supplies' deliveries would be time specific and our customers know that we'll have it there when needed with no hiccups.
"For our deliveries for other companies, they know that if they need a one-off special delivery that we'll get it done with whatever specific instructions they have."
Looking to the future, McHugh Express Ltd will be targeting further growth going by what its MD has to say.
"Over the next few months and years, we hope that our growth will continue.
"We want to keep going in the trend that we have been and, hopefully, we can continue to do so and keep our customers satisfied along the way," Brendan concluded.
Great to hear.
McHugh Express Ltd
Keash,
Ballymote,
Co Sligo
Mobile: 086 804 6525
First published in Irish Trucker magazine Vol 25 No 5, October 2022