One of Ireland's busiest commercial vehicle test centres 
24/11/2022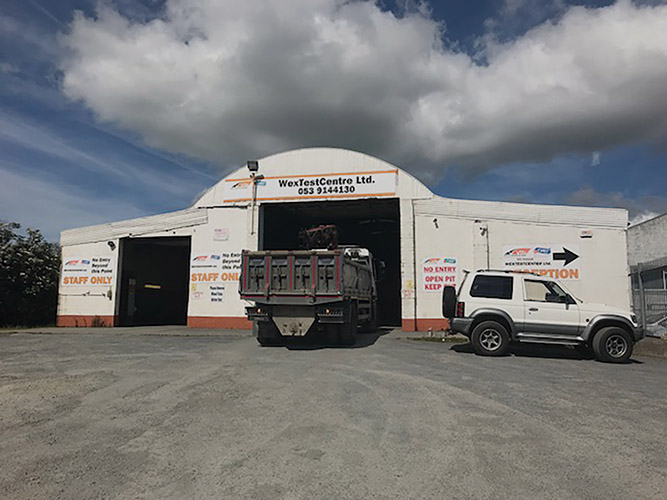 Based along the Rosslare Road outside of Wexford Town, Wextestcenter Ltd is one of Ireland's busiest commercial vehicle test centres. Irish Trucker spoke with Managing Director Sean O'Leary jnr to learn all about the ins and outs of the company and its hopes going forward.
Business is good these days at Wextestcenter Ltd and the plan for Managing Director Sean O'Leary jnr and the rest of the team down at Strandfield Business Park is to try and keep things that way right through to next year.
Established by Sean O'Leary snr in early 1980s, the company today has eight full-time staff on its books and test the full range of commercial vehicles – from the smallest van up to the largest truck, including buses, coaches, ambulances, hearses, etc.
The company had previously traded as Sean O'Leary and Son Commercials before adopting its current title and, following Sean O'Leary snr's passing in 2020, his son has since taken over the family business with his aunt Mary Lacey also holding a director's position.
Irish Trucker touched base with Sean jnr recently to find out more on the state of business at the moment for this Co Wexford venture.
"It's very steady at the moment," he stated. "We're booked out a month in advance nearly at this stage, so we're happy enough that things are that way.
"The HGV side can be up and down and pretty unpredictable at times. You can be out the door with it one month and then it can be a lot quieter the next month.
"The light goods stuff is very steady the whole time though."
The Covid-19 pandemic, and the government lockdowns which followed to try and fight the spread of the virus, impacted businesses nationwide and Wextestcenter Ltd certainly felt it at the very start.
However, once things got up and running again, it wasn't long before they got back to a steady pace for the company as its Managing Director outlined.
"We were busy the whole way through. When test centres opened first, I think people didn't realise that they were open and so for the first little while it took time to get the word around that you could get out and test a vehicle.
"So, we were steady enough from pretty much from the start of when we got back and there was a lot of work put in getting the test centre up to scratch as well.
"With the HSE rules and regulations, getting in masks, gloves and hand sanitiser at a time when it was pretty difficult to get them. So, it was kind of a bit mad at the start trying to get everything up and running.
"As well as that, at that time, I wasn't sure everyone would agree to come back to work because of the way Covid was then but, in fairness, everyone said they would come back and I had full staff pretty much from 'Day One'."
Today, Wextestcenter Ltd is testing roughly 120 vehicles a week as part of the CVRT / VTN network (formerly known as the DOE test) which is regulated by the RSA.
The company's other services include weights and dimensions plating and Tachograph calibration and fitting.
With three in the office and five in the workshop, they have an excellent team working to deliver for customers and, with regular investment, all of the equipment in the workshop is also up to date.
At Wextestcenter Ltd, each tester on its books attends a course every three months to remain fully up to speed and they are all highly motivated in ensuring that they continue to operate at the highest levels of professionalism as demanded by the RSA.
The bottom line is that if a vehicle is not roadworthy it will not get through – it's that simple.
That approach has worked for the O'Leary clan for the best part of four decades now and you can rest assured they'll continue to use it going forward.
So, the burning question is, what has been the secret behind the continued success of the business down through the years?
How has a small start-up grown into becoming one of Ireland's busiest commercial vehicle test centres with a glowing reputation amongst its customers?
For Sean jnr, he says that treating customers well each and every day goes a long way in this line of work.
"I think we try to be fair with people and we try to be competitive as well in a game that's fairly hard sometimes," he said.
"Not everybody's happy with their outcome and you have to try and treat them with a bit of respect when they're annoyed."
Looking towards the months ahead, Wextestcenter Ltd is keen for more of the same business-wise and hopes that the company can continue its high rate of customer satisfaction.
"I just hope that we stay as busy as we are at the moment.
"I hope that people keep coming into us and that we can continue providing a good service for everybody that comes through the door," Sean jnr concluded.
Nearly 40 years on from its origins, Wextestcenter Ltd is still as driven as ever to do all it can to contribute to road safety and that's something which is truly fantastic to see.
Wextestcenter Ltd.
Strandfield Business Park,
Kerlogue Industrial Estate,
Rosslare Road,
Wexford Town,
Co Wexford.
Tel: 053 9144130
Fax: 053 9144677
Email: [email protected]
Web: www.wextestcenter.ie
First published in Irish Trucker magazine Vol 25 No 5, October 2022