Reliable, flexible and efficient next-day delivery service
22/11/2022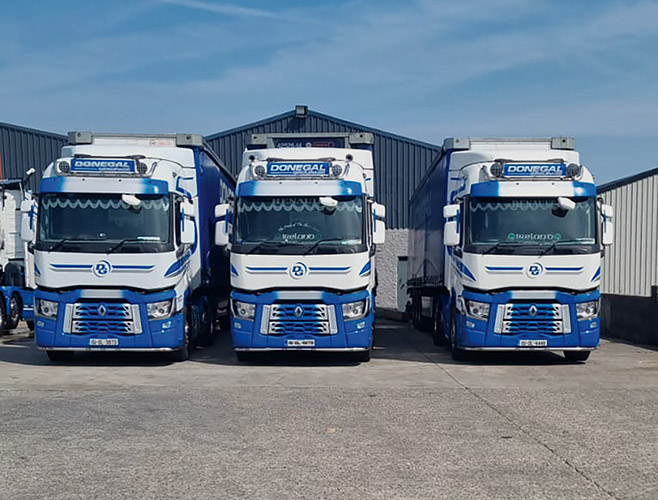 Established in 2004, Donegal Groupage provides its customers with a nationwide distribution service, Dublin express deliveries, warehouse storage facilities and an international freight service. Irish Trucker spoke with company director Jolene McBride to hear more about the state of business at the moment, the fleet its operating with and its overall hopes going forward.
Business is good nowadays at Donegal Groupage and the plan for Jolene McBride and the rest of the team up in Carrickmore, Co Donegal is to try and keep things that way right through to next year.
The fleet at Donegal Groupage consists of 12 trucks (four Renault rigids, four Renaults T-Ranges and Three Volvos) and 20 trailers, with the latest addition made to the fleet two years ago when a new Volvo was purchased.
Irish Trucker caught up with Jolene McBride to find out more about the fleet and the impact the Covid-19 pandemic had on business over the past two years.
"The last change made to the fleet was in 2020 when we bought a new Volvo and we're hoping to upgrade a couple of trailers next year, because March next year will mark 10 years since I took over," outlined Jolene.
It's a decade that has truly flown by for the Donegal woman, having been involved in the family business since she was in school.
Today, Donegal Groupage offers a complete delivery service and its customers choose it ahead other competitors out there because it is able to offer a reliable, flexible, value-for-money and efficient next-day delivery service of parcels and pallets to the 32 counties.
The company is headed up by daughter and father Jolene and Kenneth McBride whom are ably assisted by 16 staff.
They offer same-day delivery, proof of delivery, 48-hour service to and from the UK are also provided, while the company caters for full loads throughout both Ireland and the UK.
Donegal Groupage's partnership with The Pallet Network has been in existence since 2004 catering for full loads with them and then becoming a Pallet Network Member covering Donegal on a next day service since 2019 and it has enabled it to grow and prosper. They also cover Donegal on a next day service for Dachser Ireland and have been doing so since 2010.
Right now, business is going well after a shaky start to 2022, as Jolene explained.
"It's very busy now again for us here at this time of year," she said. "At the start of the year it wasn't very busy after the rush up to Christmas as the early months of the year are always quiet on the groupage side.
"It's hard with the way diesel prices are at the minute but you just have to keep going and hopefully the fuel prices will level off eventually."
Of course, these past two years have been like no other for businesses nationwide.
The Covid-19 pandemic, and the government lockdowns which followed in order to fight the spread of the virus, impacted companies all over the globe.
The first two months or so of Spring 2020 saw a sudden halt to Donegal Groupage's business for the first time in its then 16 years in business.
However, since things got back up and running again that May, business has been flourishing and the McBride clan are eager on keeping things that way as 2023 nears closer and closer.
"At the very start, when Covid happened, we were very quiet here," said Jolene.
"That only lasted for six weeks or so, thankfully, and we started to get back to normal in May then.
"We brought all of our drivers back after the first lockdown and, from that moment on, we came back again busier than ever."
The company's services remain in high demand to this day and plan is to add more trailers to the fleet again next Spring.
So, the burning question is, what has been the secret behind Donegal Groupage's success to date?
How has a small start-up grown into a thriving business with 12 trucks in its fleet and an excellent reputation for the service it provides clients week in, week out?
For Jolene, much of it has been down to them being willing to go the extra mile for customers down through the years.
"It's because we do a next day service all through Donegal and we do same day deliveries if they're requested as well," she said.
"Everything's done on time and we cover all the 32 counties through The Pallet Network on a next day service."
Four years ago, saw the proud family business opening up a second warehouse facility so as to cater for an increased demand for storage space.
The company's premises in St Johnston is ideally located between Lifford, Letterkenny and Derry and, looking towards the months ahead for the business as a whole, Jolene is keen to see it stay on in the same trajectory while also growing a little bit more along the way.
"We just hope that we keep getting busy and keeping growing as well. That's the main aim for the years ahead," she concluded.
Donegal Groupage
Carrickmore,
St Johnston,
Co Donegal
Tel: 074 914 8685
Mobile: 087 701 0350
Email: [email protected]
Web: www.donegalgroupage.town.ie
First published in Irish Trucker magazine Vol 25 No 5, October 2022