Wicklow VTN wins again!
15/11/2022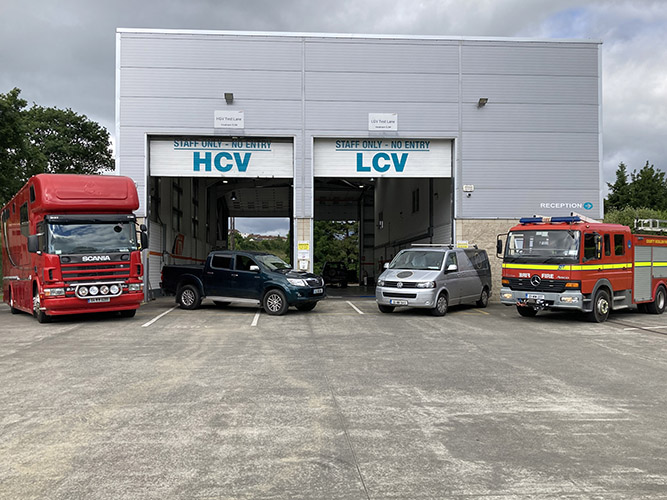 The 2022 SIMI Motor Industry Awards took place at the Clayton Hotel in Dublin recently and for the second time in five years, Wicklow VTN Ltd was named 'Commercial Vehicle Operation of the Year'.
Wicklow VTN was one of seven award winners who operate across all sectors of the Irish motor industry, and who demonstrated an award-winning level of excellence and best practice over the past 12 months. Master of ceremonies and top comedian Oliver Callan announced the accolades in front of over 500 senior motor industry figures. The awards were presented by SIMI director Brian Cooke and Derek McDermott, managing director of sponsors Bank of Ireland Finance.
"It was our second time to win a SIMI Award so we were delighted," Wicklow VTN general manager Tara Wilkinson says.
"We've been nominated in the category every other year which reflects well on our service and staff. We strive to offer complete customer satisfaction."
Strategically located on the Port Access Road in Wicklow Town – directly opposite Wicklow Primary Healthcare Service – Wicklow VTN is a one-stop shop for LCV and HGV testing, including voluntary testing, tachograph calibrations and road speed limiter checks. As a dedicated test centre, Wicklow VTN offers the highest standard of testing.
Having traded as Whitegate Service Station & Test Centre for nearly 20 years, Wicklow VTN opened at its current location in 2010. It became a CVRT (Commercial Vehicle Roadworthiness Test) test centre a few years later. The CVRT inspection, which is carried out on behalf of the RSA (Road Safety Authority), includes checking brakes, lights, markings, wheels and tyres, steering and suspension, chassis and underbody, tachograph, speed limiter, exhaust emissions, electrical systems, glass, mirrors and more. Wicklow VTN has invested heavily in the latest equipment for testing all LCV and HGV commercial vehicles. The purpose of the test is to ensure that these vehicles are in good roadworthy condition throughout their entire life.
Wicklow VTN's purpose-built two-bay testing facility is manned by vastly experienced and professional testers with the capacity to perform quick and affordable tests on all types of commercial vehicles, including vans, trucks, trailers, buses, coaches, mini-buses, ambulances, campervans and motorhomes.
"We employ five people, including one heavy tester and two light testers. We wouldn't be able to run the business without them. We pride ourselves on our top-class service and friendly staff who will answer any questions you may have before or after your test," Tara explains.
"We have dedicated light and heavy testing bays, and are an authorised tachograph calibration and road speed limiter workshop, offering one-stop CVRT testing for our customers to the highest international standards.
"We place a strong emphasis on customer service. They can relax with a complimentary cup of tea or coffee in the waiting area while their test is being completed. We offer free WIFI and customers can view their test while it's in progress. We installed a new reception area during the Covid-19 pandemic. It's a nice, friendly atmosphere and there's ample parking space."
Quality, consistency and unbiased vehicle testing are the core values of the Wicklow VTN team who are customer-focused, compliant, thorough and offer a comprehensive and friendly service. At all times, the test centre adheres to stringent guidelines as laid down by the RSA. Excellence in service and the highest possible standards are a given at Wicklow VTN.
The test centre is open from 8am to 5pm Monday-Friday and every second Saturday from 8am and 12.30pm, but is flexible and will accommodate customers out of hours where possible.
"We endeavour to accommodate our regular customers at a time that best suits them. We know that any haulier's biggest fear is downtime and we do our very best to have their vehicle or trailer tested and back on the road as quickly as possible."
The HSE, Northgate Vehicle Hire, Wicklow County Council, Conway Shipping and Multi Metals are just some of the large fleets who rely on Wicklow VTN for their test requirements. The test centre's customer-base ranges from hauliers and builders to the ambulance service, farmers and campervan owners, who have become a familiar sight on Irish roads since the pandemic.
"We have customers from Wicklow and the surrounding counties of Dublin, Wexford and Kildare. There are a lot of people working in the area who use our service. We also get a lot of passing trade from individuals who commute between Wexford and Dublin every day. It suits them to call into us as we're just off the M11," Tara continues.
The crew at Wicklow VTN would like to take this opportunity to thank their customers for their continued support, and look forward to catering for all their vehicle test needs for many more years to come.
For your next CVRT test, be sure to give the award-winning Wicklow VTN a call.
Wicklow VTN Ltd
Glebe Business Park,
Port Access Road,
Wicklow,
A67 FH97.
Telephone: 0404 67331
Email: [email protected]
Web: www.wicklowvtn.ie
First published in Irish Trucker magazine Vol 25 No 5, October 2022