First Choice Commercials – the name you can trust
10/11/2022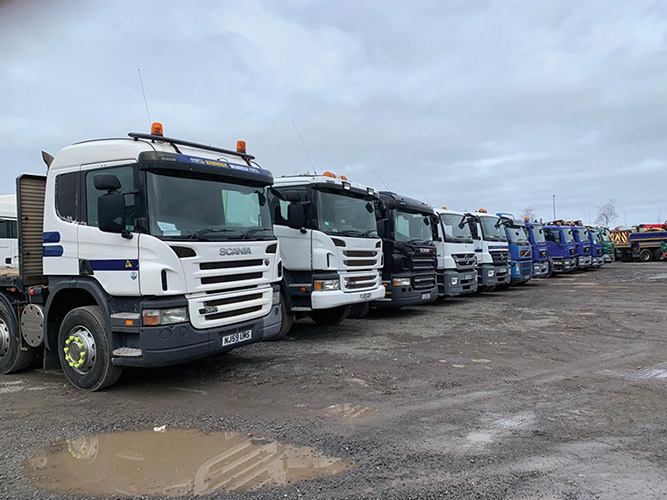 First Choice Commercials has earned an enviable reputation for supplying quality used trucks, plant and machinery to the home and export markets. In addition, the garage has new tipper, concrete mixer and beavertail truck bodies in stock, and can design and build vehicles and trailers to suit your exact requirements.
Established in 1999 by Mark O'Neill, First Choice Commercials is Ireland's premier supplier of used trucks, plant and machinery. Strategically located just off the M7 motorway (Exit 10) in Naas, Co. Kildare, the company prides itself on the excellent quality of its vehicles, both new and used, and the exceptional service it offers customers. Despite the challenges posed by Brexit, the dealer continues to source most of its stock from the UK where it has strong links with Williams Truck Centre in Liverpool.
First Choice Commercials carries over 150 trucks, trailers and plant equipment at any given time. If the vehicle or machine you require is not already in stock, Mark and his sales team will endeavour to locate it as quickly as possible through its network of reputable suppliers in the UK. They are committed to supplying immaculate trucks and equipment at the most competitive prices.
"We started out supplying used trucks to the Irish market before expanding into the sale of plant and machinery both at home and abroad. We have extensive experience in exporting worldwide as far as Australia, New Zealand, Africa, The Caribbean and The Far East," Mark explains.
"The vast majority of our customers are from the construction, quarry, haulage and agri sectors. We carry a wide range of tractor units, rigids and trailers from all the leading brands as well as mini-diggers, site dumpers, excavators, bulldozers, rollers, teleporters, tractors, skip loaders and specialised equipment. We have something for everyone and get a lot of repeat business."
A buoyant construction sector has led to a big demand for truck-mounted cranes.
"Construction has been very strong since the pandemic. There is a pent-up demand for crane trucks in particular," the affable Dubliner says.
"We are the largest provider of used crane trucks in Ireland. Crane trucks between 18 and 26 tonnes are extremely popular at the moment. We supply excavators ranging from five to 50 tonnes. Our knowledge of construction equipment is unrivalled."
There is always a steady demand for quality used trucks and trailers. First Choice Commercials' extensive stock includes Volvo, Scania, Mercedes, DAF, Iveco, Hino and Renault.
"We have everything from 3.5 tonne upwards. Our range of trailers includes refrigerated units, low loaders, tippers and curtain-siders. Everything can be sourced."
First Choice Commercials has many years of experience in shipping vehicles and machinery throughout the world. Whatever your requirements, the company will be happy to provide you with a shipping quotation to your port of choice. All documentation can be arranged, while a packing service for containers is also offered. In addition, First Choice Commercials can assist with inspections by both Jevic and Veritas.
While Brexit has made sourcing vehicles and machines from the UK more difficult, there has been an upside to it for Mark and his four-strong sales team.
"Everyone in the business is aware of the disruption and red tape Brexit has caused. Anyone sourcing a vehicle from the UK is now faced with higher tariffs. Sterling's increased value since Covid has also elongated the lead time on new products which has had a domino effect on second-hand stock. Good second-hand stock is at a premium as a result.
"On the flip side, we have picked up extra business from Irish hauliers who used to source trucks and trailers from the UK themselves, but aren't doing it anymore because of all the paperwork involved. We're set up to take away the bureaucracy and red tape for them. Buying a vehicle from us means less paperwork and less hassle. The tariff is already paid and the vehicle comes with a 12-month warranty for peace of mind."
Mark continues: "Another upside to Brexit for us is the increased business we're getting from countries such as Cyprus and Malta. Unlike the UK, they don't have to pay duty when they're buying in Ireland.
"We still source predominantly from the UK and from some Irish dealers. Despite having to pay and absorb the tariffs, we believe we still give good value-for-money."
First Choice Commercials also sells a large number of new vehicles and new truck bodies and chassis. The company designs and builds vehicles and trailers to suit your requirements.
All stock is available to view, complete with make, model, year and mileage on the company's social media platforms.
"We're very proactive on social media. We have over 40,000 followers on Facebook. It has taken over in many ways. When travel restrictions were in place during the pandemic, we relied on WhatsApp a lot. We videoed a lot of stock for our customers to view on WhatsApp," the managing director says.
Mark purposely chose Naas as the location for his business in 1999 due to its location on the M7 and its close proximity to Dublin, and for its reputation as a hub for commercial vehicle sales and activity. He knows the industry inside out, having followed his father into the business and travelled to the Far East in his mid-twenties to develop export contacts before returning home and setting up his own company nearly a quarter of a century ago.
For all your used truck, commercial vehicle and plant sales, be sure to give the team at First Choice Commercials a call today. Opening hours are 8.30am to 6pm Monday-Friday and 9am to 1pm on Saturdays. Mark would like to take this opportunity to thank his customers and suppliers for their continued support.
First Choice Commercials Ltd
Newhall,
Naas,
Co. Kildare,
W91 ET61.
Tel: +353 (0) 45 98 85 33
Mark: +353 (87) 284 2830
Email: [email protected]
First published in Irish Trucker magazine Vol 25 No 5, October 2022