Cargo Power Logistics - A professional service through and through
03/11/2022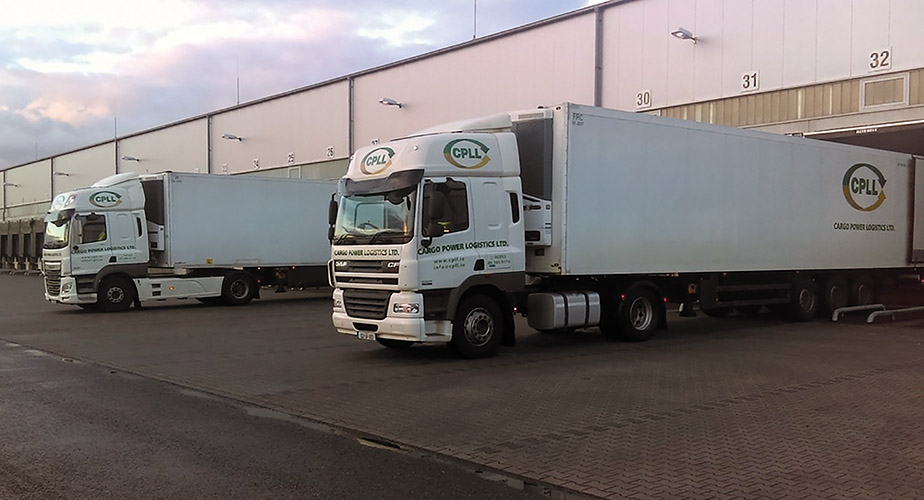 Based in Ballinagarde, Co Limerick, Cargo Power Logistics Ltd provides a range of haulage and logistical solutions for its clients from vans to 46-tonne articulated lorries. Irish Trucker spoke with Managing Director Dermot Power to learn all about the ins and outs of this family-run company – from its origins to the state of business today.
These are busy times at Cargo Power Logistics Ltd and the plan for Dermot and Pauline Power, along with the rest of the team down in Ballinagarde, Ballyneety, Co Limerick is to try and keep things that way right through to 2023.
Operating just over a decade-and-a-half now, the company has 15 DAF trucks on the road and recently added a new Iveco natural gas truck to its impressive fleet.
The business itself was born out of a customer requirement for a reliable, efficient and affordable haulage service – qualities that they still carry through to this day.
Irish Trucker touched base with Managing Director Dermot Power to find out more about his successful venture down in the Treaty County.
"We provide a service throughout Ireland and the UK and into Europe as well, using curtain siders and flat trailers for general haulage," he said.
"In the last 12 months, we have been running two double decker trailers with moving floors and they have been going very well for us."
With 26 staff currently on its payroll, Cargo Power Logistics Ltd has the expertise in haulage and logistics to get the job done right every time.
The company's efficient and reliable service is used by all sorts of customers, especially those who require national haulage as well as logistical services in Europe.
Since 'Day One', the vision for Dermot and his wife Pauline, who is the company's Financial Controller, has always been to provide a professional service, developing its facilities and equipment, allowing them to meet and exceed customers' expectations.
Now heading up his thriving logistics business, it's all a far cry from where Dermot first started it in this line of work years ago as he outlined.
"My background basically was that I was a driver and a Transport Manager for the most part of my life," said Dermot.
"I had an itch that I always wanted to work for myself though and started up in 2006 with this venture."
Needless to say, starting up a new business on 06/07 in this country wasn't the easiest task with a harsh economic recession just around the corner.
However, they managed to make it work at Cargo Power Logistics Ltd and a lot of the company's early success came down to working tirelessly week in, week out to ensure that customer demand was met.
"It was difficult getting off the ground back then, but once you got going at it the relationships started growing with clients," said the Managing Director.
"I suppose what really gave us a start was the fact that our very first vehicle here was on the road 24 hours for our customers and they knew that they could rely on us to get the job done right for them."
Right now, business is thriving for Cargo Power Logistics Ltd, but it's not without its challenges.
With 15 DAF trucks on the road, rising costs in fuel and maintenance have had a telling impact as of late.
"Business is quite tough at the moment, to be honest," Dermot said. "We're fighting diesel prices, tyres, maintenance – running costs are off the wall at the moment.
"In saying that, we are busy and hopefully things can stay that way and costs can go down overall because it is tough with them at the minute."
Cargo Power Logistics Ltd's trucks provide ambient, frozen and multi-temperature deliveries, with full/part-time loads covering Ireland and Europe and Eco Link trailers covering designated routes.
2022 has seen a new addition to the fleet down in Ballinagarde already and don't be surprised to see one or two more down the line given the current customer demand.
"We added a new Iveco natural gas truck which should be here soon," said Dermot.
"We ordered it for the start of this year and, in doing so, we are reducing our carbon footprint which is important.
"So, we added five new trucks in 2020, didn't add anything last year and this year we've started with a new Iveco natural gas truck from Emerald Truck & Van Ltd in Ballymount in Dublin."
So, the burning question is, what has been the secret to success for Cargo Logistics Ltd?
How has a small start-up grown into a thriving business venture with a staff of 26-strong and fleet of 15 trucks?
For Dermot, well-earned trust from his clients down through the years has been integral to the growth of the company.
"What put us ahead of a lot of our competitors I think most is the fact that we provide an excellent service to each of our customers every time," he said.
"We will be there for them whenever they need us and I think they know that at this stage because we prove it time and time again."
Looking towards the coming months, the plan is to keep meeting the demand from customers in a way that satisfies and maintains a solid working relationship.
Combine that with costs hopefully lowering and Cargo Logistics Ltd will be on the right track.
"Our hopes for 2022 is to try and keep our costs down as much as we can, I suppose.
"We also want to keep our customers satisfied and keep providing them with an excellent service for the foreseeable future," the MD concluded.
Cargo Power Logistics Limited,
Ballinagarde,
Ballyneety,
Co Limerick
Mobile: 086 380 9174
Email: [email protected]
Web: www.cpll.ie
First published in Irish Trucker magazine Vol 25 No 5, October 2022