A one-stop shop for all your vehicle testing
03/11/2022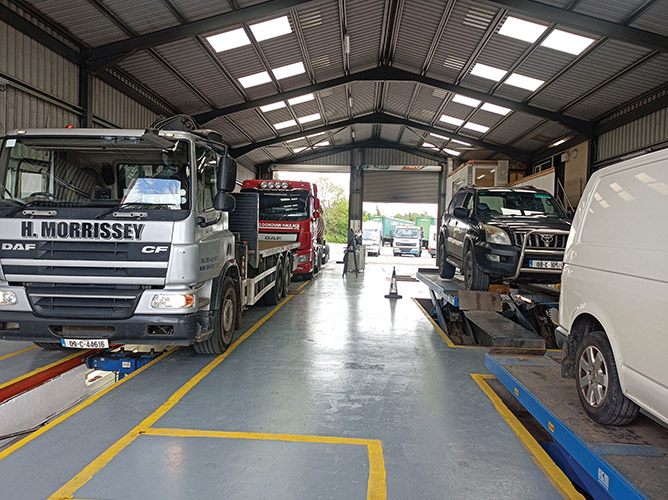 Operating out of Lower Quartertown, Mallow, Co Cork, Mallow Commercials Ltd is an approved HGV and LGV CVRT Vehicle Test Centre. Irish Trucker touched base with Managing Director James O'Sullivan to hear all about this family company – from its origins to the state of business at the moment.
Business is good these days at Mallow Commercials Ltd and the plan for the O'Sullivan family and the rest of the team in Lower Quartertown is to try and keep things that way right through to next year.
Established in 1987, the company currently operates with eight full-time staff and, as well as being an approved HGV and LGV CVRT Vehicle Test Centre with its Mallow Test Centre branch, it also provides a full range of services including Tachograph, Speed Limiter Calibrations, Weight and dimension laser Plating, Voluntary Testing, Servicing/Repairs and Van Sales for its customers. Our test lane equipment and garage equipment are supplied by Assetminder Garage Equipment in Dublin who provide us with excellent products and service.
The company itself is run by the O'Sullivan clan, who have been in business in Mallow for the past three decades now, and Mallow Commercials itself is viewed very much as a one-stop shop for all your vehicle testing.
Irish Trucker spoke with James O'Sullivan recently to learn more about what this north Cork business has been up to as of late.
"Business has been good lately," James outlined. "However during Covid, we have struggled with staff shortages and very sadly one of our testers and great friend Danny Creedon passed away which was a very tough time for all of us at the company"
"With the ongoing staff shortages of last year it was a very tricky situation where we were still trying to keep the customers happy with keeping up testing numbers despite having limited staff and hours to do so. We owe alot to our hard working staff members who worked long hours, sometimes at short notice, to keep our customers happy and keep the show on the road".
"This year we are back up to normal staff numbers now with two great additions to the team. At least now we can increase our daily test numbers and accommodate our customers even at short notice if required. When a customer is looking for a test at short notice, we can get them in relatively quickly. With staff shortages last year, we simply weren't able to offer the efficient service that we can now."
At Mallow Commercials Ltd, it is very much a family affair where James O'Sullivan is Managing Director with his father Jimmy while brother Colm is the Test Centre Manager.
This year has seen somewhat of a return to normality for the trio and their company after the Covid-19 pandemic, and the government lockdowns which followed in order to combat the spread of the virus, impacted their business in the Spring of 2020.
As James himself explained, it was a slow process getting back after the initial nationwide lockdown which hit that March.
"We were closed for about six weeks and then when we did get back open, we were only allowed to test the vehicles that were backlogged," he said.
"There was about maybe another month of that where we just had the one tester on the lanes, before things started to pick up and get back to normal slowly but surely."
James himself says he's content with where the company is at at the present time and would look at adding to improve the workshop facilities on a continuous basis rather than adding more staff members for the moment.
For now, the O'Sullivans are pleased with where they are at business-wise – some seven years after first setting up the CVRT Test Centre in Quartertown Mallow.
"We're happy now with what we have staff-wise, but we are thinking of maybe putting in another heavy lane in the next year or two," said James.
"It would be just to make it a bit more streamlined and ensure slightly less of a cross over delay between tests. By doing this each tester would have its own lane. If we were to bring that in, it might be a year or two away yet, but it's something we would look at doing down the line."
All of that considered, the burning question is what has been the secret to the success of Mallow Commercials Ltd so far?
How has a small start up grown into a thriving business with an excellent reputation for service amongst its customers.
For James, he sees it coming down to a couple of factors but, above all, he feels customer service is most paramount when it comes to the success of the company over these last seven years.
"I suppose it is down to our experience but company priority is that we make sure the customers are well looked after and have a good and fair experience at our centre," he said.
"As soon as the customer rings, Colm as always will try his best to arrange as prompt an appointment as possible for them so there isn't much down time.
"As well as that, we have ample yard space allowing for a 24 Hour truck and trailer drop off facility where vehicles can be dropped and collected at any time. We can test at our own time then with our shunter.
The yard seems to be always full with vehicles being dropped off and going and I suppose that's a good enough advantage to have alright.
"They can drop it any time day or night and the gate can be opened and closed for them whenever suits them."
Looking towards the months ahead of the company, James says he's simply hoping that things can stay the same business-wise.
The customer has always been number one at Mallow Commercials Ltd and you can be certain things will stay that way for this successful family-run venture.
"We just want to try and keep customers coming back to us and give them the best possible service we can," he concluded.
Mallow Commercials opening hours are 8.30am to 6pm Monday-Friday and 9am to 1pm on Saturdays (other times are by appointment only). Customers can make their booking over the phone or online at www.mallowcommercials.ie
Mallow Commercials Ltd
Quarterstown,
Mallow, Co Cork.
P51 W320
Telephone: 022 21614
Mobile: 086 6097808
Email: [email protected]
First published in Irish Trucker magazine Vol 25 No 5, October 2022