LM Transport Consultant providing professional compliance and training services
03/11/2022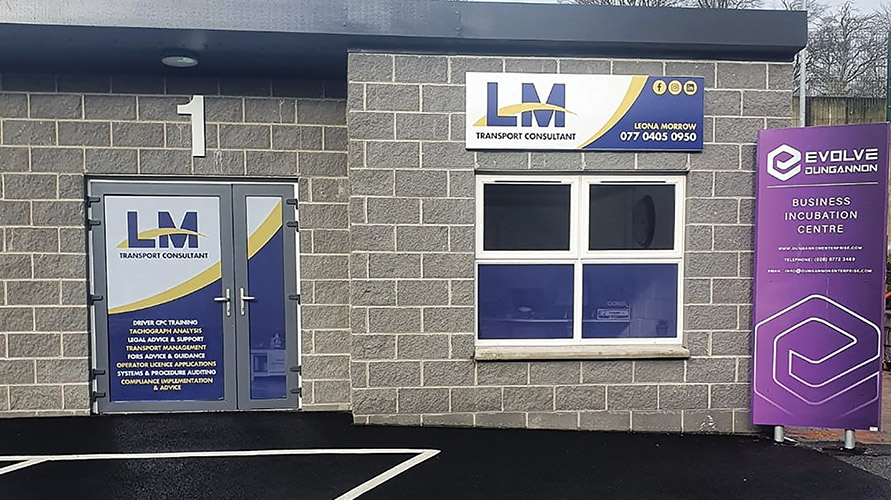 From its base in Dungannon, County Tyrone, LM Transport Consultant offers unrivalled transport compliance consultancy and training services to fleet operators across the island of Ireland and the UK. From making an application for an operator licence, to auditing and compliance, this progressive, value-added consultancy – fronted by Leona Morrow - provides all the support needed to legally operate and manage commercial goods vehicles.
As a one-stop shop for applications, compliance, training, audits and support services, LM Transport Consultant partners up with fleet owners and operators to ensure that their vehicles and systems are compliant and robust, enabling those at the coalface of the transport industry to focus on what they do best: delivering the goods.
Having worked as a transport consultant for numerous companies, Leona Morrow – who has a decade of experience working in transport consultancy and training - established LM Transport Consultant two years ago and the business has since gone from strength to strength, constantly adding new services and moving with the times to offer effective, efficient, professional and – crucially – client-focussed solutions.
"When I first started out on my own, it took a while for me to get my name out there and build up my reputation, but the phone is ringing non-stop now, especially in the last few months," the personable proprietor reveals. "When things started to open up again after Covid, with the ports open and goods moving freely again, we got very busy and we continue to grow all the time."
Prior to going out on her own, Leona had already accumulated a wealth of experience working in this highly-specialised area, having had the distinction of serving in compliance and training management for some of the largest transport companies in Northern Ireland.
"My background was in HR before I moved home from Belfast and got involved in transport consultancy ten years ago," she reflects. "I spent three years working for a transport consultancy company and one of the larger transport companies asked me to go and work for them, which I did. I worked as Compliance Manager with one company and Compliance & Training Manager with another, but I kept getting phone calls from previous clients and potentially new ones asking me if I was still doing this, so I took the decision to go out on my own and started up LM Transport Consultant in May, 2020. Because of my background, I can also provide a HR service to companies, if required."
A comprehensives range of services is provided by LM Transport Consultant including but by no means limited to: operator licence applications (for restricted or standard national / international licences); full operator licence management and compliance support; implementation of compliance management systems; external Transport Manager services; driver CPC training; auditing of current systems and procedures; preparations for public inquiries, court summons or tribunals; and tachograph analysis.
With vast experience in goods vehicle operator licencing, LM Transport Consultant can advise on all requirements and help get drivers on the road as quickly and efficiently as possible. While staying on top of complicated legislation in a sector as heavily-regulated as transport can be challenging, their operator support services are tailored to provide complete compliance. LM Transport Consultant runs a range of training courses aimed towards drivers and those working in a transport environment, including driver CPC, OLAT training and operator management workshops.
Having dealt with numerous DVA investigations over the years, Leona has an acute understanding of their assessment criteria and the standard they expect operators to meet. Her audits and support services closely mimic what a DVA investigation involves – but with full independence and confidentiality - helping address potential shortfalls before regulatory action is incurred.
LM Transport Consultant enables operators to employ effective systems to ensure operator licence compliance with all undertakings and regulatory requirements, and will return regularly to monitor how well these systems are being implemented. Moreover, they help clients go beyond complying to reap the many benefits of operating at a consistently high level (including reduced costs, new business opportunities and reduced risk to the public).
Meanwhile, LM Transport Consultant's external Transport Manager service specialises in helping small to medium sized operators remain legal and compliant, whilst reducing fuel bills, reviewing current Health & Safety policy status, developing driver training and introducing easily-understood and robust policies and procedures.
"As an external Transport Manager, I can go in once a month and make sure that all the required systems are in place and up to date," Leona continues. "It's essentially like a monthly audit for those companies who don't have their own TMs. A lot of them would be on restricted licences – and therefore don't need a Transport Manager – so we can go in and do that job and keep them compliant and leave a report so that they know exactly what has been done, what hasn't been done and what still needs to be done. I'm also looking at going down the Transport Manager CPC route this year, which is another valuable service we're going to be offering."
The genesis of LM Transport Consultant has coincided with the largescale implementation of public health restrictions and Leona has adapted her business model accordingly, with, for example, the 35-hour driver CPC (Certificate of Professional Competence) course available online: "With Covid, there have been a lot more Zoom calls and less travelling, which has obvious benefits. A lot of it has moved online. Companies don't really want you on their premises in the current climate if it can be avoided and online classes are more accessible to drivers. They can book their CPC course and do it over a few evenings on their iPod or tablet. It's a live online course which is convenient and responsive and very client-focused.
"It's essentially the same as me speaking to them in a classroom setting and they get their certificate at the end. It's much more convenient for me, also, as I can offer courses to drivers from all over the UK and Northern Ireland at the same time and I even had one driver who was in France at the time waiting to come home."
Compliance has become something of a buzzword in transport and we have arrived at a point in time where no commercial vehicle driver should even consider taking to the road if they are not fully compliant with all prevailing regulations and legislation. "I found that it was all very reactive when I started doing this ten years ago – as in somebody would ring me and ask could I come in after something had happened – but nowadays companies are being way more proactive when it comes to compliance," Leona observes.
"Since Brexit, you have a lot more hauliers who are afraid of not being compliant, with so much stock coming through ports. In Northern Ireland, most of our goods come in from the UK and would have to go on boats and perhaps go through three or four ports. For hauliers to make sure they are definitely going to be able to get to where they are going, they need to have everything in place and to be able to prove that they are 100% compliant."
Leona is a hands-on director who runs the business herself with the help of one girl in the office and a couple of external Transport Managers. Business is growing steadily and LM Transport Consultant is in rude health going forward. "About 90% of my business comes from repeat work and word of mouth while the other 10% would be generated through social media and the company website," she concludes.
"There's great variety to the work. Every day is different here and you don't get bored. We have clients all over Ireland and the UK, from owner-drivers with one vehicle up to large fleets. We can offer all services or bespoke services as required. For example, one of our clients has two in-house Transport Managers but we still do their tachograph analysis and compliance reports for them. We can tailor it to whatever they need.
"Going forward, I want to get into the Transport Manager training side as well and I'm already looking at introducing operator licence awareness courses where I can train Transport Managers in recognised courses. Ultimately, our aim is to keep providing courses, training and services that bring real value to our clients in the transport industry."
LM Transport Consultant,
Evolve Unit 1,
2 Coalisland Road,
Dungannon,
County Tyrone.
Tel: 028 87440662
Mobile: +44 7704 050950
Email: [email protected]
Web: lmtransportconsultant.co.uk
First published in Irish Trucker magazine Vol 25 No 4, August/September 2022