Record-setting abnormal load specialists
20/10/2022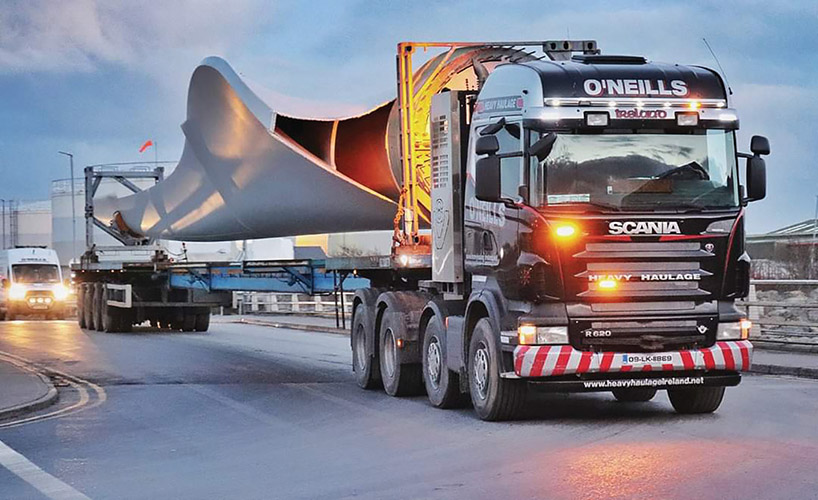 Based in Hospital, Co Limerick, O'Neill's Heavy Haulage is an experienced haulage company which operates throughout Ireland, the UK and Europe and specialises in abnormal loads for its clients. Irish Trucker touched base with Managing Director Jimmy O'Neill to find out all about the company – from its fleet to the state of business at the moment.
Business is good these days at O'Neill's Heavy Haulage in Co Limerick and the plan for its owner Jimmy O'Neill is to try and keep things that way right through to 2023.
The company has been specialising in heavy and abnormal loads for the past 75 years now and, along the way, has set many records for the longest, widest and heaviest loads to ever be transported on Irish roads.
O'Neill's Heavy Haulage is renowned for its experienced management team and equipment operators and, when you combine that with the capabilities of its specialised haulage equipment, it leaves you with a company that can carry out a broad range of haulage needs and also find a cost-effective solution to every transport problem.
Irish Trucker spoke with Jimmy O'Neill recently to hear more about the ins and outs of his thriving business situated in the Treaty County.
"Right now, we're operating with seven staff and six trucks. We also have 20 trailers and I bought a couple of low beds lately also," Jimmy outlined.
"We're looking forward to a great year and hopefully it can be as good as last year, if not, even better."
Operating throughout Ireland, the UK and Europe, O'Neill's Heavy Haulage's services include route surveys, obtaining necessary permits, removal of obstacles (temporary or permanent), liaising with Police/Gardai and the organisation and management of third-party equipment, such as cranes, etc.
Past heavy haulage projects which the company has carried out include The Spire situated on O'Connell Street, Dublin and the transfer of the sugar-making plant from Carlow to Mallow in Co Cork.
The latter project set an Irish record as the total weight of the convoy for was in excess of 1,000 tonnes.
It's one of many projects that Jimmy and his team are proud of and the work seemingly continues to come thick and fast for business.
Even throughout the Covid-19 pandemic, and the government lockdowns enforced to try and combat the spread of the virus, O'Neill's Heavy Haulage managed to stay busy with work in different corners of the country, having been deemed an essential service.
"It (the pandemic) slowed things down for us and for everybody really," stated Jimmy.
"But, after coming out of the first lockdown, things picked up again and we've been flat out ever since.
"We've done lots of wind turbines all over the country since and, even with that, there's lots that we've done in the last five years or so.
"I've numerous wind farms done and Intel would've been another big project for us in the last two years. There's lots of data centres going on at the minute where we'd be bringing back-up generators to each site where they have to have 65-tonnes of generators to operate.
"That's what we've been really focused on this year so far and the client we're working with there is Cummins Generators in Dublin."
The fleet at O'Neill's Heavy Haulage currently includes six tractor units consisting of Volvo, Scania and DAF, as well as 20 specialist trailers.
The trailers are made of both hydraulic and air suspension and have interchangeable and extendable components.
The company also uses its own maintenance service so as all of its equipment is serviced and maintained to the highest standard and with its own brake tester and shaker facility of course, will be ready and available once it is needed by the client.
So, all of that considered, the burning question is what has been the secret to success for O'Neill's Heavy Haulage down through the decades?
How has a small start-up grown into a thriving business with a reputation for carrying out excellent work throughout Ireland, the UK and indeed Europe.
For Jimmy, much of it is down to the trust the company has earned from its customers through delivering a top-class service time and time again.
"It's a personal touch that we provide, I suppose, and we always deliver for the client on time," he said.
"I don't say 'no' to them and the client is very happy with things that are handled by us. We're always on time and the experience and the equipment is delivered cash free, which is vital these days."
Jimmy revealed that right now his company is going through a transitional stage that will eventually seeing his son Michael running the entire operation.
Changing times indeed, but it's something that the Limerick native had always hoped for once his son came on board with the company fully.
"My son Michael has kind of taken over the business now," said the MD. "He was an engineer with Intel and a few years ago he decided to come back and work here.
"What actually happened was he text me at the time that he was either moving to Australia or coming to work with me, so he made the choice and stayed here."
Indeed Jimmy was delighted to let us know that his grandson MJ O'Neill was born recently and he now is looking forward to a fourth generation involved in the business.
Looking towards the coming months for O'Neill's Heavy Haulage, Jimmy himself sees one challenge in particular standing out above the rest.
"The biggest concern at the moment is fuel prices and we have to take the hit ourselves on our margins.
"Hopefully, it will come back to some sort of normality sooner rather than later," he concluded.
Hear, hear!
O'Neill's Heavy Haulage,
Hospital,
Co Limerick
Tel: 061 383 114
Fax: 061 383 022
Mobile: 087 2575 358
Email: [email protected]
First published in Irish Trucker magazine Vol 25 No 4, August/September 2022