John Nolan Transport celebrates 30 years
18/10/2022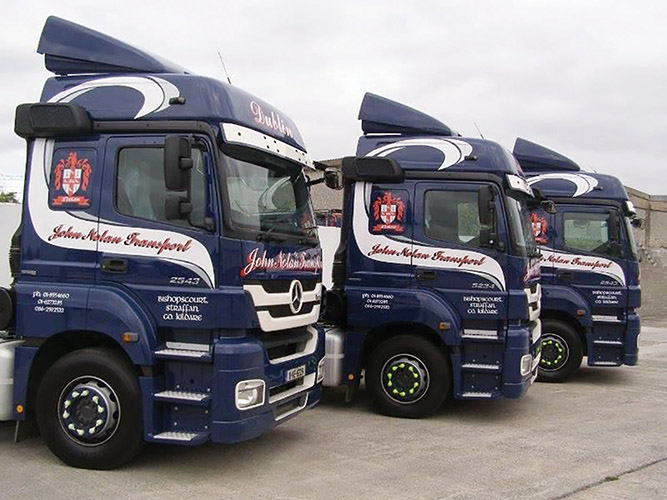 Celebrating 30 years in business, John Nolan Transport (JNT) has established itself as a leading name in general haulage, container logistics, vehicle shipping and hazardous freight distribution.
From humble beginnings, the family-run business has grown to employ 32 staff at its depots in Dublin Port and Straffan, Co. Kildare, and to run a fleet of 26 tractor units and almost 60 trailers. Founder John Nolan began operating as an owner-driver with one truck and two trailers. With the help of his wife Myra and son Stephen, he ensures that the company continues to go from strength to strength.
The Nolan family are joined by a fantastic team of drivers, maintenance staff and office personnel. The business prides itself on its personal service and ability to provide a detailed understanding of its customers' needs, with the flexibility to meet their demands. JNT offers delivery of containers as well as traction work throughout Ireland and the UK. The haulier's efficient and reliable service has made it a preferred national haulier for businesses with Irish operations, while also operating in Northern Ireland and the UK.
The company has ensured that it is equipped with a wide variety of trailers for general haulage throughout Ireland and the UK, including curtain siders, flatbed trailers, gensets (for movement of temperature-controlled goods), skeletal trailers and low loaders. A wide range of goods for both large and small companies are delivered, from part load to full loads for the agricultural, construction, engineering and manufacturing industries.
All of JNT's professional drivers are fully CPC trained, highly-experienced and have an excellent understanding of the relevant loading regulations. They are also fully ADR trained and are equipped with the relevant knowledge to safely deliver hazardous freight.
Specialists in container transport, JNT's customers and client-base ranges from international shipping companies to freight forwarders. The family-business operates container handling and storage facilities at its depot in Kildare.
Vehicle shipping requires careful planning and execution. No two loading plans are the same. JNT customises each loading plan to ensure no damage occurs during international car shipping. The vehicle shipping expert ensures that your car is loaded inside a container safely and securely. Its experienced team can load cars, motorcycles, commercial vehicles, parts, pallets, boxes and household goods into shipping containers.
In addition, JNT provides an advisory service and support when needed in shipping commercial vehicles.
Strategically located in Dublin Port and Kildare, JNT is ideally positioned beside the ferry terminals to offer prompt and efficient traction work. Its base in Kildare allows efficient access to the N7/M7 and M4 motorways, ensuring a swift service throughout the country.
The company has strengthened its fleet to cater for an increased demand for its service, operating a modern fleet of high spec trucks and a wide variety of trailers to suit an array of requirements. Currently, the Nolan's have 26 tractor units on the basis of running an average of 20 trucks per day. This ensures that they are well equipped to allow their maintenance team to guarantee that the fleet is always running smoothly. The fleet comprises Scania, Mercedes, Iveco, Renault and Volvo vehicles.
JNT's 58 trailers vary from sliding Skelly's to coil carriers, low loaders, flat trailers and curtain siders. Predominantly, it runs a Dennison fleet of trailers. Dennison is recognised as one of the major players in commercial trailer manufacture. Similar to JNT, they are also a family-owned and family-run business, and their success is also as a result of total commitment to customer service.
Recently, JNT took delivery of six new Schmitz Cargobull trailers. These trailers are very popular in the European market as they cater for all container sizes. JNT runs eight genset trailers which inevitably will have to be updated as the years go by. A major factor in choosing the Schmitz trailers was that gensets can be fitted easily with requirements for modifications. This was a strategic purchase with the future in mind.
The haulier's fleet of Dennison hardwood flatbed trailers are dual purpose (with fitted twist locks) for containerised deliveries and for flatbed deliveries, which are very popular with the construction industry due to the efficiency and ease of loading and unloading. JNT can deliver steel, wood, industrial goods, agricultural products, scaffolding and pallets using its flatbed trailers. It has the capacity to de-stow containers and redeliver in appropriate trailers depending on customer requirements.
JNT's skeletal trailers are lightweight for the transportation of containerised goods. These trailers can carry 20ft, 2x20fts, 30ft, 40ft or 45ft containers. Furthermore, the company has fixed two-axle 20ft and 40ft trailers which are suitable for tight access unloading points.
JNT's curtain siders are clean, modern and secure which allows it to transport your goods nationwide safely, securely and efficiently. For maximum accessibility and ease of loading / unloading, they can be loaded through the backdoors or sides. Curtain siders are becoming the preferred option for deliveries to locations that do not have dedicated loading bays for regular access by lorries. All of JNT's curtain siders are 13.6m long with an internal height of 3m, enabling it to transport a wide variety of goods.
The company's skeletal genset trailers are lightweight to ensure maximum payload, and can accommodate all reefer sizes. JNT's low loader trailers allow for additional height as the trailer bed is lower than traditional trailers. It has access to a wide range of low loaders which can transport plant and machinery, vehicles and agricultural / industrial equipment.
JNT's fleet of trucks and trailers are well maintained by its in-house maintenance team. All vehicles are maintained and serviced on a scheduled programme.
"We have equipped ourselves with a surplus of tractor units to ensure that our business operations run smoothly, and our vehicle maintenance can always be performed without any disruption to our operations," Stephen Nolan says.
"We are a family-run, well-established business which has a vested interest in ensuring that our operations are performed to the very best of our ability. Ensuring that our customers are well served and that our service is second to none is very important to us. For our customers, this means that we are always willing to go above and beyond to provide an exceptional service.
"Our efficient and reliable service, coupled with our strategic location, has made us a preferred national haulier for businesses with Irish operations. We also operate in Northern Ireland and the UK."
John Nolan concludes by saying: "We're very grateful to have built up an amazing team over the years. We have several employees who have been with us for many years and are proud of our high retention rate.
"The majority of employees who have joined us in more recent times have also stayed with us. It is important to appreciate and recognise employee loyalty, and to create an environment that is enjoyable to work in."
Here's to the next 30 years!
John Nolan Transport
Dublin Office
South Bank Quay,
Whitebank Road,
Dublin 4,
D04 E620
Telephone: 01 855 4660
Kildare Office
Bishopcourt,
Straffan,
Co. Kildare.
Telephone: 01 855 4662
Email: [email protected]
Web: www.johnnolantransport.com
First published in Irish Trucker magazine Vol 25 No 4, August/September 2022