The A1 choice for transport solutions across Ireland and the UK
11/10/2022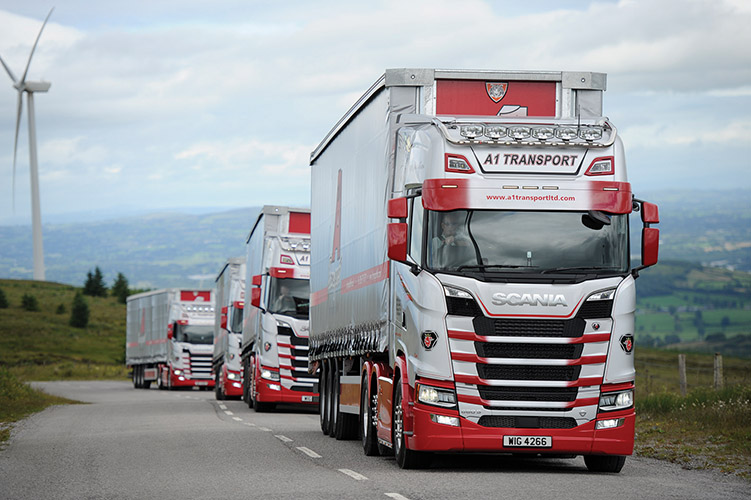 Headquartered in Derrylin, Co Fermanagh, A1 Transport (NI) Ltd provides its clients with international transport solutions across Europe. Irish Trucker touched base with Managing Director Anna Sembhi to hear more on the business and the recent additions to its impressive fleet.
Business has been good as of late at A1 Transport (NI) Ltd and the plan for proprietor Anna Sembhi and the company's team of 80 staff is to try and keep things that way right through to next year.
Operating out of 19 Killynick Road, Aghalane in Derrylin, Co Fermanagh, the company currently has 60 trucks (tractor units) and 200 trailers (curtainsiders) in its state-of-the-art fleet.
As a leading transport company that provides 24- and 48-hour transport solutions across UK and Ireland, A1 Transport (NI) Ltd has grown to become a well-known and trusted business by its loyal customers.
Irish Trucker spoke with Anna Sembhi to learn about the current state of business for this Fermanagh-headquartered company.
"In the current environment, it has affected all business. I think we have very uncertain times," the Managing Director outlined.
"We've managed to come to terms with the aftermath of Brexit and we've managed to get through a pandemic and now we're dealing with the effects of the global supply issues. And, since then, we've headed into a war with Russia invading the Ukraine, so these are uncertain times.
"Last year was our busiest on record and we were hoping to continue the trend, but the continued cost increases are quite worrying and obviously, in particular, the fuel prices."
She added: "It seems like it's just one thing after another, but we keep battling on anyway."
Indeed, the Covid-19 pandemic, and the government lockdowns which followed in order to try and combat the spread of the virus, impacted businesses on a global scale and A1 Transport (NI) Ltd was another that had to "adapt to the extra ordinary circumstances", as Anna puts it.
With things returning to normality, other challenges have since risen but, reflecting on it now, the company's MD says she's proud of how the team put all shoulders to the wheel to help see the business through the difficult times brought on by Covid.
"We're an essential business, so we continued to work throughout the whole pandemic," said Anna.
"We continued to service the supply chain and deliver vital products that were needed. But, of course, we had to adapt to the extra ordinary circumstances that we found ourselves in.
"We also had to put all the safety measures in place, but I know that our team here worked extremely hard throughout the whole thing to make sure that all operations continued."
With its head office situated on the Fermanagh/Cavan border, A1 Transport (NI) Ltd is halfway between the cities of Belfast and Dublin and therefore perfectly placed to utilise all the major ports and shipping companies that links Britain and Ireland. This helps to ensure maximum efficiency and excellent delivery costs and times.
Despite the current uncertain times at present, business is still good and recently the company has made more new additions to its excellent fleet which operates out of both Derrylin and across the water in Preston, Lancashire.
While the fleet itself is predominantly made up of Scania, A1 Transport (NI) Ltd also operates with some Volvos and a Renault truck.
Recent times have saw an additional six new tractor units arriving from Road Trucks Ltd while 45 new trailers (all curtainsiders) have been purchased from Tiger Trailers in Cheshire.
Tiger Trailers is a new supplier to A1 Transport (NI) Ltd and, given that they came highly recommended, Anna has been interested to see how they compare with past suppliers.
Currently, there are no plans in place to expand the fleet further in 2022 as a cautious approach has been adapted due to the times that are in it and the continued cost increases across the board.
One thing that you can be sure of is that A1 Transport (NI) Ltd will continue to endeavour to provide clients with cost effective transport and haulage solutions that they can trust.
As Anna herself puts it, it's part of the reason why clients continue to choose the company first ahead of others in what is a hugely competitive market.
"A1 Transport offers all of our customers the complete package," she said.
"We're covering the logistics, the transport and then all customs' procedures for the UK and the Republic of Ireland. So, we can move through all the different territories, covering Northern Ireland, Republic of Ireland and Great Britain and we can take care of all the documentation inhouse.
"We also offer personal service tailored to each one of our customers. We have a lot of loyal customers, which we are very grateful for, and we just basically strive to ensure that they have an overall satisfactory experience.
"We aim to make everything move seamlessly throughout and it appears that are customers are happy. We hope that they continue to be."
Looking towards the months ahead for the business, Anna says the company will be looking to try and expand operations "in a sustainable way".
The ultimate target is to try and be operating on the continent within the next year or so, provided that more unpredictable challenges for the industry don't surface.
"We hope to continue to grow the business and do it in a sustainable way," she stated.
"We also hope to further build on the customer relationships that we have and also to try and find ways to be more cost effective with the ever-growing cost increases we're experiencing.
"The company is also planning to cover work within Europe, so we're planning to grow that aspect of the business over the coming 12 months."
Contact A1 Transport today for a free quote on their services or contact them for a call back.
A1 Transport (NI) Ltd
19 Killynick Road,
Aghalane,
Derrylin,
Enniskillen,
Co Fermanagh BT92 9HJ
Tel: 028 6774 2770
Fax: 028 677 48307
Email: [email protected]
First published in Irish Trucker magazine Vol 25 No 4, August/September 2022