Customer service comes first at M&T Warehousing & Distribution
04/10/2022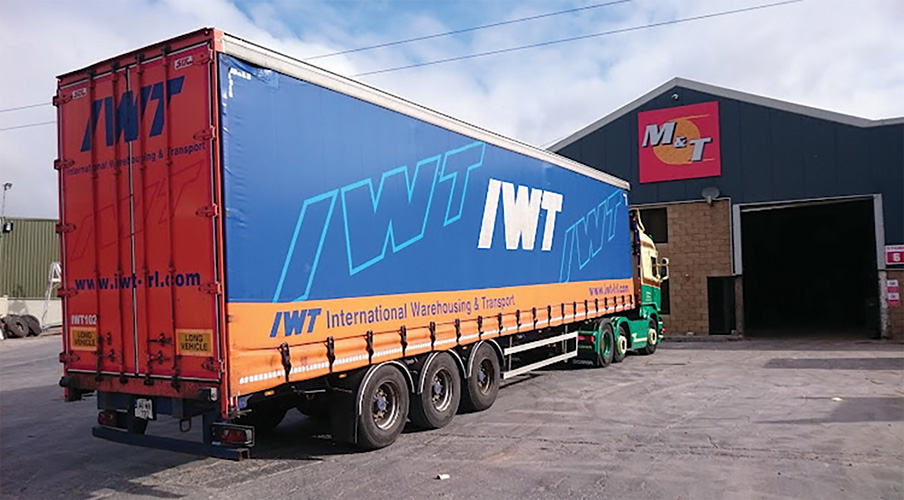 By consistently delivering outstanding service levels, M&T Warehousing & Distribution has earned a stellar reputation for dependability and professionalism, benefiting from a notably high volume of customer loyalty. We travelled to Cork and spoke to director Tim Cronin to find out more about this client-focussed, industry-leading family business.
Established and fronted by brothers Mike and Tim Cronin alongside their father, Michael Snr., M&T Warehousing & Distribution is an exceptional Cork-based TASCC-approved warehousing and distribution company that has been invariably achieving optimal levels of customer satisfaction across the Munster region and beyond for coming up on a quarter of a century.
Reputation and client retention are everything in this line of work and it's telling that two of M&T Warehousing & Distribution's very first customers still feature prominently in their day-to-day activities. "We started in warehousing 24 years ago this February," co-founder Tim Cronin reflects. "Right Price Tiles was our first customer and we are still with them to this day. Back in the early days we also worked for the guy who went on to form Fastway Couriers, and we've remained with Fastway since the start."
Having begun life as a warehousing company, M&T added a supplementary transportation service to give themselves greater control over their quality offering. By both storing and delivering goods, they can make sure that all products remain in premium condition throughout every link on the supply chain. "Right Price Tiles would have had four shops when we started with them," says Tim. "He asked me would I do a bit of transport for him and we now deliver to 26 stores nationwide as well as collecting their containers from the port and storing their goods.
"Like ourselves, Right Price Tiles is a family business – in their case, managed by a husband and wife team - and we have been very lucky to be able to grow hand in hand with them. They have remained very loyal to us and I'd like to think this is because we provide them with a very good service."
Perfectly complementing the warehousing side of the business, a flexible and responsive 24/7 haulage service is provided, with the lorries contracted predominantly to Fastway, Right Price Tiles and also for carrying out animal feed deliveries via bulk tankers. "We got into the bulk storage of animal feeds about five or six years ago," Tim confirms. "We're running five artics at the moment and, to be honest, we'd have no appetite to go any bigger with the fleet. There's plenty of work for the lorries and we could possibly expand if getting drivers wasn't such an issue."
Boasting an exemplary track record for providing the keenest, client-orientated storage and transport solutions, M&T operate a fresh and immaculately-maintained fleet, which was replenished last year with the addition of two high-quality second-hand vehicles. Predominantly MAN, with one DAF, the fleet at present comprises two 2019-reg lorries alongside a 2018, one 2015 and one 2013. Most of the truck repairs, servicing and maintenance are taken care of in-house, while a local mechanic is on hand to look after the trailers.
Key to the success and viability of M&T Warehousing & Distribution as a storage and transportation partner of choice is their exceptional location three miles from Cork city, with their modern warehousing and logistic hub conveniently located close to the Port of Cork, Ringaskiddy Deep Water Terminal, Cork Airport and the motorway network.
With over 100, 000 sq. ft. of secure, fully-monitored storage space available and proven expertise in loading and unloading bulk powder and containers, as well as their own fleet of trucks and trailers, M&T are perfectly positioned to offer custom storage and bespoke transport (curtainsider, tanker or container) solutions – or a combination of both. All services are available 24 hours a day, seven days per week and a full pick and pack service is offered to customers wherever required.
M&T Warehousing & Distribution have vast expertise and experience in the import / export business and can look after goods coming from anywhere in the world. Providing a one-stop shop in dealing with customs and related documentation for anything from a single parcel to a shipload of goods. Utilising a computerised stock control system, their friendly and efficient staff are trained to operate an integrated pallet storage and management system for clients or can maintain a regularly-updated bespoke in-house system. M&T also have a certified weighbridge on site to efficiently record bulk, bagged or palletised stock as it enters or leaves their facility.
To futureproof the business, M&T Warehousing & Distribution have diversified to the point where they now have a wide range of customers on their books, including - but by no means limited to - Westend Agri Ireland, Nutribio Ltd., Dan Donovan & Co Ltd., Timab Industries and Minteq as well as the aforementioned Right Price Tiles and Fastway Couriers. They are also holding a large number of solar panels on site at present, which will be used to build five new solar farms.
"Building up relationships with customers is very important, as is service," points out Tim, who is also a dairy farmer, milking 180 cows. "You have to look after people, keep them happy. I'm a firm believer that you are only as good as your last job, so you have to maintain high standards at all times."
Although Tim, Mike and Michael Snr. would be lost without the input of their trusty team of ten employees, they remain hands-on in order to ensure optimal service levels right across the board. "We have one guy in the warehouse who's with us 20 years this year and another has been here for 18 years. Our longest-serving driver has given 16 years' service. You try to keep guys and it's very important to look after them. As the saying goes: 'if he's not with you, he's against you'."
Through hard work and dedication, M&T Warehousing & Distribution has grown from humble beginnings into a wonderful success story. "We started this from scratch and it has worked out very well," Tim concludes. "All I wanted to do really was farming but I'm delighted we didn't focus solely on farming. I can still wear the wellington boots at the weekend.
"We've had to work hard and the trucks are out day and night. They were out seven nights a week in the run-up to Christmas but we're back to five now, Sunday-Thursday. We're in a very good place, where we don't owe any money and we have good customers. You have to be thankful to them for sticking with you because they aren't under any obligation to do so.
"We've had Fastway since they started in Cork and Right Price Tiles would have had 60 pallets when we started with them - they were taking up to 50 loads a week out of here during the boom times. We're blessed that they have stayed with us and given us that commitment over the years."
That's what tends to happen when a company provides unrivalled service levels, as M&T Warehousing & Distribution have been doing for 24 years and counting!
M&T Warehousing & Distribution,
Monard,
Mallow Road,
County Cork.
Tel: 021 4383340 / 4383311
Fax: 021 4383342
Mobile: 087 9490102
Email: [email protected]
Web: mandtwarehousing.ie
First published in Irish Trucker magazine Vol 25 No 4, August/September 2022