Reliable, speedy and professional
27/09/2022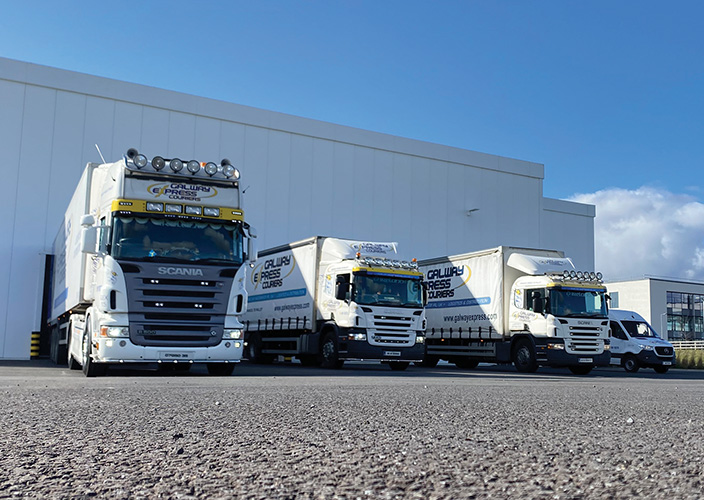 Next year will see Galway Express Couriers International marking an even 30 years in business and it has been quite the rise for the family-run business operating out of Briarhill Business Park, Co Galway. Irish Trucker touched base with its owner and founder Derek McNamara to learn all about the company – from its origins to the state of business today.
Galway Express Couriers International offers its customers a wide range of transportation solutions to all industries both domestic and commercial and, in particular, in the medical sector.
Set-up by Derek McNamara in 1993, the company has grown from strength to strength to the point now where it offers its services all throughout Europe.
With an excellent fleet of vans and trucks, which started off as just one van back in '93, Galway Express Couriers International takes a customer-focused approach that is reliable, speedy and professional.
Irish Trucker spoke with Derek McNamara recently and heard all about what his company specialises in, as well as his son Ryan's involvement and the impact the Covid-19 pandemic has had on business over the past two years.
"We've gone international here in the last four years," Derek outlined.
"So, we deliver all throughout Europe and we're classed now as Galway Express Couriers International, previous to that it would have been Galway Express Couriers.
"What we specialise in is medical devices logistics and we operate 24 hours a day, seven days a week."
As aforementioned, the company's origins date back nearly quarter of a century at a time that saw Derek building his venture from the ground up to the point it's now at today.
Right now, business is good but, that said, these are challenging times for a company like Galway Express Couriers International, particularly with the rising costs in fuel.
Make no mistake though, they are challenges that Derek will aim to meet head on, working alongside his son Ryan.
Surely one of the youngest arctic drivers in the country, 19-year-old Ryan McNamara has been helping out his father since he was a kid.
When the time came to go full-time with the company, Ryan progressed in every licence at the first attempt and is now driving the continent at the moment which, of course, marks a great achievement for his young age.
"Ryan came in driving with me at 18 and he succeeded in all his licences the first-time round. He got his van license the first time, rigid the first time and he got his arctic the first time," Derek outlined.
"I would put him down as a great asset to my company. From Ryan joined forces with Galway Express Couriers, he became a great asset from driving a van right up to driving a 45-foot arctic on the continent."
Having always had a love for this particular line of work and driving in general, Ryan is currently in the process of organising a Truck Run in aid of Crumlin Hospital and Galway Premature Baby Unit at University Hospital Galway.
The fundraiser is set to take place on September 4th of this year and will see all monies raised donated the two hospital charities.
"He (Ryan) was born premature himself and decided to take it upon himself to do this. The plan is for it to take place at the Galway Racecourse on September 4th," Derek stated.
It's an initiative that's fantastic to see being organised and also speaks volumes about Ryan himself as a young man.
As for business itself at Galway Express Couriers International, Derek outlines that they are both busy and challenging times at present.
"We're busy at the moment but, in saying that, every day it seems to be a different challenge whether it's diesel, Covid, staff, work. It's all challenging times," he said.
The Covid-19 pandemic, and the government lockdowns which followed in order to combat the spread of the virus, has been something which impacted companies across the globe.
Galway Express Couriers International felt the affects as well, with Derek describing the protocols involved for a company like his as "extremely hard".
"Covid affected everybody and it affected us in a way because we had to up our staff and had to try and keep our services the same as normal, but with the same staff it was almost impossible," he outlined.
"It was a great drag to work through Covid. When it came first, of course we were hit by it, and it was quiet and we steered ourselves out of it. But the protocols involved in dealing with Covid were extremely difficult on the company and on the staff.
"We're still actually dealing with it as such because we still have to deal with Covid protocols because it's still there. We've had to deal with say the likes of delivering stuff into medical places and had to sort out how we'd deliver it because couldn't have the same driver going in twice to the same company. That'll tell ya how difficult it was.
"The protocols that were involved were extremely hard. Every company struggled with Covid at the start and we've all had different protocols to go by and we're currently still trading through it and it made life much more difficult.
"The down time for drivers was increased and the expense of everything almost doubled because of it."
While restrictions in Ireland have been lifted for the most part in recent times, specialising in work in medical sector still sees Galway Express Couriers International having to follow some strict protocols.
Add to that the rising cost of fuel at the moment and you begin to get the picture when it comes to the challenges that Derek and his company are facing at the moment.
"It's just unbelievable that we've gone into this ridiculous market of diesel. We're like everybody else, we're all struggling with it but we're all trying to trade through it," he said.
Nevertheless, the show goes on at Galway Express Couriers International and the hope, of course, is that diesel prices will eventually level off sooner rather than later.
These past five years have saw the company investing in a new fleet of Mercedes-Benz Sprinter vans which were purchased off Kinahan Commercials Ltd in Moate, Co Westmeath.
Derek finds Kinahan Commercials Ltd a professional outfit to buy off and the Mercedes-Benz Sprinter van itself to be perfect fit for his company.
"We find them very good to deal with," he said. "Gerard Kinahan is the man I deal with in there and we went for the Sprinter for their reliability, load capacity, weight capacity and the fact that they're a drivers' van."
Speaking of load capacity, Galway Express Couriers International also has 25,000 square feet of warehousing at its disposal.
Align all of that with the fact that the family-run business has a combination of efficient staff, experienced drivers and competitive prices and you can understand how a customer's consignment gets to its destination in pristine condition and in a reasonable time frame.
Galway Express Couriers International deliver all manner of goods and no job is too big or too small.
Since its inception in 1993, the company has grown every day and its market still remains to be specialised deliveries.
So, all of that considered, what has been the secret to success for Galway Express Couriers International over the years?
How has a small start-up operating with just one van at the beginning grown into a thriving business with an impressive fleet of vans and trucks and an excellent reputation to boot.
For Derek, providing a quality on consistent basis down through the years has been key.
"Number one, it has to be the quality of service. The quality of service has to be very high because we're dealing with multi-national companies.
"Punctuality is a huge thing as well and customer service and reliability, too," he concluded.
So, if you're looking for a reliable and efficient courier service, Galway Express Couriers International can deliver whatever, whenever. They operate 24/7 and can cater for one pallet and up to 24 pallets with its vans and articulated lorries.
Galway Express Couriers International
13 C Briarhill Business Park,
Co Galway
Tel: 091 793 776
Mob: 087 6655 776
Web: galwayexpress.com
First published in Irish Trucker magazine Vol 25 No 4, August/September 2022