Mercedes-Benz eActros Longhaul revealed
23/09/2022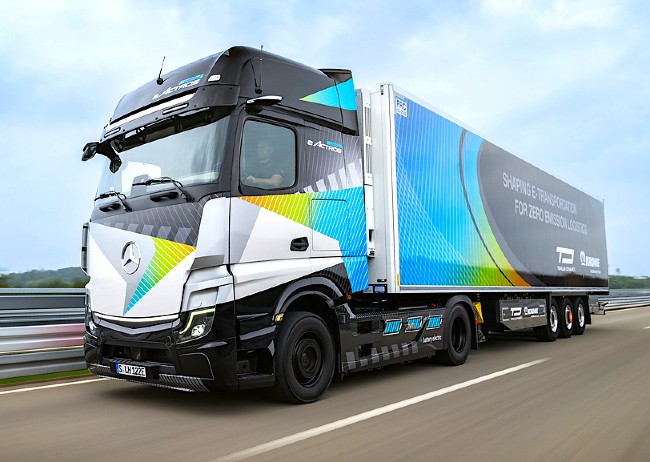 The era of battery-electric powered long-distance transport draws closer with Mercedes-Benz unveiling their eActros LongHaul 'concept prototype' at the IAA Transportation 2022 exhibition in Hanover.
In the presence of an international community of haulage and transportation specialists, the eActros LongHaul was revealed by Mercedes-Benz as a prototype whose enhanced features reveal what the German truck maker believes will be the model of future battery-electric powered long-distance transport.
Honoured by receipt of the International Truck of the Year 'Innovation Award' 2023, the eActros LongHaul with its clear contours and LED light strip in the front area provides a preview of the design language of the series-production vehicle that Mercedes-Benz has planned for 2024 and beyond.
According to the company, development engineers are designing the eActros LongHaul so that the vehicle and its components meet the same durability requirements as those of a comparable conventional heavy long-distance Actros. For owners, this opens the prospect of an on-the-road performance return from a battery-electric powered long-distance transport equivalent to 1.2 million kilometres over a ten years period.
In technical terms, batteries to be used in the eActros LongHaul employ lithium-iron phosphate cell technology – characterised by their long service life and more usable energy. Three battery packs provide an installed total capacity of over 600 kWh. Two electric motors, fitted as part of a new e-axle, generate a continuous output of 400 kW and a peak output of over 600 kW.
In the eActros LongHaul, batteries will deliver a range of around 500 kilometres on a single charge with the additional benefit that its charge level can be increased from 20 to 80 percent in well under 30 minutes at a charging station with circa one megawatt output. In addition to its tractor unit, Mercedes-Benz confirms that the eActros LongHaul will be produced in rigid variants at market launch – a decision that they believe will offer customers 'numerous other fully electric transport possibilities.'
It is set to be the first all-electric, series-production vehicle from Mercedes-Benz Trucks to be manufactured from start to finish on the existing assembly line at the Wörth truck plant, where assembly of conventional and fully electric trucks will be carried out in parallel on the same line. With the eActros 300/400 and the eEconic, electrification has, so far, taken place in a separate process at the 'Future Truck Center' in Wörth.
In terms of its introduction to the Irish market, plans for the arrival of the eActros continue to draw closer with dates for its launch in Ireland scheduled to be announced next year.