One of Ireland's leading manufacturers of timber packaging and pallets 
27/09/2022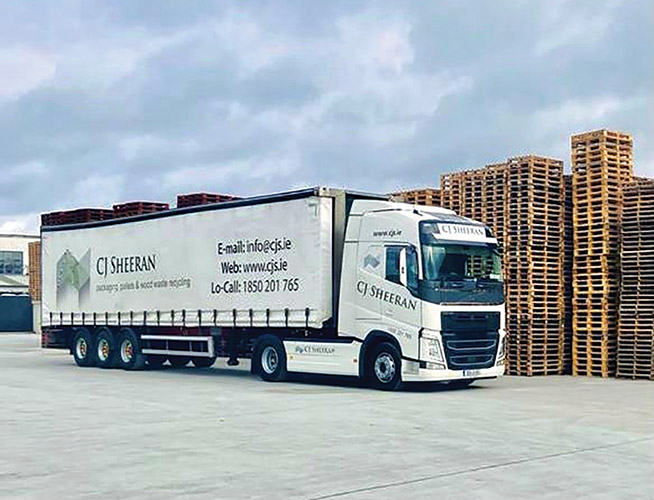 Established in 1994, CJ Sheeran Group has grown to become the number one manufacturer of timber packaging and pallets in the country. Irish Trucker touched base with director Ashleigh Doyle and Group Transport Planner Oisin Bennett to find out all about the company, its fleet of Volvo trucks and the overall state of business at the moment.
Business is good these days at CJ Sheeran Group but it's not without its challenges, according to company director Ashleigh Doyle.
Incorporated in 1994 by Mark Sheeran and his father Canic, the business has grown from humble beginnings into Ireland's largest manufacturer of timber packaging and pallets with seven different sites located across the country.
Today, CJ Sheeran Group employs over 300 staff and has an impressive fleet of Volvo trucks as well as 80 trailers positioned throughout the country to collect used pallets from clients for repair.
Irish Trucker spoke with both director Ashleigh Doyle and Group Transport Planner Oisin Bennett to learn more.
"Our headquarters is in Shannon Street, Mountrath, Co Laois which includes our Shared Services Centre and virgin pallet manufacturing site," outlined Ashleigh, who will be marking 20 years with the CJ Sheeran Group in June.
"We have another virgin pallet manufacturing sit in Ballinrobe, so we would supply a lot of pharmaceutical, food and beverage companies up in the west from that site.
"Back to Mountrath then, at the other side of the town we have a very large pallet recovery division where we recover 2.5 million used pallets per annum for reuse.
"We have a fleet of 80 trailers and would position them all across the country to act as collection points at customers' sites, distribution centres and so on for used pallets. We bring them back down to our pallet recovery centre in Mountrath and we would bring them in to repair them and sell them on again as recovered pallets."
CJ Sheeran Group also has warehousing and distribution located in Dublin, with two depots situated in the capital and another in Mullingar.
November 2020 saw the company acquiring Coolrain Sawmills in Co Laois – a move which Ashleigh describes as its "first step towards vertical integration".
"The mill would be primarily a fencing mill but they would also produce pallet board. So, there'd been eight to 10 large saw mills across Ireland and some of them would produce fencing and others would produce construction boards.
"This was a fencing and pallet mill, so that gave us very good security of supply as well," the director stated.
Security of supply is essential for a company like CJ Sheeran Group and perhaps even now more than ever.
The Covid-19 pandemic, and the government lockdowns which followed in order to combat the spread of the virus, impacted businesses throughout Ireland and indeed across the globe.
CJ Sheeran Group felt the impact too, although, having successfully lobbied with the government to be deemed an essential service, business never stopped for the company as Ashleigh explained.
"In the early days of the pandemic, we were classified as an essential service as nd our customer base would be primarily pharmaceutical, medical device, food and beverage and technological, so we would have a vast portfolio of globally recognisable brands that would produce very essential products," she stated.
"Baby foods, medicine…all of those products are shipped on our pallets and it was critical that we got that recognition that we didn't have to close down because if the pallet sector stopped, nothing was moving anywhere.
"The pallet sector uses a phrase 'pallets move the world' and it's very true and it became very apparent and it resonated with the sector how critical it all was when the pandemic hit.
"It was very much a parallel world for us. It was business as usual and we had to develop our business continuity plans, there were huge Covid protocols in terms of social distancing and trying to protect all of our staff to ensure that we could stay going."
Indeed, government restrictions made it difficult for so many businesses whether it be logistics or warehouse work.
While recognising that the pandemic is not over, Ashleigh feels that CJ Sheeran Group has managed to come through it so far relatively unscathed and, of course, also hopes that the worst of it is over and that perhaps the storm has been weathered.
"We managed very well through it over the past 24 months. Our team coped very, very well with Covid and managed to avoid any serious outbreaks of the disease," she said.
"Business grew for us and I suppose there was a huge surge in demand on the FMCG and we had to pivot then to make sure that we had lots of timber coming in to make sure that we were able to produce all of this new increased demand as well.
"We also worked along with the saw mills providing them with essential work letters to keep the timber moving and so that we could continue to supply our own customers that were also essential service."
Another benefit to CJ Sheeran Group throughout the pandemic is the fact that it is the only pallet manufacturing company in Ireland that have separately licensed manufacturing plants.
It means that if something were to happen on its Shannon Street site in Mountrath which caused it to be shut down for example, it could redeploy its team there to the Ballinrobe site for example.
The company has that capacity and it's an excellent support system to have for both it and its customers.
At the moment, CJ Sheeran Group are the only pallet manufactures in the country to hold all three core ISO Certifications (ISO:9000, ISO14001 and ISO:45001) and it is currently in the process of finalising its audit for ISO:500001, which is an energy management standard.
All of that considered, the burning question is what has been the secret behind the success of the business over these past 28 years?
How has a small start-up grown into Ireland's leading manufacturer of timber packaging and pallets?
Ashleigh herself puts a lot of it down to the excellent team of the staff the company operates with that ensures customers needs are met week in, week out.
"We've assembled a fantastic team here. Everybody that comes here, they're so dedicated and loyal and committed to the business," she said.
"We've a very young dynamic team that are really ambitious and doing really good work here. It's a very enjoyable place to work and I think that culture and dynamic flows into our customers then as well. They get to see the vibe that we have that everybody's so proactive and there's a very positive response.
"We have a lovely logistics office here where Oisin would be based and it's side by side with the sales office. It's a lovely open area space and we have a positivity wall between it, so there's very much a vibrant culture here.
"We operate an employee development and training under the brand name 'Talent Tree®', which is our corporate training and development programme. We will assess all of our employees in terms of their skill sets and look at what courses and training that they can undertake and set out a clear progression path for those employees within the business.
"That definitely filters out into the customer service because you see it time and time again in terms of our customer satisfaction reports; they're super happy with the service that they get.
"Everyone's heard of the phrase 'No bother' and no matter what any of the customers ask us or want from us our first response is 'No bother'.
"In other words, we're going to do our best to achieve what you need."
It was no doubt the vision when Mark Sheeran set-up his company back in 1994.
Mark's wife Marguerite is also involved with the company's ComfyBed Equine division, which is an award-winning alternative horse bedding product (see more at www.comfybed.ie).
Elsewhere, CJ Sheeran Group's fleet continues to expand with another six arctic trucks added in 2020 and plans are in place to add more vehicles in the near future.
"We've introduced six new arctics to the fleet here. They're Volvo FH460 4x2 tractor units and then we also have three rigids up in Dublin there," outlined Logistics Coordinator Oisin Bennett, who has been with CJ Sheeran Group three years now.
"We're continuously expanding the fleet and we'd also use a number of subcontractor hauliers as well.
"We'd have our own fleet that would do loads out and loads back and then we utilise subcontractor hauliers, so they do both outwards and inwards and they also do long hauls for us."
Looking towards the coming months for the business, Ashleigh is very much optimistic even with the challenges out there – one of the main ones being the current price of timber.
"I suppose you could say it's been the three horses of the apocalypse in terms of what we had to deal with with Brexit, Covid and the felling licence crisis as well," said the director.
"We are continually monitoring timber prices. They have risen hugely on the back of a number of reasons, I suppose demand with construction picking back up again, a buoyant fencing market and also this felling license crisis in Ireland.
"Obviously, the Russia-Ukraine situation has an impact with a restriction announced on Russian exports. That in turn is going to drive up prices on the European markets and there'll be a huge demand on Irish timber into the UK.
"Although we don't import from Russia, it will have a knock-on effect for us we believe and it's very much month on month now for us and very much minding the business, forecasting and looking into the industry across the world and see what's coming down the tracks for us and making sure we're protecting ourselves."
Of course, the current rising fuel costs are also a concern for CJ Sheeran Group as it looks to ensure that the supply keeps flowing for clients.
"Obviously, in terms of diesel prices, that's a concern as well which will have a serious knock-on effect," said Ashleigh.
"Our diesel spend is a huge part of our overall spend and it's hard to absorb that. Everyone is suffering the same I suppose but we need to make sure that we have supply and that it's a sustainable supply for our trucks as well, so that we can keep these essential goods moving for our customers too."
She added: "It's a very tough time for logistics companies and companies working in the transport sector – it's coming at them from all directions. But with the right supports in place from Government, we'll all get through this. We're resilient."
CJ Sheeran Group
Shannon Street,
Mountrath,
Co. Laois
R32 RRX8
Lo-Call: 1850 201 765
Phone: 057 875 6700
Web: cjs.ie
First published in Irish Trucker magazine Vol 25 No 4, August/September 2022