Expansion on the horizon as Reynolds Commercials approaches 30 years in business
20/09/2022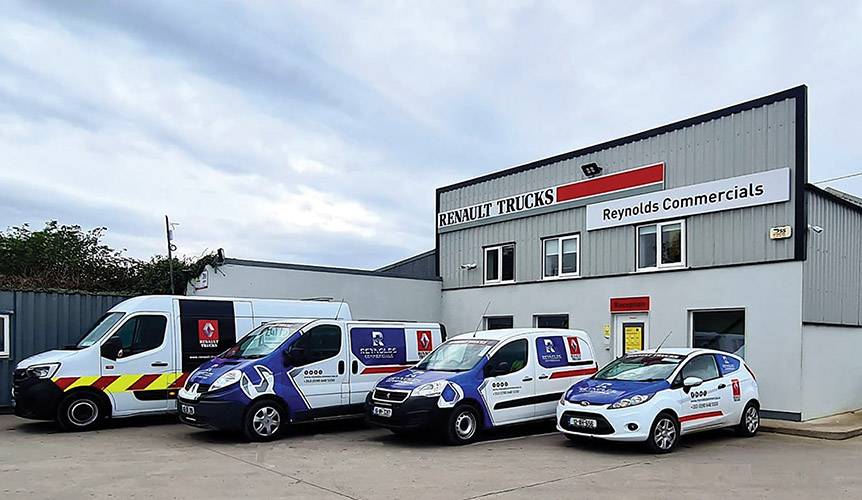 Based in Athlone, Co Westmeath, Reynolds Commercials is a family-run business and Authorised Renault Trucks Dealer for the Midlands and surrounding areas. Irish Trucker touched base with Anthony Reynolds to find out all about this well-established business and its plans for further expansion over the next year.
Business has been good as of late at Reynolds Commercials and the plan for founder Paul Reynolds and his son Anthony is to try and keep things that way right through to 2023.
Founded by Paul Reynolds in 1993, The company has been specialising in Commercial Vehicle Repairs, Sales and Parts since its inception and today employs 18 full-time staff from its base along the Tones Road in Athlone.
In 2018, it became a Service Agent for Renault Trucks Ireland, progressing to Full Dealer status in 2020 – a development which has changed the direction of the business considerably over the past half decade.
Irish Trucker caught up with Anthony Reynolds to hear more on the impact the agency has had on this family-run venture and the overall state of business at the moment for Reynolds Commercials.
"Business is always tough, but is going well. It has grown a lot for us here in the last couple of years," he outlined.
"Since coming on board with Renault Trucks, it has changed in the business in the sense that if you came down here today, you'd see maybe 70% of the Vehicles in the workshop would be Renault. That's mainly what has changed by taking on the Dealership. So, it enables mechanics to specialise and gain more expertise in one brand, rather than trying to be a jack-of-all.
"We've taken on many new customers with Renault Trucks Fleets that we wouldn't have previously have had. Also, we've worked with existing customers to transition towards the Renault Product which has been beneficial to us and our customers.
"So, it's changed a good bit in that sense over the past five years."
Speaking of change, these past 24 months or so have seen it happening globally.
The Covid-19 pandemic, and the government lockdowns which followed in order to combat the spread of the virus, saw businesses throughout Ireland impacted.
As for Reynolds Commercials, Anthony is glad to report that business wasn't hit overly hard by the lockdowns that were enforced at the time.
"It wasn't too bad for us, to be honest," he said "The first month I suppose, which was March 2020, when people didn't know what was going on, we had to put everyone on the Pandemic Unemployment Payment (PUP), and just kept a few guys on call to keep essential customers on the road.
"By the time June 2020 came along, we were pretty much back to full speed. It (the pandemic) didn't affect us hugely and, with the government giving everyone the PUP every week, it took a lot of pressure off businesses like ourselves, where revenues obviously reduced."
Right now, Reynolds Commercials is servicing around 50 to 60 vehicles on a weekly basis.
With 10 full-time mechanics on its books, they are currently 'flat-out' along the Tones Road as Anthony paints the picture himself:
"If we stopped booking in work right now today, we'd have enough work for the next two weeks, so we're always well ahead of ourselves."
So, the burning question is, what has been the secret to Reynolds Commercials continued success for the best part of three decades now?
The way Anthony sees it, going the extra mile for customers has been key to gaining repeat business over the years and a lot of that involves getting vehicles in and out of the workshop in a timely manner.
"I suppose, with ourselves, it's probably the way we get things turned around very quickly," he said.
"We put a lot of pressure on ourselves to get things in and get them out and get them going quickly. That's probably a legacy thing from how Paul has always ran the business, because he would've put on a lot of pressure on himself to be able turn things around quickly and we still do that to this day.
"It's good in one sense because the customer is happy, but we do put a lot of pressure on ourselves."
The head count has grown by 80% in the last five years, and they are hoping to add another four staff next year, doubling staff levels in under five-years.
"We have an excellent team here, really dedicated guys, some that have been with us 10-15-20 years, so our customers are familiar with their way of doing things, and the fact that we turn things around very quickly and we just get things done and get them out the door again.
"With our customers on the Commercial side of things, time is money. If their truck or van isn't working or is off-road, then they're not making money so that's why we have extra pressure to get things done ASAP."
In order to keep its first-rate service flowing, Reynolds Commercials is now planning an expansion in its workshop and offices.
Next year will see the company celebrate an even 30 years in business and what better way to mark the occasion than with a revamped premises that's set to accommodate for even more business. Currently working in an eight bay workshop, the plan is to expand even further.
"We have planning for an expansion of the workshop, adding a drive-through in the existing bays, adding another full length bay, upgraded offices, washrooms and canteen facilities.
"Our neighbours are very supportive of our plans which is great in a rural setting like ours.
"Hopefully, we'll get going on it in the next month or two and we'll try and have it done and dusted by the end of the year but, I suppose, the only thing that's holding it up is the price of building and materials. We were going to go ahead with it but we're kind of a bit weary, the same as everyone else is at the moment."
Looking towards the months ahead and into next year as well, Anthony says Reynolds Commercials will be eager to create growth in two sectors of the company in particular.
"We need to try and grow our Vehicle Sales business," said the co-director. "Hopefully, this time next year we'll have the expansion done and I think Sales is the area of the business we need to try and focus on and try and grow the business that way. As well, we're hoping to grow the parts side of the business, because we're located centrally in Athlone, obviously it's a great advantage geographically.
"So, sales and parts is where we'll be hoping to grow."
Reynolds Commercials
Tones Road,
Athlone,
Co Westmeath
N37 EH24
Tel: 090 648 5550
E-mail: [email protected]
First published in Irish Trucker magazine Vol 25 No 4, August/September 2022