D. Dennehy - one of Ireland's leading truck centres 
15/09/2022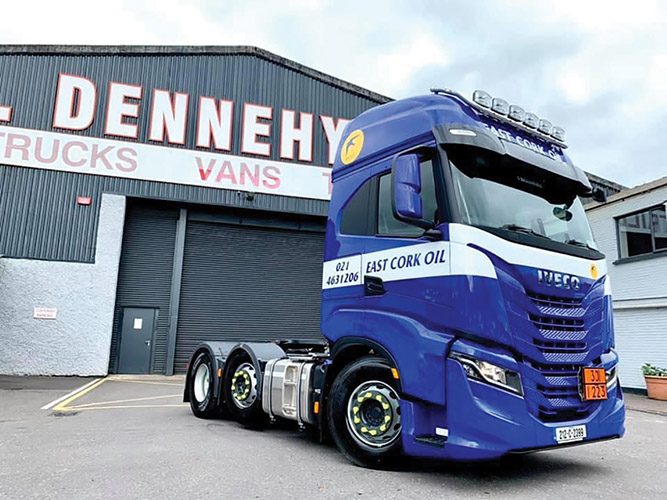 Established since 1975, D. Dennehy Ltd has been serving the commercial vehicle sector from its base in Carrigtwohill, Co Cork for the best part of half a century now. Irish Trucker spoke with Ronan Dennehy to learn all about the ins and outs of this family-run company – from its origins to the state of business at the moment.
D. Dennehy Ltd has experienced quite the growth since its inception and the plan for the Dennehy clan down in Carrigtwohill is to try and continue that growth for the foreseeable.
Employing 35 full-time staff, the company is headed up by Ronan Dennehy, with his father Peter Snr still operating as a director within the business. Ronan has 3 other brothers involved in this family business – John, Will and Peter Jnr.
Since 'Day One', D. Dennehy Ltd has been dedicated to fulfilling its customers' needs through providing a level of service that is simply second to none.
Irish Trucker touched base with Will Dennehy, a key component in the company's Sales Department, to find out more about what is a thriving family business down in the Rebel County.
"The business was set-up in 1975 with just the Hino franchise and today we are a 'one stop shop' for the commercial vehicle sector. That includes new and used vehicle sales, CVR testing, vehicle rental, servicing, spare parts, and a dedicated crash repair centre with a commercial vehicle spray booth," Will outlined.
D. Dennehy Ltd are now main dealers for Iveco, Isuzu, Maxus and MAN. At the moment, the most popular vehicle going out its gates is the IVECO Daily van.
The company indeed has a great line-up of vehicle manufacturers to choose from and it's part of the reason why its customers choose them first ahead other competitors out there.
D. Dennehy Ltd is a business which is tried and trusted – 47 years on from its birth – and things have come a long way in that time.
"My father (Peter) and uncle Denis would've started the business together back in 1975 and eventually took the decision to move it to Carrigtwohill," said Will.
"After that, my father went to Co. Limerick to set-up another depot outside the village of Kildimo, before moving on to a newer site on the Dock Road where it has continued very successfully to this day. It now operates as a separate company to us and is being run by my cousins Rory and Dave Dennehy."
Today, D. Dennehy Ltd considers itself to be Ireland's leading truck centre and it's hard to argue with the facts that support it.
The company carries out CVR tests on behalf of the RSA and these annual tests ensure that commercial vehicles are maintained to a safe and roadworthy standard.
It also carries out LCV (light commercial vehicle) and HCV (heavy commercial vehicle) tests to include vans, trucks, trailers, camper-vans, buses and ambulances.
D. Dennehy Ltd is also an ADR test centre, the annual test required for vehicles/tankers that transport hazardous goods.
The testing equipment used by the company is fully compliant with all relevant regulations and legislation and all tests are carried out by professional, certified and experienced technicians.
Right now, business is thriving, according to Will, but it's certainly not without its challenges.
"Things have been good business-wise but the supply of vehicle stock is tough at the moment," he said.
"First you had Covid lockdown and now you have the issue in Ukraine, so it is challenging."
"We're fortunate that we have some great franchises under our name, and during Covid itself, some of these manufacturers were only shut down for a month during the first lockdown. We ourselves were opened the entire time as we were deemed an essential service."
As for the most popular vehicle is selling at the moment, the company's Head of Sales was glad to fill us in on the details.
"Van wise, the IVECO Daily is a massive seller here and the Isuzu 3.5 tonne chassis/cab has a great following as well. Maxus is now becoming popular as it is well priced in the market. The MAN TGE van is also increasing in popularity as it is seen as a quality premium product that comes out of the Volkswagen stable," said Will.
So, all of that considered, what has been the secret to success for D. Dennehy Ltd over the past nearly five decades?
How has a small start-up grown into a flourishing business which now sees itself as the country's leading truck centre?
For Will, it's always been about continually providing a good service that keeps customers coming back through the doors.
"I suppose, we would be dedicated to fulfilling customers' needs and try to go above & beyond for them with a personal touch," he said.
"We try and give a service that is second to none and offering "a one-stop shop" solution for our customers greatly helps in this. Anybody can sell a vehicle but it's our strong after-sales commitment that makes a difference to our customer loyalty".
Looking towards the coming months, Will says they'll be hoping for more of the same at D. Dennehy Ltd while also keeping two fingers crossed that the current high cost of fuel levels out.
"A lot more clarity would be nice going forward really," he stated.
"You feel sorry for the small haulage companies right now because the price hike in fuel is absolutely crazy.
"Hopefully, they can do something about it and we can return to some sort of normality with it."
D. Dennehy Ltd.
Carrigtwohill,
Co Cork
T45 EH29
Email: [email protected]
Phone: (+353) 21 488 3300
Fax: (+353) 21 488 3656
First published in Irish Trucker magazine Vol 25 No 4, August/September 2022