Onwards and upwards for Thurles Test Centre
13/09/2022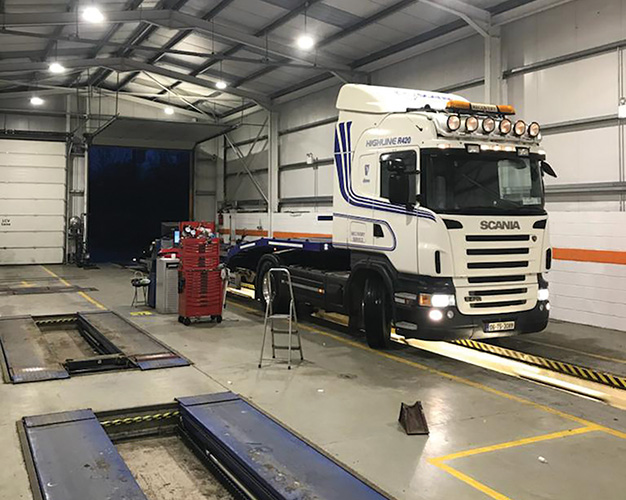 Since opening its doors to commercial vehicle owners from Tipperary and beyond in 2008, Thurles Test Centre has established itself as one of Ireland's premier CVRT testing facilities.
We touched base with manager Siobhan O'Mahoney to get an update on this industry-leading commercial vehicle testing centre operating to the highest standards under NSAI approved ISO 9001:2015 & CITA 9B certification.
Fourteen years on from its inception, Thurles Test Centre is busier than ever before, providing RSA-approved testing across the full range of commercial vehicles, from HGVs and LCVs to buses, coaches, campervans, ambulances and 4x4s. It is consistently delivering prompt, professional and customer-focussed services.
Comprising one heavy bay and one light bay with two lifts – the test centre is in a prime location just five minutes from the Horse & Jockey Exit 5 off the M8 motorway. While things may have slowed down a little during the height of the Covid-19 pandemic, an extra tester has since been added to the trusty team and Thurles Test Centre is now fully operational at close to maximum capacity:
"Business is really good at the moment," confirms facility manager Siobhan O'Mahoney. "We were temporarily down a tester last year and were at limited capacity but, as of January 4th, we have three full-time testers here for the first time, so we are now extremely busy.
"We had at that time quite a lengthy waiting period for people looking for tests but we're now moving extremely fast and can provide a very rapid service. Tests can now be booked and completed within one or two days. We're getting through a large volume of work and our customers are pleased that we can offer them such a quick turnaround time."
January is traditionally a busy month for CVRT testing centres but Thurles Test Centre has enjoyed a particularly busy start to 2022: "We cater for a lot of local commercial fleets between haulage contractors, coach operators, fleets of company vans and many owner-drivers and we really appreciate the great support we get from local businesses in the area," Siobhan continues. "We look after operators from within a wide radius of Thurles and are also only 30 minutes from Clonmel, 20 minutes from Cashel and just five minutes from the M8 motorway, so we'd pick up some passing trade there as well. We have a comfortable waiting area here for customers to relax while their tests are being carried out."
Complementing the commercial vehicle testing service, Thurles Test Centre also provides tachograph fitting and calibrations, plating of vehicles and offer voluntary testing and 13-week inspections to its customers. Siobhan stresses that the business would not exist without the support and loyalty of their expansive customer base:
"We have a huge number of long-term customers and we have built up lasting relationships with them over the years. Local garages and motor mechanics all avail of our services too. Having loyal customers creates a continuous flow of business from one year to the next, while word of mouth and positive referrals also encourage new customers to come along. We're fortunate in that we benefit from a lot of repeat business but also continue to pick up new customers on a regular basis. I notice that many customers now like to book their tests online through our website www.thurlestestcentre.ie."
Siobhan attributes much of the success of the business to the professional, skilled, and motivated team on hand: "Our staff play a key role in our success here in Thurles Test Centre," she confirms. "They are continuously upskilling and are vastly experienced and knowledgeable in using all the required equipment. We provide them with the most up-to-date training, equipment and tools, and our testers themselves are very obliging and helpful. They communicate well with our customers and keep them informed. They have friendly, polite, and accommodating attitudes, which people seem to appreciate.
"When you run a test centre it can sometimes be challenging, as customers are always happy when their vehicle passes, but unfortunately this isn't always the case. Safety is our No.1 concern, and we must conduct the tests professionally and meticulously to ensure that the vehicles are 100% roadworthy. You must often take time out to explain fully to owners why their vehicles failed and what steps they can take to address these issues … our testers are very good at this. Eileen in reception plays a key part in this also."
Thurles Test Centre threw its doors open to the public as a brand-new, purpose-built facility in 2008, its directors being local businessmen Paddy O'Mahoney of O'Mahoney Commercials (Siobhan's husband) and Paul Dempsey from Keyline Transport. Coincidentally, O'Mahoney Commercials celebrates its 30th anniversary this year while Keyline Transport marks its 25th anniversary.
Located in Ballycahill, Thurles, O'Mahoney Commercials' modern workshop specialises in the servicing and maintenance of Scania trucks and also carries a comprehensive stock of original Scania parts. This family-run business – fronted by Paddy and Siobhan, assisted by their daughter Niamh - has become a driving force in promoting Scania in Tipperary and the surrounding area. Their experienced technicians are trained to the highest Scania standards and are fully up to speed with all the latest developments in the industry.
As a Scania servicing and parts dealership, O'Mahoney Commercials forms an intrinsic part of the Scania network, working with trucks from all over Munster and beyond. "We support the Scania network throughout the country," says Siobhan. "We look after many local fleets and we also provide a 24/7 breakdown service for our main customers. There are nine Scania dealers in Ireland and we support and work with all of them."
Thurles Test Centre is in a good position going forward and the plan is to remain at their present size for the foreseeable future. "We're happy with the three testers for now and we haven't considered expanding any further, although you never know what might happen down the road," Siobhan concludes.
"Like so many businesses, we were closed for a few months during the initial Covid-19 lockdown, but we took the positives from that and availed of the time to refresh and refurbish the test centre itself. In a way, it was nice to get that opportunity. I decided to carry out a thorough cleaning of the yards and the interior and exterior of the building and to upgrade the signage, the external lighting and the paintwork during that time."
With a positive attitude, a professional approach and a strong work ethic, anything is possible, even in the most challenging of circumstances. In this respect, Thurles Test Centre has been leading by example for the past 14 years and one gets the distinct impression that this classic success story is still only in its infancy!
Thurles Test Centre,
Archerstown Industrial Estate,
Turtulla,
Thurles,
County Tipperary.
Tel: 0504 26472
Email: [email protected]
Web: thurlestestcentre.ie
First published in Irish Trucker magazine Vol 25 No 4, August/September 2022