Warde Groupage's stunning fleet is second to none
08/09/2022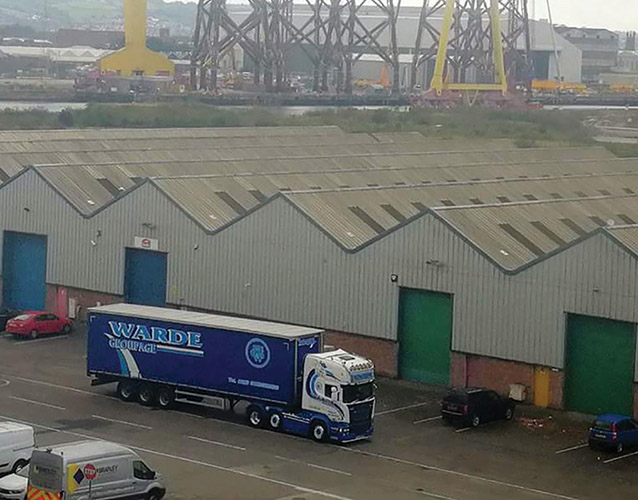 A regular sight on the roads of Ireland, the UK and Europe, Warde Groupage operates a wonderful fleet of head-turning trucks, including a couple of spectacular recent additions. We touched base with Joe Stefano, Head of UK and European Operations, to get an update on this Newry-headquartered, industry-leading family-run business – and its sensational lorries.
Since its genesis in 1970, Warde Groupage has earned a stellar reputation as one of Ireland's most professional and dependable transportation providers, offering a wide range of services island-wide and across the UK and the continent, including distribution, express groupage, full- and part-load haulage, storage and warehousing.
The team at Warde Groupage are vastly experienced and customer-focussed, while an immaculate and regularly-replenished fleet is at the heart of the operation. Regulars at truck shows and charity runs the length and breadth of the country, Gareth and Kyle Warde invest heavily in their magnificent fleet, which at the time of writing had only just been enhanced further by the addition of a striking new grey and black Scania 580.
Meanwhile, in March of last year, to mark the family-run business's 50th-anniversary celebrations, they took possession of a fantastic new MAN TGX 640, which is driven by their longest-serving driver, Tim Casey. This eye-watering lorry was a worthy winner of the Best MAN award at last year's Breaker Breaker Truck Show.
"Between trucks and vans, we have a fleet of 26 in total and we will continue to expand, with a few more units due to arrive later this year," notes Head of UK and European Operations Joe Stefano, who had been part of the Warde Groupage team for coming up on two decades.
While the fleet is traditionally white and blue, the incorporation of some beautiful grey liveries had mixed things up a little of late. "We have a couple of stunning graphite greys in there for variation and we've got a lot of compliments for those," Joe confirms. "They stand out and have a lot of admirers. All the lads take great care of their lorries – they are their pride and joy."
Warde Groupage currently employ 21 drivers and – as demand for their stellar services continues to grow – further expansion seems likely. Specialising in groupage and a founding member of PalletXpress, Warde Groupage provides prompt and affordable daily coverage of the island of Ireland, with the ability to deliver anything from a parcel to a part for a cooker to an aircraft component. "You name it, we will deliver it," states Joe. "We cover all sectors and provide a comprehensive range of services.
"Gareth and Lorraine Warde are co-founders and shareholders in PalletXpress and being part of that network is a major plus. Through hard work and excellent customer service, PalletXpress has been a major success and it has a great reputation. We're delighted to be part of that."
A truck show in Ireland wouldn't be complete without a lorry or two from the Warde Groupage fleet. "Any truck shows in Ireland that are taking place, the lads tend to get involved," Joe confirms. "They support charities in any way they can and recently had seven or eight lorries out at a run in Newry for a very good cause. Gareth and Kyle like to give back to the community and they love getting involved in events like that.
"The trucks do attract a lot of attention and they receive a lot of compliments and comments not just at the shows but also on social media and when the lads are out and about going about their day-to-day work. Gareth and Kyle are mad into trucks and they always make sure all the lorries are in tip-top condition, with all the mod cons and no expense spared. They have built the fleet up to a very high standard and it gets better every year.
"That's how you keep drivers – by making sure that the working environment is good and that they are happy in their work. Tim, for example, who drives the 50th-anniversary edition MAN, has been with us for over 25 years and that's a testament in itself to what we are like as a company to work for."
The knock-on effect of having a high level of driver retention is stability and consistency… "Experienced drivers who have been with us long-term know the routes and customers get to know the drivers, too, and relationships grow," Joe continues. "I started out as a driver myself and used to cover Belfast. You learn the routes and no matter what problem comes up you can work out a solution and get things done. You can't beat experience and good equipment.
"We have a good crew of drivers, including a female driver, and we would always encourage women drivers to come on board and join our team."
Warde Groupage has been setting the standards for more than half a century and the business has never been in a stronger position than it is now. Going forward, the plan is to consolidate and expand by continuing to aspire to the highest standards and to invariably provide each and every customer with unrivalled solutions:
"We have a large number of long-serving staff and clients, and that speaks for itself, really," Joe concludes. "Some of our clients have been with us since Day One and they never wavered because they are dealing with a family business and the owners are always available on the other end of the phone, giving a personal service.
"Everything here is dealt with on a personal level, in a professional and friendly manner. Every customer is important and they can ring me any time on my personal, private number. Each customer is important to us; whether it be for the delivery of one box or 100 pallets, we'll make sure they are all looked after every time."
Warde Groupage,
19 Tandragee Road,
Newry,
County Down.
Tel: 028 30263336 / 30263381
Fax: 028 30266610
Email: [email protected]
Web: www.twgs.co.uk
First published in Irish Trucker magazine Vol 25 No 4, August/September 2022