Johnny Ryan Truck Repairs keeps you moving
08/09/2022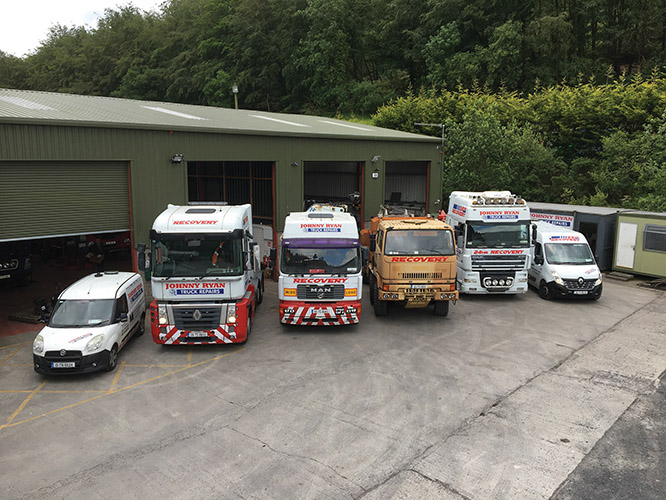 Strategically located just minutes from Junction 10 of the M8 in Cahir, Co. Tipperary, Johnny Ryan Truck Repairs has been providing an exceptional repair and maintenance service to truck operators for over 20 years.
Involved in the motor trade since 1980, Johnny Ryan went out on his own in 2000 and now fronts one of Ireland's leading independent HGV repair centres. Johnny and his team of highly-trained and experienced mechanics can carry out all necessary repairs and maintenance to your truck or trailer at his state-of-the-art workshop which boasts a full range of diagnostics for all makes and models. Johnny Ryan Truck Repairs also offers a 24/7 heavy vehicle breakdown / recovery service covering Tipperary, Waterford, Kilkenny, Limerick and Cork.
"We provide a top-class, cost-effective and friendly truck and trailer repair and maintenance service," the affable garage owner says.
"Time is money for our customers and with this in mind, we keep their downtime to a minimum by carrying out repairs and servicing quickly and efficiently. We've come a long way since 2000 when I started off with a mobile van covering Tipperary and Waterford. Over the years, I got busier and busier which led me to opening the workshop in 2009. We've doubled the workshop size in the last few years to cater for our growing customer-base. We continue to attract new customers mainly through word of mouth and recommendations."
Johnny is continually investing in his workshop which now features four repair bays, three sets of column lifts, which are capable of lifting the heaviest trucks, all the latest diagnostics and a parts department. Running WABCO, KNORR, BREMSE and HALDEX gear, the garage boasts main dealer equipment for DAF, Volvo, Mercedes, Renault, Scania and Mitsubishi in addition to Texa diagnostics for other makes, including MAN, Hino and Iveco.
"You're investing in the business on a daily basis. There's always new technology, new equipment and new gadgets coming on stream. You have to keep up to speed with all these changes or you will get left behind and your customers will go elsewhere."
Preparing your vehicle for CVRT or HGV testing is all part of the service provided by Johnny and his team, who will answer any queries before and after the test. Their aim is to prepare the vehicle efficiently and assist the vehicle owner in getting a pass certificate. If a vehicle undergoing a CVRT test is found to be in need of repair work, it can be carried out later.
Johnny Ryan Truck Repairs also help customers with scheduling their 12-week vehicle inspections and carrying them out to the prescribed standard. In addition, the garage will provide the vehicle owner with instantly accessible maintenance records which fully comply to RSA standards.
No job is too big or too small for Johnny who deals with everyone from owner-drivers up to fleet operators.
"We do a good bit of fleet work and a lot of customers have been with us since the early days. When you get a lot of repeat business, you know you're doing something right," he continues.
Johnny has four recovery vehicles and two mobile vans designated to his 24-hour breakdown and recovery service. He provides a vehicle recovery service for An Garda Siochana in Co. Tipperary and will recover broken-down trucks from any part of the country if the need arises.
"Our four recovery vehicles are a Renault Magnum with low-loader, a Scammell under-lift with three winches, a DAF under-lift and a Scania 50-tonne crane. Our two mobile breakdown vans are a Mercedes Sprinter and a Fiat Doblo," he explains.
"We understand that being stranded on the side of the road can be stressful and dangerous, so we make it our business to get out to the customer immediately. If we can't carry out the repair there and then, we will tow it back to the workshop and get that customer back on the road as quickly as possible."
Johnny is full of praise for his mechanics Frank Hanlon, Alex Byrne and Jack Fogarty (apprentice), welder Darragh O'Leary, storeman Johnny Connolly and office manager Dora.
"I'm fortunate to have some great people around me. We're all hands-on and work well together as a team. Our priority at all times is to do every job properly and to the best of our ability. This way, owners can rest assured that they are getting their vehicles back in prime running order."
He concludes by saying: "I would like to take this opportunity to thank our customers for their continued support. Every customer, regardless of their size, is treated the same. We are proud to be a one-stop shop for all their repair and maintenance needs."
For your next truck or trailer repair or service, be sure to give Johnny a call. He is always at the end of the phone and won't see you stuck.
Johnny Ryan Truck Repairs
Ballydrehid,
Cahir,
Co. Tipperary.
Telephone: 052 7443460
Mobile: 087 6444038
Email: [email protected]
Web: www.johnnyryantruckrepairs.com
First published in Irish Trucker magazine Vol 25 No 4, August/September 2022