Still delivering the goods after over 50 years
02/09/2022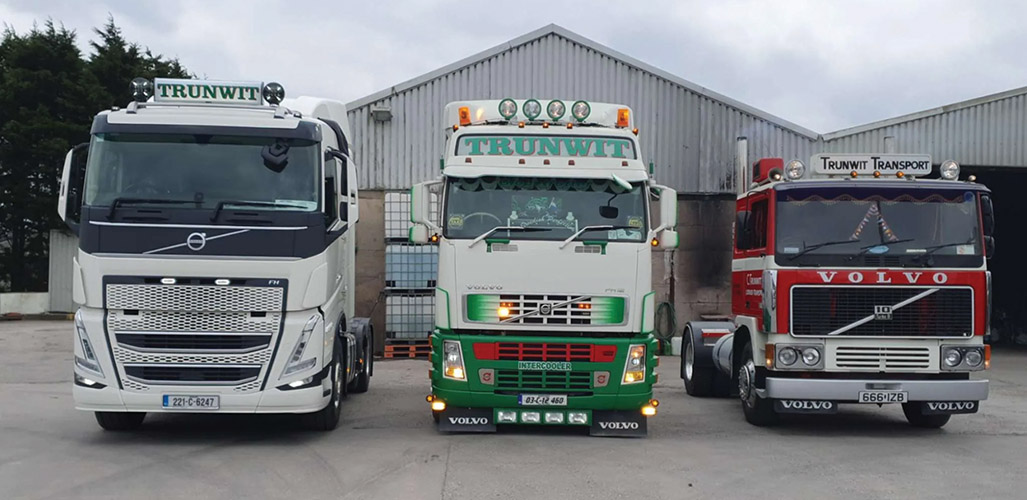 Trunwit Transport Ltd is a long-established family-run haulage business based in Bandon, Co. Cork. The company celebrated 50 years in business in 2020 and continues to go from strength to strength.
The West Cork operation was founded in 1970 by Christy Trunwit who was later joined by his brother Denis. Together, they grew the business by providing an unrivalled service to their customers. Sadly, Christy passed away over 20 years ago, but Trunwit Transport continues to prosper under the direction of Denis' sons Niall, Noel, Sean, Denis Jnr and Ger, and daughter Caroline.
"There are seven of us in the family and six of us are involved. It's a real family affair," office manager Caroline explains.
"Dad is still going strong at 84. He's still doing deliveries in his van and loves to get out and meet people. Being a family business, we're able to offer a personal touch that you just don't get from bigger companies. We enjoy a great rapport with our customers and are always at the end of the phone. We go the extra mile for them.
"Unfortunately, we weren't able to properly celebrate our 50th anniversary due to the Covid restrictions which were in place at the time, but we intend getting around to it at some stage in the near future."
Specialising in all aspects of general haulage, including tipper, tanker, curtain-sider and flat work, Trunwit Transport runs a modern fleet of 18 trucks and over 30 trailers. The company employs 20 people, the vast majority of whom are drivers. As well as being reliable and experienced, the drivers are ADR qualified for the carriage of dangerous goods by roads. This ensures all your hazardous ADR cargo is handled safely and legally.
The latest addition to the Volvo-dominated fleet is a Volvo FH500 which was purchased new from McCarthy Commercials in Watergrasshill in early 2022, and has been put to work doing night runs from Cork to Athlone for DPD. Another new FH500 has been ordered from the same dealership for July 2022 as part of a yearly refresh and fleet growth strategy.
"Even though we're running three DAF, we swear by Volvo," Caroline says.
"Volvo have been good to us over the years. We've never had a problem with them. They require less maintenance, are economical and are comfortable to drive.
"We buy one new truck every year and two some years. We try to keep our fleet as fresh as possible. The fleet is maintained and serviced inhouse as well as by the main dealers. Each truck is fitted with satellite tracking, giving our customers further peace of mind."
Trunwit Transport's exceptional service and fleet ensures every load reaches its destination safely and on time. While most of the fleet are decked out in green, the new Volvo FH500 bears the distinctive white livery of DPD. It goes without saying that each truck is immaculately turned out. Completing the fleet are vintage Volvo F10 and F88 models, while a 2003-registered Volvo FH12 460 is also heading for the vintage category.
"Ger's 16-year-old son Christopher takes great pride in polishing and cleaning the vintage trucks," continues Caroline, who reckons the best-looking truck in the yard is Denis Jnr's Volvo FH500 which is green, white and red in colour, and had a 50th anniversary logo along with an image of the company's first truck – a Commer – airbrushed on its rear in 2020.
DPD and Heineken are Trunwit Transport's largest customers. In fact, the company's green livery evolved from its association with Heineken which goes back over 50 years when it was known as Murphy's Brewery. The Trunwit's have also been working with the Carbery Group for 50 years also.
"A lot of our work is for Heineken. We draw malt barley from Boortmalt in Athy to Heineken in Cork for brewing and also deliver kegs all over the country for them.
"Whereas the pandemic hit the brewing industry hard and impacted on our work for Heineken, the courier sector flourished and we were never as busy with deliveries for DPD. We're currently running five trucks a week with double-decked trailers from Cork to Athlone for them.
"Other good customers of ours include Irish Pioneer Works in Cork, Acorn Water, who are another family-run business in Bandon, Cronin & Buckley in Ovens, Provimi in Naas and Redman Fisher in Dublin."
In summary, Trunwit Transport prides itself on its professional, dependable, trustworthy, value-for-money and personal service. The family would like to take this opportunity to thank their clients and suppliers for their continued support as well as their drivers for their dedication, hard work and expertise.
Here's to the next 50 years!
Trunwit Transport Ltd
Allen Square,
Bandon,
Co Cork.
Phone: (023) 884 1306.
First published in Irish Trucker magazine Vol 25 No 4, August/September 2022