Full of the Pipe 2022 was full-on
25/08/2022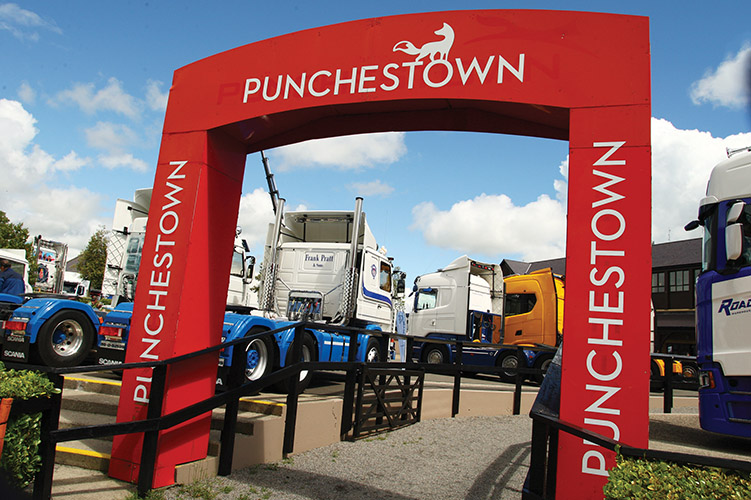 Full of the Pipe Truckshow Ireland returned to Punchestown Racecourse on July 2nd-3rd and the long-awaited reunion show was by far and away the biggest and best yet. Reflecting on an utterly unreal event, exhausted but elated organisers Colin Hegarty and Kevin Mulqueen are quick to express their gratitude to all of those who supported the comeback show.
Back with a resounding bang! Three years on from the most-recent staging of the Ireland's premier annual transport and logistics event, interest levels in Full of the Pipe 2022 reached fever pitch and the show – staged over the first weekend of July – attracted a massive influx s of trucks and visitors.
Due to the phenomenal numbers of vehicles and people arriving at Punchestown on the Saturday and Sunday, the organisers and their team on the ground came under enormous pressure and literally worked their fingers to the bone and walked themselves into the ground to make sure that things went smoothly and that everybody was looked after.
It was tough going at times but such was the positive feedback from all who attended a truly astonishing show that Colin and Kevin feel it was more than worth it:
"We're absolutely delighted, it was unreal. It was a fantastic weekend and it was unbelievable to see so many truckers and members of the general public turning up," says Kevin. "We started this show in Athlone with 100 trucks twelve years ago and this year that number exceeded 2,000, with the same two men still organising it. What we have built has become a monster and the 2022 edition confirmed that. It was totally full-on. People get on a flight to Ireland just to attend Full of the Pipe – it's mind-blowing stuff how big the show has become."
Of course that comes at something of a price as the work the organisers have to put in is now nigh on immeasurable. "We were overwhelmed by the volume of trucks and by the interest from the public," Kevin continues. "You could see the effects of Covid as people were really anxious to get back to a truck show again. It was overwhelming and it was a tough weekend for our team on the ground."
That team on the ground includes Kevin and Colin's wives, Barbara and Trisha. "We'd like to thank them for putting up with us over the past three years," says Colin. "We thought we were going to have a show in 2020 and again in 2021 but that was taken away from us both times and it comes at a cost as you put so much time and investment into organising a show of this scale. They have been putting up with us for those three years and over the weekend itself they did a wonderful job with taking registrations, etc., while our entire team on the ground were magnificent, getting trucks and people in, helping out with parking, washing, setting up trade stands, etc.
"From myself and Kevin, we'd like to say a massive thank you to everyone who attended for coming and supporting the show. A special thank you to the event sponsors, the prize sponsors, our people on the ground and the team behind the scenes who do unbelievable work. We get great help from Vanessa Murphy at Today FM and Edel Sterritt, who helps out with graphic and promotion on Facebook. Without all of their help, we couldn't do this."
In keeping with the unpredictability of Irish summers, the inclement weather ahead of the show was anything but helpful: "Weather conditions were poor in the lead-up to the show but we were lucky that at least the rain stopped for the Saturday and Sunday," Kevin reflects. "We had to move to the other side of the venue and we were dealing with grass this year instead of tarmacadam. We had to move fencing to accommodate the massive crowd, so that we could park the trucks. There were a lot of variables and it was a tough, stressful weekend.
"The bad weather was completely unforeseen. In that week running up to the show you had constant rain and what fell on the Friday was unreal. From a set-up point of view and with the volume of trucks and public who came out to support us – and the fact that the HSE also have a vaccination centre in Punchestown – there were constant challenges to overcome but we got there and it was a successful weekend."
Colin continues: "As there was such an influx, it was tough for the girls registering the trucks, then organising getting them washed and parked but we were completely overwhelmed by the support. People travelled from near and far to attend and they had a brilliant weekend. Massive respect again to all our sponsors and to the people who sponsored the trophies. They played their part in an unbelievable weekend.
"You could see the knock-on effects of Covid. After a three-year gap without a show, it was a crazy weekend – in a good way. There were cars there from every county in Ireland and it was great to see."
While the party was in full swing and everybody was having a great time, Kevin and Colin and their team were flat-out behind the scenes all weekend – never mind in the weeks and months leading up to Full of the Pipe! It can take its toll on the body and mind but the former says it's worth it when you get an atmosphere, vibe and feedback like those experienced over the weekend of July 2nd and 3rd, 2022.
"In terms of public support, this was one of the biggest truck shows I've seen in many years and we'd travel to shows in Finland, the UK and all over Ireland. There are 69 million people in the UK and their biggest show is Peterborough. which gets around 2,000 trucks. For us to get similar numbers in Ireland is remarkable. The truckers of Ireland deserve a show of this scale. People forget what they have done for the country and what they continue to do. They were the ones who helped keep the lights on during the restrictions and they thoroughly deserved this weekend."
Full of the Pipe went viral on social media from the Saturday onwards, with the event trending on TikTok and Facebook in particular. "We're delighted with the manner in which everybody supported us during the show and indeed since. The reaction and feedback online has been extraordinary," says Colin. "Without the enthusiastic and loyal support of the people who attend, there wouldn't be a show. We're just delighted first of all that they came, that they got home safely and that they enjoyed themselves."
Considering the substantial upturn in the footfall and traffic recorded in 2022, Kevin admits that some tweaks may need to be considered ahead of 2023 to accommodate such an increasingly-largescale event. "This year was just – wow! The number of trucks was up by almost 50% and it was full-on as they arrived in for registration from Wednesday and Thursday, all day Friday and into Saturday. We are going to need to re-think and re-plan ahead of next year because it was a tough and demanding weekend.
"It was a massive success, don't get me wrong, and we are thrilled. But we do need to take stock of things in light of how much the show has grown. If it was dry in itself, that would have taken the pressure off. The fact that we were in a different part of the venue and moved onto grass also added to the difficulty. When you are in a venue regularly you get used to its lay-out and its structure and how it works.
"We were just getting accustomed to that in Punchestown and this year was the complete opposite arrangement. We were dealing with a totally different set-up and went from tarmacadam to grass and weather conditions didn't play in our favour. However, by 3pm on the Saturday, things had settled dramatically and the place was hopping and everybody was enjoying themselves big time."
As for the quality of the trucks themselves, let's just say they were jaw-dropping. A collection of stunning, gleaming trucks like this was never assembled anywhere on Irish shores ever before. The standard was off the radar. "The trucks at Full of the Pipe this year were phenomenal," Colin concurs.
"Some of them we were seeing for the first time and others we hadn't seen in three years. The work that was done on them was incredible and you have to say hats off to all the truckers for the work they did on their trucks and how they presented them. People were blown away by the standard of what was there and that's what a truck show is all about."