MDS Truck-Wash Naas gets behind Tipperary Truck Show
18/08/2022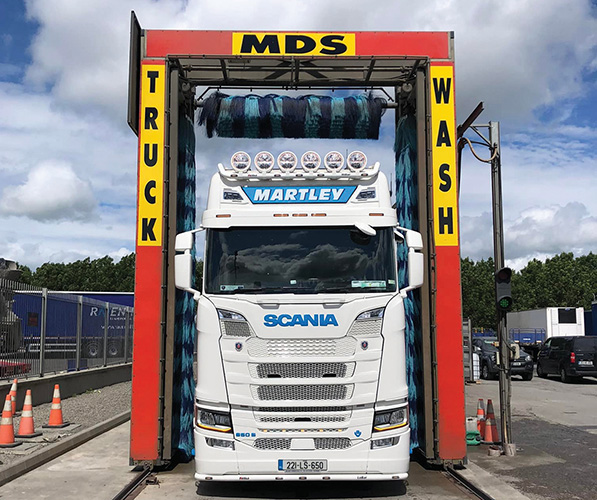 No major event can realise its full potential without the generous backing of sponsors and, in this regard, Tipperary Truck Show is in good hands. One of the official sponsors of the 2022 show in Dualla is Mike Moran of MDS Truck-Wash Naas.
Operating one of the busiest and most popular truck washes in the country, Mike Moran of MDS Truck-Wash Naas has first-hand knowledge of just how much time and effort truckers invest into maintaining their vehicles in tip-top condition at all times. Conveniently located in Naas Industrial Estate, between Junction 9 off the M7, MDS Truck-Wash Naas is a veritable hive of activity morning, noon and sometimes night.
During the run-up to Full of the Pipe 2022, for example, owner Mike Moran and his trusty team were flat out around the clock, with four washers on the go simultaneously looking after a procession of trucks making their way to Punchestown Racecourse for the big weekend.
More than just a truck wash, MDS Truck-Wash Naas invariably goes out of its way to make sure that both truckers and their vehicles are looked after, resulting in a huge volume of repeat business and positive feedback.
The wet weather in the approach to FOTP meant that trucks congregating in Punchestown badly needed a wash as they arrived in Kildare and Mike pulled out all the stops, even setting up a breakfast and burger van on site. When truckers pulled in for a wash, they could also grab a bite to eat and have a chat with people passionate about all things trucking.
As well as offering the finest truck and trailer washing service on the island, MDS Truck-Wash Naas also carries the full stock of industry-leading Kenotek detergent and detailing products, which are available on the site of the truck wash and were also presented in all their glory at a trade stand at Full of the Pipe.
Truck show season is well and truly upon us! As a truck enthusiast himself, Mike is a big supporter of truck shows and he agreed to get on board as an official sponsor of the 2022 Tipperary Truck Show, which returns to Dualla for the first time in three years on the last weekend of August.
One of the show's co-organisers, Paddy Graham of Paddy Graham Truck & Trailer Repairs & Servicing, is the other main sponsor of Tipperary Truck Show. Both sponsors are agents for the renowned Kenotek Auto Cleaning range, including the famous Cargo 4100 wash, which is widely regarded as the best vehicle detergent on the market.
Synonymous with innovative vehicle care, Kenotek manufactures the most-powerful products in vehicle care. Its flagship product, Cargo 4100 Forté, is an extra strong, concentrated exterior cleaner for all vehicles. It has a strong degreasing power and ensures the efficient cleaning of stubborn traffic film. The specific foaming guarantees good coverage of the entire vehicle and better soaking power of the dirt.
A three-in-one bodywork degreaser, alkaline wheel cleaner and insect remover. Cargo 4100 Forté is a unique product suitable for touchless application, effortlessly cleaning away oil, grease, insects and static road film. Explore the full Kenotek range at MDS Truck-Wash Naas, official sponsor of Tipperary Truck Show 2022 and a business providing invaluable services to Ireland's trucking community.
MDS Truck-Wash Naas,
Naas Industrial Estate,
Naas,
County Kildare
Tel: 087 9664181
Email: [email protected]
Tipperary Truck Show returns on Sunday, August 28