Joe will be in seventh heaven at Tipperary Truck Show
16/08/2022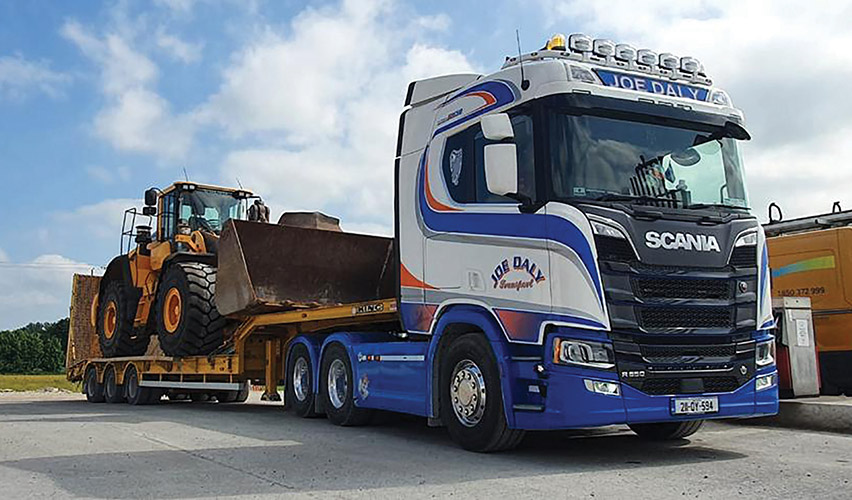 Joe Daly has enjoyed the Tipperary Truck Show immensely every year since its inception and – after two years where the Dualla Show was unfeasible - the Offaly Trucker is more enthusiastic than ever as the 2022 event draws ever closer.
The long-awaited seventh annual Tipperary Truck Show, which has become an integral part of the Dualla Show, will take place on Sunday, August 28th, 2022. Featuring custom, vintage and working trucks, the Tipperary Truck Show is always highly anticipated but – following the enforced cancellations of 2020 and '21 due to prevailing public health restrictions at the time - this year's promises to be the most eagerly-received yet.
Midlands trucker Joe Daly has been a big supporter of the show since its genesis in 2014 and has the height of respect and admiration for organisers and local truck enthusiasts Daire Maher [D Maher Haulage, Fethard], Paddy Graham [Paddy Graham Mobile Repairs & Servicing, Dualla] and Philip Ryan [Ryan Haulage, Littleton, Thurles].
"When I went to the inaugural show in 2014, it had 150 trucks and was a handy wee show," Joe reflects. "It went from there to having 700 trucks the last time it was on, which is some achievement. For a field day truck show – it's no Peterborough – it was a remarkable achievement to build it up to that level and I'm sure there will be big numbers at this year's show, too.
"One of the things about Tipperary Truck Show that really stands out for me is that you are made to feel very welcome. Paddy, Philly and Daire are three great lads and they also have a great team of lads behind them doing work behind the scenes that nobody sees.
"For those guys to attract 700 trucks to a truck show in the middle of a field in Tipperary is fantastic – but they deserve it for the work and effort they put into this show every year. They come to Tipperary Truck Show from north, south, east and west of Ireland and some even come over from the UK. There's a great relaxed atmosphere and a togetherness at the show and there's no bad manners or anything like that.
"Everyone is made to feel important and I remember a few years ago they gathered up a group from Dualla and we all went over to a show in the UK together. At Tipperary Truck Show, everybody is well looked after and the three boys take great pride in providing the personal touch and making sure everybody enjoys themselves.
"When you are leaving on the Sunday, they have a photo taken of every truck and they present it to the owner in a frame. They wait at the gate and say farewell to everybody as they leave. This all adds to the experience and the organisers understand truckers because they are involved in the industry themselves and are passionate about trucks. Everybody is well looked after."
Tipperary Truck Show is part of Dualla Show - a fun-filled day with events and surprises for all ages. With trucks, livestock, tractor pulling, showjumping, machinery, food, cookery demos, live music, exhibitors and free children's entertainment, there's something for everyone and the overall experience is unparalleled when it comes to an affordable day out for the whole family.
"It's a super family day out," continues Joe, who drives a magnificent Scania R650, drawing cement powder for Loughnane Concrete in Birr. "Some of my family have come along because you really do have something for everybody, be it trucks or agri machinery, horses or cattle, entertainment and food. It's great to see young children there who might be from a farming background and who are fascinated by the big trucks when they see them. Farmers would come up to you and ask 'would you mind letting the little one into the truck?' and it's nice to see that level of interest because these young guys of today could be the truck drivers of the future.
"We stay at the Horse & Jockey every year and the whole place does be alive. If you drive in with a €5,000 lorry you are treated the same as somebody with a €200,000 truck and there are no politics. It's one of the best shows I go to and it's refreshing that there's not a million stalls there to try to pull a ball of money out of you.
"After dinner on the Saturday, they lay on a barbeque and it's great. It's all very casual and friendly and you meet all walks of life from up North and from Cork, Galway, Dublin and everywhere. It's a great night and everybody pulls together. The lads work very hard and set it up properly. It's top class.
"I've been to shows in Germany and Holland and most of the ones in Ireland and I'd definitely put Dualla up there as one of the very best. Everything is taken care of, including the small things like making time for everybody and being there when you are leaving to wish you well and say 'good luck and safe home'. Little things like that mean a lot.
"I'd know Philly and Daire from going to Mondello and Limerick in the past and, along with Paddy, they came up with this idea of incorporating a truck show into Dualla and they have pulled it off. They are three mighty men and they have pulled together to come up with a great show, which they have kept going and grown each year. It's here for the long haul and it's much more than just another truck show."
Involved in trucking all his life, Joe has always been a Scania man. He was born and reared around lorries, his father, also Joe, running Daly Auto Services, which was the main Scania dealer for the midlands at the time, before setting up a haulage operation. "We ran the old 141s and 111s and then the 143s came along," the present-day R650 driver reminisces. "My father was selling lorries before I was even born and that's the environment I grew up in."
Joe intends to get the trusty R650 spruced up for Tipperary Truck Show and has vowed to "wash it to within an inch of its life".
"It's just mighty to have the show back after having no shows anywhere for two years," he concludes. "It will be a great show and one of the things that helps bring the crowds to Dualla is its central location. It's no more than two-and-a-half hours from anywhere in Ireland and is just off the motorway. All the lads I've been talking to are really looking forward to it. It's always a special show and I'm sure this year will be no different."
Tipperary Truck Show returns on Sunday, August 28