Jason provides a trucker's eye perspective of Tipperary Truck Show
11/08/2022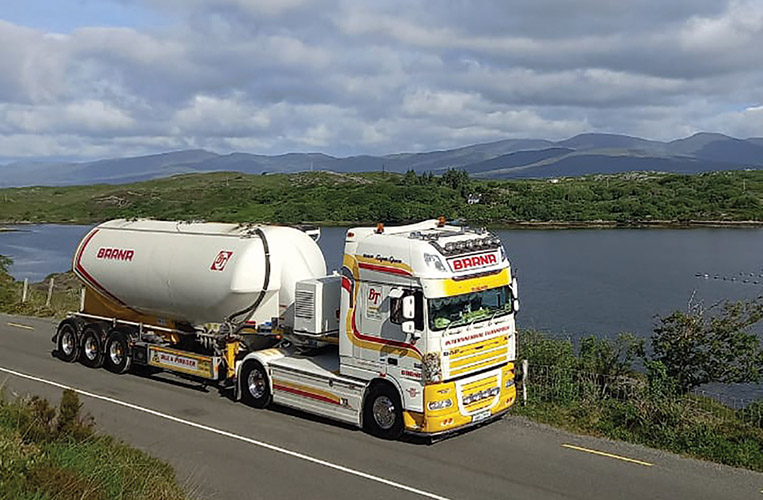 No Tipperary Truck Show would be complete without Jason O'Connell and his spectacular white and yellow DAF XF 105 SuperSpace, which he drives for Barna International Transport. Jason has religiously taken this magnificent, eye-catching truck to the event every year since its genesis in 2014, so we thought it would be interesting to get his views on why Tipperary Truck Show is proving so popular with the trucking fraternity – and the population at large!
Who better than a trucker himself to provide some insight into why Tipperary Truck Show has gone from strength to strength, growing exponentially every year since its inception eight years ago?
Popular Barna Transport driver Jason O'Connell is about as passionate about his truck – and all things trucking – as they come (even a cursory glance at his stunning, immaculately-presented SuperSpace DAF is enough to confirm this!) and he's really looking forward to bringing his pride and joy to Dualla for the seventh time.
"Tipperary Truck Show started in 2014. I got the lorry brand new that year and it was the first show I went to with it," Jason recalls. "It's a brilliant show and it's impossible not to enjoy it. You couldn't get better craic. The lads who organise the show – Daire, Paddy and Philip – are dead on and they are also very professional in how they go about things.
"I don't know what it is about Tipperary Show, but there's something magical about going in there on a Saturday morning. The atmosphere is impossible to describe and it almost feels like there is some kind of magic in the air. There's something about the show that makes it stand out from the rest.
"There's a unique atmosphere at Dualla. All the shows in Ireland are brilliant – and I go to them all and enjoy them all thoroughly – but Tipperary is the last show of the year in August and everybody is there and in good form. It's great that the show is back for the first time since 2019 and I'm really looking forward to it."
As the truck show itself has become an intrinsic part of the overall Dualla Show, which offers a veritable plethora of events and experiences for visitors of all interests and ages, one of its biggest selling points is that it literally provides something for everybody…
"There's so much going on," Jason agrees. "You have gymkhana, tractor pulling, machinery and livestock, trucks, cooking, music, food, entertainment for kids – a great variety of attractions and you can go for a walk and get some food and take in whatever attractions you want. You can take the wife and the kids, too, and it's a great day out for everybody."
As coincidence would have it, Tipperary Truck Show was incorporated into Dualla Show at pretty much the same time as Barna Transport trucker Jason took possession of his current lorry – a DAF XF that turns heads everywhere it goes. Defying age and time, the seven-year-old truck is paradoxically getting newer and fresher looking with each passing year.
"Yeah I got the new 142-reg SuperSpace DAF just before that first Tipperary show and it's my pride and joy," Jason enthuses. "I try to do something new with it every year and I always have it done up for Dualla. There's always something being added – back bumpers, catwalks, a new perimeter kit – and I always have it freshly painted before the show."
Tipperary Truck Show has become a firm favourite with truckers from Ireland and further afield. "Just before Covid, a group of us from the Dualla show went over to a truck show in Birmingham with Daire, Philip and Paddy. You see the English lads over there and they in turn come over to our shows. The lads have a great following and have built up serious interest in Tipperary Truck Show," Jason notes.
"I go to all the shows and watch them and keep a close eye on the standard of the trucks on display and I can tell you, you don't need to go to Holland to see great trucks because they have the best of the best at Dualla."
At this point, it's fair to say that the Tipperary Truck Show faithful are almost suffering from withdrawal symptoms! The event was not able to proceed in either 2020 or 2021 and interest levels in the comeback show – taking place a full three years after the sixth edition! – are soaring for obvious reasons.
"It's great to be coming back after Covid and to see things returning to some kind of normal," Jason states. "It felt like it was all work and no play there for a while and it's great to have it back. People are starting to get back out and about again and it's long overdue and great to see.
"I reckon the standard this year will be out of this world because people are so hyped up for it and they've had a lot more time than usual to do up the trucks. I got my own painted and re-striped and changed the spotlights. I'm sure there has been a lot of work done on them all.
"It's great to see these shows going on again. I have to say the lads we work for have great understanding of what it means for drivers to take the trucks to a show. The price of diesel is crippling them but they understand that the drivers are big into it and they have no bother letting us off. Pat Shanahan is my boss at Barna and when you say there is a truck show coming up he has no bother and is fully supportive of you going along.
"Events like these wouldn't be possible but for the support and understanding of people like Pat. He's a great man to work for." The Barna Transport fleet currently comprises around 30 units in total, one of which is a wonderful 162-reg Scania, which Pat's son Tony brings to shows when time permits.
"You'd meet other lads out on the road all the time and when you meet them in in person at a show, with the trucks parked up, you make new friends and get to know the lads better. It's also a good opportunity to get an oul gawk and to get up close to the trucks," says Jason.
"I honestly couldn't praise Tipperary Truck Show any higher. It's absolutely brilliant and, for me, what really makes it is that it's on grass. If you get good weather there's something lovely and unique about that setting, something special about having the trucks in a field.
"There's always a great atmosphere and everybody does be in great form. I wouldn't miss it for love nor money. It's in a very good location, too," concludes the Tipp native, who lives in Newcastle West. "I can be over in Dualla in less than an hour. It's family-orientated and there's plenty for everybody to do. It's a great weekend and there's good nightlife and banter over there. They get a DJ and a barbeque going and what more could you want? It's great craic."
Tipperary Truck Show returns on Sunday, August 28