Tipperary Truck Show on the road again
08/08/2022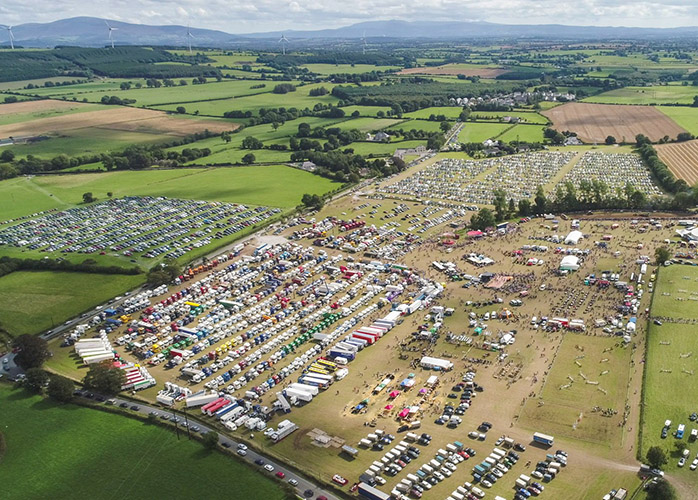 The countdown is on to this year's Tipperary Truck Show which returns on Sunday, August 28 after a two-year hiatus.
A key component of the Dualla Show, this will be the seventh staging of the popular truck show which promises to be bigger and better than ever before after being cancelled in 2020 and 2021 due to the Covid-19 pandemic. Featuring custom, vintage and working trucks, the show will be jointly-sponsored this year by Paddy Graham Truck & Trailer Repairs & Servicing and MDS Truck Wash. The show field opens at 10am on Saturday, August 27 for truck show entrants only (it is open to the general public from 11am the following day).
Dualla Show is a fun-filled day with events and surprises for all ages. Featuring livestock, show-jumping, machinery, dog show, tractor pulling, food, live music, free circus, free kids' zone, exhibitors and a lot of trucks, there is something for everyone. With an emphasis on free children's entertainment, it is unbeatable when it comes to an affordable day for the whole family.
The site is just five minutes from Junction 7 on the M8 (Cashel exit). To avoid congestion, trucks are advised to enter the grounds on the evening before the show. All entrants are given a wristband, while trailer parking facilities are also available. There will be limited entry available to the public on the Saturday evening from 6pm for the spectacular Light Show, which includes BBQ, live band and DJs. Entry to this and the main show on the Sunday is just €20 per adult, with U16s going free.
In a change from previous years, online registration will apply for truck show entrants this year. They can register via a link on www.duallashow.ie/trucks or on Tipperary Truck Show's social media platforms (Facebook and Instagram). The €40 entry fee provides a driver and passenger with access to the full show over the two days, including the Light Show and BBQ. All proceeds from the event go to charity and local organisations.
Daire Maher, who organises the show along with Paddy Graham and Philly Ryan, is eagerly looking forward to the return of what has become one of Ireland's premier transport and logistics events.
"It seems like a lifetime ago since the last show took place. It feels like we're starting all over again," he says.
"There is massive interest in this year's show after two years of Covid restrictions and lockdowns. When Paddy Graham and I pitched the idea of a truck show to the Dualla Show organising committee back in 2014, we would never have envisaged it growing to the extent it has. We've gone from having 150 trucks at our first show to over 700 in 2019.
"We're expecting over 700 lorries again this year. The fact that we're the last truck show of the year in our area – the Ossory Truck Show in Rathdowney takes place five weeks earlier – stands to us. We can't wait to welcome everyone back to Dualla again. It's been a long two years!"
Daire admits that the organising committee is playing catch-up this year after the last of the Covid restrictions were only lifted in late February.
"We'd normally start preparing as soon as the last show ends. But that wasn't possible with Covid. We're trying to make up for lost time. We've entrants coming from all over Ireland and the UK, and are constantly striving to improve the show by listening to feedback from truck owners and the general public," the owner-driver explains.
"We have a small committee of eight or 10 people who organise the event. On the weekend itself, others help out with stewarding and parking. You can never have enough bodies! While Paddy, Philly and I are the main organisers, the show simply wouldn't happen without the people of Dualla who rally to the cause every year. It's a real community effort.
"We're expecting 15,000 people to attend on the Sunday. We've been very lucky with the weather in previous years and hopefully we'll be just as lucky this year."
As part of the Dualla Show, the Tipperary Truck Show offers the sort of variety other trucks shows can't compete with.
"There is not a show in Ireland like it," Daire points out.
"The Dualla Show has become a massive family event and I would go as far as to say that's our biggest selling point. The Big Top Circus and the kids' entertainment is all free. There is something for everyone and people are now travelling from near and far to make a weekend out of it. You don't have to be a truck enthusiast to enjoy yourself.
"It's an easy-going, enjoyable day out for all the family."
There are 20 truck classes / categories, including Best Scania, Best Volvo, Best Mercedes, Best MAN, Best Renault, Best Iveco, Best DAF, Best Hino, Best New Truck, Best Small Fleet, Best Large Fleet, Best Livery, Best Combination, Best Pre-2008, Best Pre-1998, Best Custom, Best Lighting, Best Bullnose, Best Light Commercial, Best Pre-1988, Truck of the Show, Best Rigid, Best Overseas Reg and Best Semi-Custom. The show culminates in the awards ceremony which takes place at about 4pm on the Sunday.
Each class / category has its own sponsor and Daire is grateful for their support as well as that of main sponsors Paddy Graham Truck & Trailer Repairs & Servicing and MDS Truck Wash. Paddy Graham Truck & Trailer Repairs & Servicing is a local company run by committee member Paddy Graham, while MDS Truck Wash is owned by Mike Moran in Naas, Co. Kildare. The new joint-sponsors replace TRP Truck & Trailer Parts who are still involved as DAF Truck category sponsor.
Other sponsors over the years have included Delaney Commercials, McCarthy Commercials, Surehaul (IRL) Ltd, Walker Commercial Vehicles, Setanta Trucks, Longhaul Commercials, Bridgestone Ireland (Pat Lyons), P2 Stainless, Crowley Chemicals, Emerald Truck & Van, Moran Signs & Graphics, Ashbourne Trailers, Autochem, Truckbreak, Reflect Auto Care, Grassmen, Tipperary Town Plaza, McCarthy Recovery, Midland Tyres, Hendrick European, Darren Ward, Cahir, Sean O'Donoghue Auto Factors, Clonmel, Andrew Fanning Auto Factors, Cahir and Coolmoyne Transport.
The Dualla Show is proud to have contributed over €120,000 to local charities and organisations since 2014. These include Wee Peter Heart Fund, Order of Malta, CARE Cancer Support Centre, Friends of St Patrick's Hospital, Suir Haven Cancer Support, Bothar, St Vincent de Paul, Cashel Day Care, Hope Foundation, Irish Cancer Society, Scoil Chormaic, Dualla National School, Cashel Community School, Boherlahan-Dualla Senior Citizens, Boherlahan-Dualla GAA, Dualla Community Hall and St Patrick's Brass Brand, Cashel.
Located just two hours from Dublin and one hour from Cork, the Tipperary Truck Show caters for everyone. It's the place to be on Sunday, August 28!
For further details, contact:
Paddy Graham 086 6862609
Daire Maher 086 2574631
Philly Ryan 086 8334377