Hoyne Transport is marking 50 years in business
03/08/2022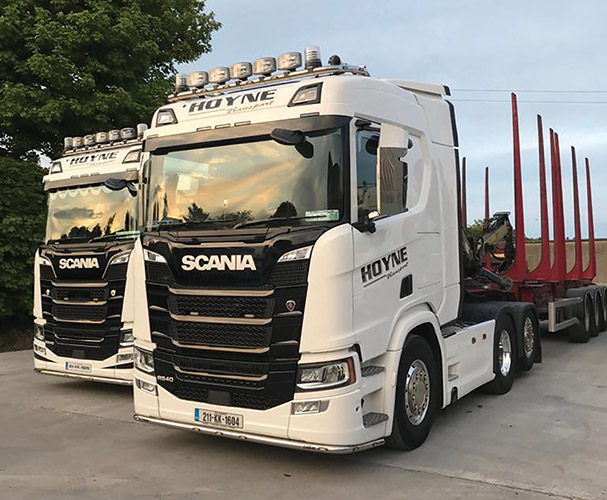 Hoyne Transport is marking 50 years in business. Originally set-up by Nicky & Tommy's father, Stephen, in 1972, it was formed as a limited company in 2002.
(Amended 19/05/22) Based in Ballymack, Cuffesgrange, Co. Kilkenny, Hoyne Transport Ltd. specialises in road transport services on a nationwide basis. Irish Trucker spoke with director Nicky Hoyne to learn more about the company, its impressive fleet and the overall state of business at the moment.
These are busy times at Hoyne Transport Ltd and the plan for directors Nicky and Tommy Hoyne is to try and keep things that way right through to next year.
The company has grown into a leading haulier in the south east and now operates with a fleet of 10 trucks from its premises in Co. Kilkenny.
Having followed their late father Stephen into the haulage game, Nicky and Tommy Hoyne now run a business which employs seven full-time drivers and has a reputation for providing its clients with an excellent service.
Irish Trucker touched base with Nicky Hoyne to find out all about the ins and outs of this family-run venture that goes the extra mile for its customers.
"Right now, we have seven staff and a fleet of 10 trucks. A couple of those trucks would be going to the Duggan Steel Group in Kilkenny who we have been working with for 20 years. There are also two trucks in Brett Brothers (Animal Feeds) Ltd. in Callan carrying out farm deliveries on bulk-blower work, and two trucks dedicated to round-log forestry haulage mainly serving ECC Timber Products in Galway. We also have a couple of low loaders for our forestry work which would mainly be moving forest machinery for clients," said Nicky.
It seems Hoyne Transport Ltd has a couple of irons in the fire when it comes to its range of clients.
"When we came out of the last recession, we went into agri services for something else to fall back on and in 2012 we got into forestry work along with the animal feeds," he said. It's a central part of why and how the company manages to stay busy all year round.
"At the moment, business is going well but the glaring concern, of course, is the rising cost of fuel.
"Business is good enough at the moment," said Nicky. "We have a good customer base here, but these are challenging times with the way fuel prices are now. Because of the good relationship with our main customers, we are able to meet on a one-to-one basis where not only is rising fuel prices discussed but also the increased cost of equipment, tyres and maintenance. Hopefully, fuel prices can level off sooner rather than later but, for now, we just have to try and ride it out."
So, did the Covid-19 pandemic, and the government lockdowns which followed in order to try and combat the spread of the virus, end up having a telling impact on business over the past 24 months?
"Very little," said Nicky. "During the initial lockdown in Spring 2020 we were hit by it a bit but, to be honest, it didn't affect us too much at all. Initially we had to spread the drivers out a bit, but as government advice on what was deemed 'essential services' became clearer, business was back to normal within three months. I think we were lucky that none of our work is in the retail sector and, as you know, cows still need to eat and many of Duggan Steel customers still had deadlines to meet on essential construction projects. ECC Timber Products would be a regular client also and forestry work with them would've been essential and there was a bit of seasonal work as well, so we can't really complain about it at all."
The show run at Hoyne Transport Ltd is thanks to an excellent fleet which Nicky and Tommy have assembled over the years. The fleet expanded from six to ten trucks during 2016-2017 and since then the main priority is to keep the fleet modern.
"We have 32 trailers here that would be a mixed range of low loaders, extendable flats, bulk and aggregate tippers, timber trailers, curtainsiders, and bulk-blowers," he outlined. "That may sound like a lot of trailers per truck, but it means we can cater for seasonal work and offer a level of flexibility which is expected by the modern-day customer."
There have been a few additions as of late, which Nicky was good enough to fill us in on the details of.
"There are 10 trucks in the fleet which would breakdown into eight Scanias and two Volvos. We have a new platform trailer about to arrive from Robinson Distribution in Portarlington. We're also getting a new Volvo FH540 from McCarthy's Commercials, so we are continually updating the fleet here.
"We took delivery of two new Scanias last May from T Nolan & Sons in Castleisland, Co Kerry. We've been dealing with them since 2016 and in that time we've bought six trucks from them."
So, the burning question is, what has been the secret to the continued success of the company over the past 20 years?
How has a small start-up grown into a thriving venture which operates a first-class fleet and holds an excellent reputation for the work it delivers its clients?
For Nicky, much of it comes down to the trust earned from customers by providing a top-of-the-line service time and time again.
"We're a family-run business and we go the extra mile for our clients," said the co-director.
"We'd take a call from them morning, noon or night – any time and we'll be there for them and they know that as well.
"The same can be said for Keogh Commercials, Kilkenny who do much of our maintenance, and Simon Whitty in Tyreland, Cuffesgrange who both provide us with an excellent service.
"We also have a good team of drivers here. We need guys that are well able to look after themselves in this business and I'm glad to say that we have them here.
"We're accident free and claims free since the day Hoyne Transport Ltd was originally formed in 2002."
Looking ahead, Nicky is optimistic despite the rising cost of diesel across the globe.
The company is in a good place in every other way and, if and when fuel prices eventually level off, the picture looks very bright indeed for Hoyne Transport Ltd.
"So, that's where we are now and it has worked out and hopefully things can continue that way going forward.
"We'd like to just keep the same rate of work we have on-going at the moment and then see the fuel prices levelling off. That would be ideal."
Hoyne Transport Ltd
Ballymack,
Cuffesgrange,
Co Kilkenny
Mobile: 086 261 9144