KOG Logistics Ltd set to mark 25 years
27/07/2022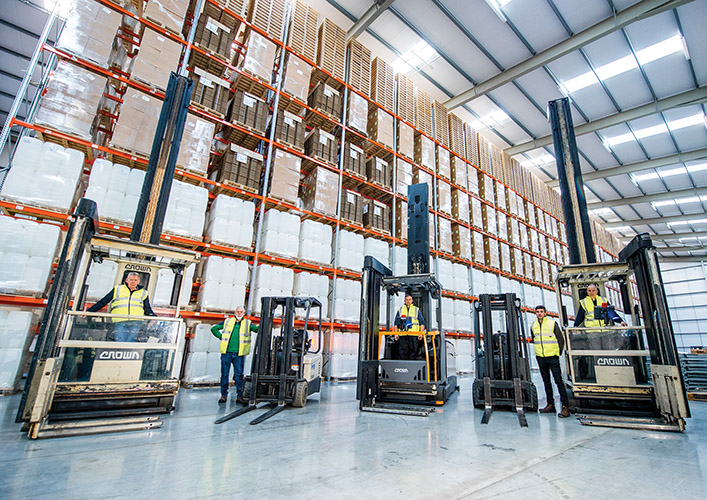 Based on the Ballinrobe Road, Castlebar Co Mayo, KOG Logistics Ltd specialises in logistic solutions for its clients throughout the western region and also to overseas customers. Irish Trucker touched base with General Manager Cathal Walsh to find out all about the company – from its origins to the current state of business.
KOG Logistics Ltd was established in 1997 and this August will see KOG Logistics Ltd marking 25 years in business in Castlebar. Established by Kevin O'Grady, the company itself now has close to two-and-a-half decades of experience in warehousing and inventory control. Kevin himself had a stint in the industry and has a background in haulage throughout the EU before setting up his base almost a quarter of a century ago and it has been expanding ever since.
KOG Logistics Ltd provides Logistics service comprising Inventory Management, Warehousing and Document/Data Storage. The premises is designed to ensure that the required storage conditions are maintained, suitably secure, structurally sound and of sufficient capacity to allow safe storage and handling of all products.
The company today employs eight full-time staff that are trained in such a manner that an inherent team spirit is evolved ensuring that care and attention are applied throughout all stages of the process from a warehouse that is of the highest industry standard. The company is certified to ISO9001:2015 and holds a Health Products Regulatory Authority Licence.
KOG Logistics Ltd operates 120,000 square foot of quality warehousing and, with it, provides customers with a wide range of services to an ever expanding and sophisticated client base that is tailored to each customer's needs with emphasis on security and confidentiality. The company is committed to maintain and developing first class customer relationships.
Cathal Walshe has been part of the team at KOG Logistics Ltd for 15 years now and his role as General Manager of the company entails the smooth running of the company.
These aren't ordinary times however, with Covid-19 pandemic and the government lockdowns which followed in order to combat the spread of the virus having an impact on businesses throughout Ireland and beyond.
For KOG Logistics, the impact of Covid 19 has been a largely positive one thus far according to the company's General Manager, Cathal Walshe.
"It (the Covid-19 pandemic) has actually helped the company," Cathal pointed out that Customers would now be holding extra stock due to the interruptions of Covid 19 and Brexit on the supply chain.
The company has been extremely busy over the last 18 months and the plan is that the company will be adding an additional space to hold 5,000 more pallets
2015 already saw KOG Logistics Ltd double in size from the existing warehouse at the time to include a 30,000sq ft temperature-controlled warehouse.
The primary aim of KOG Logistics Ltd has been to store customers' items in a safe, secure, and confidential area that is monitored by CCTV 24/7.
Along with 24-hour security, customers also get ambient and temperature-controlled (between 15 and 25 degrees) storage along with temperature monitoring and recording.
So, all of that considered, what has been the key to success for the company over the past 25 years?
How has a small start-up grown into a thriving venture which will soon have space for 35,000 pallets at its base out west in rural Ireland?
The way Cathal sees it, the base is ideal for the customers that they deal with day in, day out and the personal touch in which the KOG Logistics team provides them is second to none.
"I'd say a lot of it is to do with the location, good planning, personal touch and working closely with customers.," he said. "We're the only warehouse in Mayo that's this size and capable of handling the volume of work that the company get."
Cathal said that KOG Logistics Ltd provide Personal assistance to its customers from dedicated personal, by phone and email. Where necessary customer visits are used to build the relationship.
The pallet holding facility that KOG Logistics Ltd provides is for both short and long-term customers, temperature monitoring, packaging and repackaging services, multiple docks for safe, quick and easy loading and unloading and easy access to all vehicles.
The company provides a wide range of services, including to Pharmaceutical, Computing & Printing services, Healthcare, Cosmetics and private professionals, offering timely, efficient, cost effective, and flexible ambient warehousing solutions tailored to clients' specific requirements.
Cathal said that KOG Logistics Ltd can provide tailored logistics solutions to any customer's needs small or big wishing to join its network. The company also provides a delivery and collection service.
Looking forward, the company is targeting further expansion as its General Manager, Cathal outlined.
"We hope that the company will pick up additional business in the coming months.
"Hopefully, we can gain more and more customers because the company and the warehouse are always expanding and are more than capable of handling extra pallets space requirements.
"So, we'll be looking for new customers and, as well as that, look after the ones we already have."
Cathal Walshe General Manager said: "The management and staff of KOG Logistics Ltd continually endeavour to improve the quality of the services that the company provides to our customers. It is the aim of KOG Logistics Ltd to be the preferred logistics supplier of raw materials to the local Pharmaceutical, Drinks, Medical Devices, Manufacturing and Professional sector.
"Since its initial set up, KOG Logistics Ltd has continuously expanded its facilities at its location in Castlebar. State of the art handling equipment, racking, warehouses, ITC equipment and technology are all evidence of the commitment the organisation puts into the business."
Great to hear.
KOG Logistics Ltd
Ballinrobe Road,
Lisnageeha,
Co Mayo
Phone: (094) 902 7200
Email: [email protected]