Sean Moriarty Transport keep delivering the goods
13/07/2022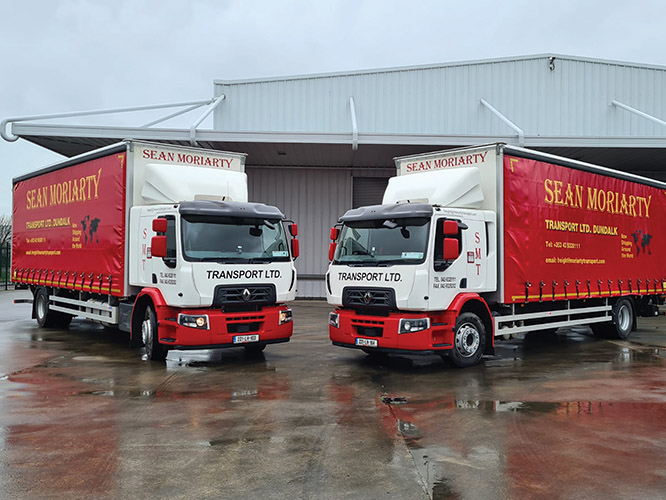 For more than three decades, Sean Moriarty Transport have been delivering industry-leading local, national and international transportation and logistics solutions to an ever-expanding customer base from their ideally-located Dundalk, County Louth HQ. As they bolstered their magnificent fleet with two stunning new Renaults, Irish Trucker spoke to managing director Linda Daly to find out more about this exceptional family-run business, which consistently sets the standards for others to follow.
Drawing on over 37 years of expertise, Sean Moriarty Transport Ltd. is one of Ireland's premier freight transportation companies, providing first-class, customer-focussed transport service throughout Ireland as well as to and from the UK, Europe and worldwide.
Boasting extensive experience in warehousing and pallet storage services, Sean Moriarty Transport has since its inception in 1985 been servicing the needs of individuals and businesses both domestically and globally, with the ability and expertise to meet the bespoke requirements of all clients, continually developing their transport networks and strengthening their resources in line with customer needs and expectations.
Acutely cognisant of the importance of offering tailor made solutions and geared towards handling everything from the smallest parcel to full loads, Sean Moriarty Transport make it their mission to invariably provide a transparent, reliable and economical transportation service, without compromising on quality of service.
"In the beginning we focused solely on collections / deliveries throughout Ireland for our customer base, while simultaneously becoming an integral part of the groupage network for Louth and Monaghan," reveals MD Linda Daly – daughter of eponymous founder Sean Moriarty. "The domestic market still plays a pivotal role in our company today, with volumes steadily increasing as the Irish economy continues to perform well."
Through their established shipping channels, Moriarty's provide a cost-effective and efficient daily service across all services, with their interactive online transport system enabling real time track and trace, affording customers instant access to the status of their deliveries.
They also specialise in providing post-Brexit customs clearance, having put the necessary training and infrastructure in place prior to Great Britain's exit from the EU. Due to the ever-increasing growth of Amazon in the UK, Sean Moriarty Transport work within an Amazon preferred network and thus have a direct line for delivering goods to all fulfilment centres across the UK.
"At Moriarty's, we take pride in covering all the shipping needs of our customers and offer weekly groupage departures to and from Europe and worldwide - wherever they need their goods to go or come from," Linda adds. "For our customers' larger or more urgent consignments, we offer a direct full load service, which is always price competitive and with a stringent focus on the deliveries windows expected."
The current calendar year began with a statement of intent when Sean Moriarty Transport took delivery of a pair of striking new Renault D-Wide 18-tonne trucks from Renault Trucks Ireland, fitted with Fitzgerald vehicle bodies and looking resplendent in the company's trademark red-and-white livery colour scheme.
"We're extremely happy with the two newest arrivals," Linda confirms. "With the way trucks are going at the moment, Sean had to put the order in early last year to get them in January and he is delighted that he did. We have nice livery on them. Dealgan Coach Craft look after that for us as well as any body work that needs to be done. Having attractive, modern vehicles on the road is our most effective means of advertising and we always want our trucks to be the best they can be."
Like the rest of the 18-strong fleet, the latest additions certainly do not disappoint when it comes to either aesthetics or performance! The fleet comprises five tractor units (three of which are Renault) and eleven rigids (including ten Renaults) alongside a 3.5tonne Isuzu Grafter with tail-lift and one Renault Master van. Trailer-wise, Moriarty's currently run five double-deckers and five 45ft curtainsiders.
While the Covid pandemic and associated public health restrictions had a detrimental effect on many businesses, the opposite was the case for Sean Moriarty Transport: "The business has grown a lot in the last couple of years," Linda continues. "We've actually become extremely busy since Covid. While there was a six-week lull at the very beginning in early 2020, business has been booming since as online shopping has taken off.
"But we would not be where we are without the support and loyalty of our customers. Only for the businesses around us being busy, we would not be busy. We can gauge how busy the economy is by the amount of stock they are taking in and, since Brexit, there is a lot more bulk ordering. As we're one hour from Belfast and one hour from Dublin, we are in an ideal location to handle goods coming into the country."
The vastly-experienced and thoroughly-professional team at Sean Moriarty Transport consider customer service to be the cornerstone of their business – resulting in a high level of repeat custom as well as new business through positive referrals. Indeed, the vast majority of business is from long term customers and Linda takes pride in the fact that they still have customers going back to the early days when Sean first established the company.
"You are only as good as your staff and we are lucky to have some excellent people working for us. We've increased our staff numbers by ten over the past couple of years, but the majority of them are here years. One guy retired this year after 17 years' service and we have a lot of people here 15-25 years or more, which is nice to see, as it shows that we are a good company to work for.
"Years ago, driving was unsociable and was all about long hours but that has changed," Linda continues. "The way we operate, we make sure to offer a good work / family life balance. We have changed our hours so that our staff can go home at regular times and spend quality time with their families. The nature of the work is such that we do still have four night drivers, as well as 17 drivers working during the day.
"Sean started as an owner driver with one van in 1984 and set the company up the following year. He has built it up gradually since then, adding more vehicles as he got busier," reflects the MD, who joined the family business in 1997. "There were three of us in the office when I started and we now have nine here."
While Linda takes responsibility for the HR and IT aspects of the family business, the founder – who has a deep passion for trucks and for driving - is still very much involved on the truck side of things, with the invaluable assistance of a trusty local mechanic who helps him make major decisions regarding the fleet.
Ultimately, customer care has been key to the success of Sean Moriarty Transport over the decades. Since inception, looking after people and providing them with a service they can depend on has been the No.1 priority.
"We look after our customers and the feedback we receive from them is always good," Linda concludes. "We always answer the phone and we respond quickly to emails. If there are any issues, we keep our customers updated. We prioritise response times and communication, and we have friendly staff who are on the same routes doing the same deliveries on a daily basis. They have built up good relationships with our customers and these relationships are every important."
Essentially, Sean Moriarty Transport strive to be an extension of their customers' businesses. From humble beginnings, this family-run transportation company has come a long way over the past 37 years and they have the experience, expertise and systems in place to ensure that the business continues to go from strength to strength.
Sean Moriarty Transport Ltd.,
Coes Road Industrial Estate,
Dundalk,
County Louth.
Tel: 042 9328111
Email: [email protected]
Published in Irish Trucker & Light Commercials magazine, June/July 2022, Vol 25 No 3