New additions to Galdanagh Transport fleet
06/07/2022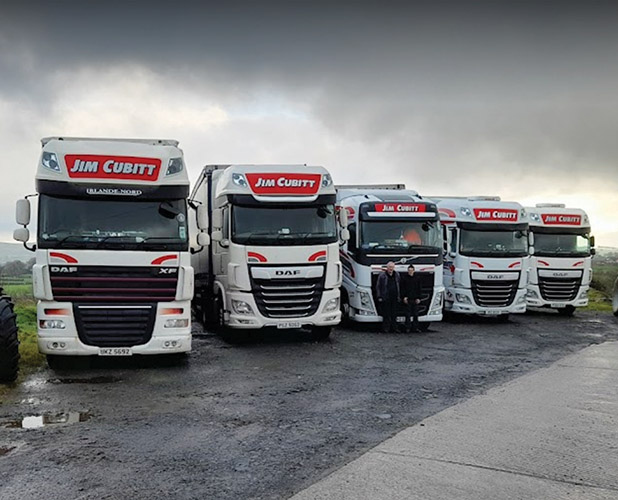 International dry freight specialist Galdanagh Transport Ltd has bolstered its fleet by taking delivery of two new DAF XF530 tractor units from TBF Thompson in Mallusk.
The new additions represent a significant investment by company directors Jim and Anne Cubitt in their DAF-dominated fleet. Renowned for efficiency and reliability, these stunning XF trucks have been fitted with the latest 12-speed TraXon gearbox, providing less friction losses, even faster upshifts as well as smooth operation and precise clutch actuation. The red-on-white livery looks really sharp, as does the side skirts fitted by Steen Commercials.
The trucks have been put to work hauling dry freight to and from Southern European, while one of them recently brought vital supplies to help the relief effort in war-torn Ukraine. The family-run business transports goods to and from Italy and Spain several times a week, including Hyster forklifts which are manufactured in Portadown.
Based between Ballymena and Ballymoney in Co. Antrim, Galdanagh Transport has gone from strength to strength since its inception in 2013. Husband-and-wife Jim and Anne are joined by a team of five drivers, while their 17-year-old son TJ also helps out on his days off school. The company provides a reliable and efficient service that has made it the haulier of choice for many customers. It prides itself on its ability to understand its customers' needs with the flexibility to meet their demands.
"We're a small haulage firm that has built up a loyal customer-base over the past number of years," says Jim, who was previously a home heating oil supplier.
"We offer the kind of personal service that you just don't get from bigger companies. We're both very hands-on. I'm behind the wheel most of the time and Anne – who has a truck licence – is based in the office. We transport everything from forklifts and forklift parts to floor and wall tiles between Ireland and Italy and Spain.
"We can always be relied upon to deliver your goods safely and on time."
Committed to providing a top-class service and complete customer satisfaction, Galdanagh Transport – which takes its name from a local townland – runs a high spec and modern fleet of six tractor units and 10 trailers to suit any requirement. Along with the new additions, there are two DAF 510s, a DAF 530 and a Volvo FH460. The trailers are SDC curtain siders / Euroliners.
The Co. Antrim transport company takes great pride in the appearance of its trucks, which are always immaculately turned out. Each truck is fitted with satellite tracking which allows customers to track their products as they move, from any location. The older tractor units that aren't covered by maintenance contracts from TBF Thompson are serviced by local mechanic Stuart Calderwood.
Galdanagh Transport's growth and success can be attributed to the knowledge, experience and expertise of its drivers as well as the quality of its fleet. Jim, Anne and their professional team deliver the value and quality their clients have come to expect from them.
"Good, reliable drivers are very hard to come by, but we've been very lucky in that regard," Jim explains.
"Allan Jones has been with us since we started. He is still doing two runs to Italy every three weeks at 73 years of age. Alan Roberts and Iain Scott have both been with us for over five years and are top-class drivers too. If you look after your drivers, they will look after you and I think that has been key to us retaining their services.
"It's a very challenging time in the industry with Covid, Brexit and rising fuel costs, so having drivers you can depend on is one less headache to have to worry about."
The Galdanagh team avoids most of the paperwork arising from Brexit by shipping direct to France and on to their destination from there. "We usually use the Dublin-Cherbourg route with Irish Ferries or Stena Line. We still send the odd load through the UK, but most consignments are shipped straight to the Continent," Jim adds.
Whatever the size and quantity of your goods, the Cubitts provide tailored transport solutions for your specific needs. They are all about the customer and would like to take this opportunity to thank them for their continued support. Jim and Anne are also grateful for the support they receive from their suppliers and staff.
For your next dry freight consignment to Italy or Spain, be sure to give Galdanagh Transport a call. Goods are accepted for carriage only subject to the RHA Conditions of Carriage 2020, a copy of which is available on request.
Galdanagh Transport Ltd
47 Glenleslie Road,
Clough,
Ballymena,
Co. Antrim,
BT44 9RQ.
Telephone: +44 2825685094
Mobile: +44 7802 422771
Email: [email protected]
Published in Irish Trucker & Light Commercials magazine, April/May 2022, Vol 25 No 2