Derry Bros are delighted to be attending the comeback of Full of The Pipe 2022!
01/07/2022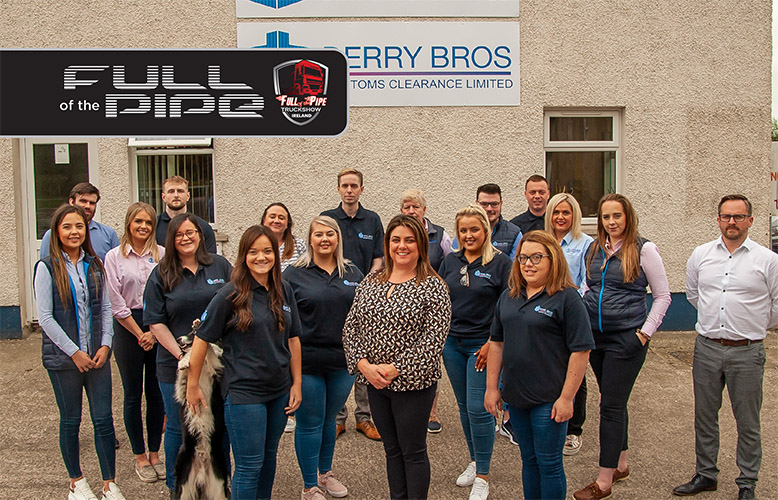 The Derry Bros brand has grown exponentially from we last attended Full of the Pipe in 2019, owing to the continued successes of Derry Bros Shipping and the establishment of Derry Bros Customs Clearance in 2020.
The past two years have been challenging across the entire sector with the drastic changes in 2021 surrounding the movement of goods throughout Europe and further afield; but at Derry Bros these new challenges have proved to be a period of ongoing development and innovation, of both our team and our internal systems, to ensure a seamless transition that complies with these unfamiliar circumstances.
We are currently working towards streamlining our services to better suit your needs based on feedback gathered at point of service by our staff.
Both our shipping & customs teams work in tandem to provide hassle-free movements, wherever the destination of your consignment may be. With this ongoing cooperation between our two teams, we can continue to provide comprehensive solutions for your shipping and customs requirements.
We are always available to assist with the movement of your vehicles and goods, as we operate 24 hours a day, 365 (or 366) days a year.
We cannot wait to showcase our expansion along with our current services, to ensure we remain at the forefront of the sector as your preferred service provider.
We look forward to seeing you all at Full of The Pipe on 2nd-3rd July 2022, you won't be disappointed.
Derry Bros Shipping
Being proud partners with all-of the leading Ferry Providers, we can organise accompanied and unaccompanied freight ferry crossings, as well as leisure for the below:
- Irish Sea
- North Sea
- English Channel
For any other requests you may have, please contact a member of our expert team to discuss these.
We specialise in: Haulage, Construciton, Leisure, Removals, Heavy Haulage, Specialised Derry Bros Customs Clearance
We have a range of expanded services which allow us to currently offer Customs Clearance in the below countries:
UK Ireland
Northern Ireland France
Germany Spain
Poland Italy
Bulgaria Holland
Switzerland Sweden
Norway Monaco
Our services include:
Imports Exports
Full Frontier Declarations (FFD) ENS (Entry Safety & Security)
EXS (Exit Safety & Security) GVMS
TSS (ENS & Supp Decs) Transits (T1 & T2)
Traces (IPAFFS & CHED's) Inventory Linked Clearance
PBN
Our EU Agents can complete:
Transits (T1 &T2) Imports