McAuliffe Trucking Company's stunning fleet keeps getting better
30/06/2022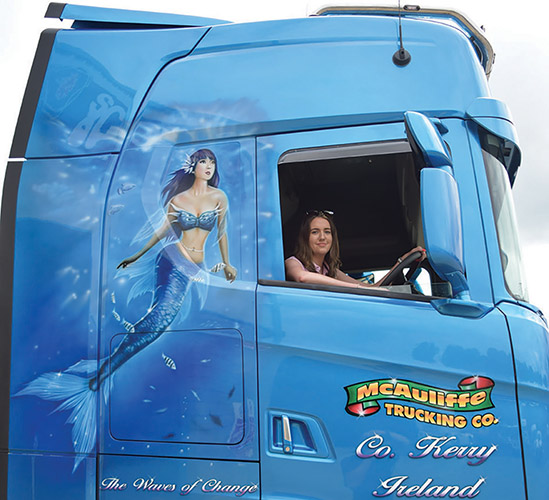 Full of the Pipe is first and foremost a celebration of spectacular trucks and they don't come any more striking than those representing McAuliffe Trucking Company is Castleisland, County Kerry. As the countdown to the return of Ireland's premier truck show gathers pace, we touched base with Transport Manager Orla McAuliffe to discuss this exceptional third-generation family business and the wonderful fleet of trucks at their disposal.
In early 2020, to mark their 50th anniversary celebrations in fitting style, McAuliffe Trucking Company welcomed a magnificent new Scania S650 V8 NG Highline to their eye-catching fleet. In keeping with the company's policy of putting only the most attractive trucks on the road, the special anniversary lorry looks absolutely amazing, stylishly airbrushed with a selection of trucks from the company's own in-house history.
While Lady Caroline, as the truck is named, no doubt takes pride of place in the McAuliffe fleet, it might be a disservice to Orla and her team to suggest that it stands out from the rest as literally every vehicle in this remarkable fleet is unique and captivating.
Lady Caroline was only the second Scania to join the McAuliffe Trucking Company fleet. In 2019, they took possession of their first Scania from neighbouring T Nolan & Sons - another delightfully-airbrushed mermaid-themed model called Lady Freya. In the meantime, the 18-strong fleet, which is predominantly DAF, has been bolstered by the addition of two more Scanias in 2021. As part of the regular fleet replenishment programme, new DAFs have also been added in recent years, including a brand new 221-reg model.
Each of McAuliffe Trucking Company's airbrushed trucks has a different theme and – in addition to those already mentioned - these range from a tribute to company founder Jack McAuliffe (a DAF 152 with an image of Jack and the old Bedford truck he started out with) to King of the Jungle, Titanic Centenary tribute, Spirit of the Wolf, Children of Lir and a fairy-themed truck to mention just a handful.
Orla McAuliffe has been a frequent visitor to Full of the Pipe in the past and, if her busy schedule allows it, she hopes to make the trip north east to Punchestown again in July, 2022, as the show returns for the first time in three years. When it was last staged, in 2019, McAuliffe Trucking Company brought their fetching vintage Kenworth American artic, which Orla's father Mike purchased in Barcelona in 2005 before having it painted and airbrushed. This one is well known on the truck show circuit and is often to be spotted at charity events, weddings, etc.
"We took it up to Punchestown the last time we went up to Full of the Pipe and we'd love to bring it up again this year. The 50th-anniversary truck arrived just before Covid and we'd like to show it off, too, but it's very difficult to plan anything in advance when you are working in transport. Hopefully we will make it up.
"Everybody really missed Full of the Pipe these past two years and it's great to see it back again. It's a brilliant weekend and I'm sure it's going to be bigger and better than ever. It's a great show, with great facilities at Punchestown, and people come from north and south, the UK and all over. Colin [Hegarty] and Kevin [Mulqueen] are great men and they always attract a big crowd.
"Ger Conlon in Cork and Sean Egan in Wexford have done great work airbrushing trucks for us and for the 50th-anniversary edition we brought Alan Smallwood of A.S. Airbrush over from Leicester … he also did a wonderful job. That one was finished one week before Covid hit and it hasn't seen a truck show yet. It's on the road a lot, over and back to Germany."
Closely aligned to the family's pig farming enterprise, McAuliffe Trucking Company provides a comprehensive range of livestock, liquid, refrigerated and bulk transport services both nationwide and internationally. Orla runs the third-generation family business alongside Declan Mangan, who is also a Transport Manager. "My grandfather, Jack, passed away in 1992 and my dad took over at the age of 27. Dad has stepped aside now and he lives in Offaly, where he's farming. I've had my licence since I was 21 and started full-time in the business in 2018, when I was 23."
Orla always had a tremendous interest in trucks and trucking. Before joining the family business, she spent her weekends and holidays and many evenings around the truck yard and she has fond memories of accompanying Mike on the truck show circuit: "Before Full of the Pipe, the lads used to organise a show around Ennis and we used to head to that. I remember going to Boot to the Headlight and Cork Motorfest …he brought us to them all in the Kenworth."
Operating a selection of approximately 60 trailers comprising fridges, bulk trailers, food quality high-grade tankers, livestock trailers and low loaders, McAuliffe Trucking Company specialise in the haulage and distribution of frozen foods, chilled goods, milk, grain, fertiliser, animal feeds, livestock, general hardware and waste.
"We were quite fortunate in that – due to the nature of our work – Covid didn't affect us too much," Orla continues. "As the majority of our work is agri-related and agriculture largely continued as normal, we stayed busy throughout. We'd do a lot of work for Kerry Ingredients, and also have our own pig farm and animal feeds mill, which generates a good bit of work. I know a lot of hauliers went quiet, so we were definitely lucky.
"At the same time, the industry has been adversely affected by the steep rise in fuel costs and by a shortage of labour. Government subsidies don't come close to covering the rate of increases in fuel prices and we also have fuel surcharges on the continent. Costs are rising across the board and it's not always possible to increase rates, so these are challenging times for everybody.
"There's also a massive backlog for parts for trucks and the price of these has increased as well. We used to be able to source parts the next day but now we can't even get a delivery date on most items. Trucks have also gone up in price by around 20% and, again, there's nothing in stock. If you ordered a new one today, you could be waiting until Christmas."
Despite these difficulties, which are being experienced right across the haulage sector and are surely unsustainable in the long term, McAuliffe Trucking Company is going strong some 52 years after its genesis and Orla says the credit for this should go to their wonderful team of workers:
"We have 20 drivers between part time and full time, plus four mechanics and three in admin," the personable Kingdom native concludes. "We're very lucky in that we have a small turnover of drivers and most of them have been with us long-term. Dan Feehan has been here for over 30 years, for example, while Dan Murphy is here almost 20 years, and the drivers are instrumental in the success of the business. You need people you can rely on – good, experienced drivers who will drive safely and steadily and we're lucky in that regard. We couldn't ask for better."
McAuliffe Trucking Company Ltd.
Fahaduff,
Castleisland,
County Kerry.
Tel: 066 7141933
Fax: 066 7143006
Mobile: 087 9256446
Email: [email protected]